Weekly News Roundup – 19 Jul 2021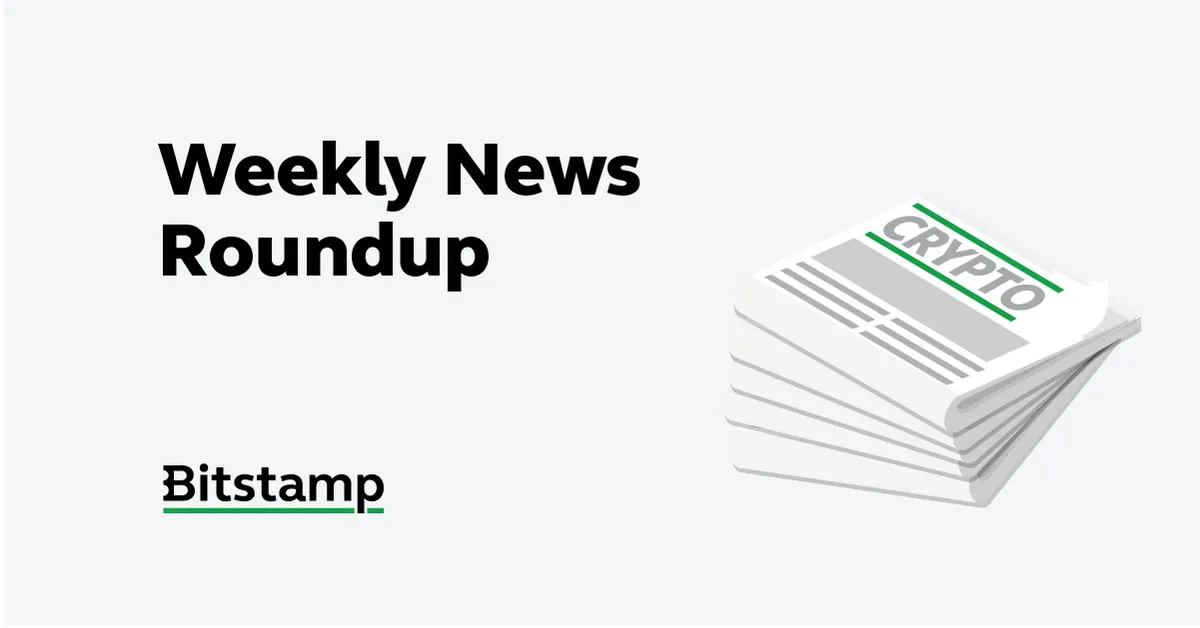 Crypto moves fast and it can be hard to keep up with all the developments. To help you stay on top of what's going on across the industry, we've created this overview of the key news from last week.
You can now stake Ethereum at Bitstamp and let your crypto work for you
Staking allows you to lock some of your ETH on the Ethereum blockchain for a set period of time. We have made the minimum staking amount as low as possible, so you can start with as little as 0.1 ETH. While your ETH is locked and put to good use, you will receive rewards for helping the blockchain approve and validate new blocks. It's a win-win.
You don't have to worry about the technical details – we take care of all of that, so you can start earning crypto in just a few simple clicks.
To start staking, head over to the Earn section in the top right of your account toolbar. There, you can overview any assets you've already staked or stake new assets in Ethereum. Click Start earning and select the amount of ETH you want to lock. Your staked assets will then show up in your portfolio as ETH2.
Please note that for the time being, staking is not available to our US customers; however, we're working hard to bring the feature to our US userbase as well.
https://blog.bitstamp.net/post/bitstamp-earn-stake-ethereum-and-let-your-crypto-work-for-you/
13.07.2021
PayPal ups weekly limit on crypto purchases to $100K
On July 15, PayPal announced that it was increasing limits on customer purchases of crypto to $100,000 per week for U.S. users, with no annual restrictions.
One of the leaders in crypto at the firm, Jose Fernandez da Ponte, cited "the ever-changing needs of our customers" in the announcement. Alongside the increase in purchase limits, da Ponte also spotlighted PayPal's efforts to expand its crypto educational services.
The online payments firm opened up its crypto services to the general public in November with a weekly limit of $20,000.
PayPal's crypto offerings are, however, fully custodial. Users do not have the ability to withdraw their digital assets into outside wallets.
Since launch, speculation has been rife as to when the firm will enable withdrawals outside of its own platform, which executives have confirmed to be a priority.
https://www.theblockcrypto.com/linked/111606/paypal-ups-weekly-limit-on-crypto-purchases-to-100k
15.07.2021
Jack Dorsey announces plan for developer platform focused on bitcoin financial services
Jack Dorsey, CEO of Square, said that the payments services business is working to create "an open developer platform" focused on bitcoin-tied financial services.
The venture is the latest bitcoin-focused project spearheaded by Dorsey. In recent months, Dorsey has outlined plans for developing an open-source hardware wallet, and bitcoin has played an increasingly significant role in Square's financial footprint via its Cash App, as detailed in recent earnings disclosures.
The new initiative is being led by Mike Brock, who currently serves as Strategic Development Lead for Cash App.
In his tweet thread, Dorsey wrote "Like our new #Bitcoin hardware wallet, we're going to do this completely in the open. Open roadmap, open development, and open source."
During an event appearance last month, Dorsey reiterated his belief that bitcoin should ultimately become the native currency of the internet, positioning Square's growing use of the tech as part of that goal.
https://www.theblockcrypto.com/linked/111621/squares-jack-dorsey-announces-plan-for-financial-services-business-focused-on-bitcoin
15.07.2021
Bank of America has entered the bitcoin futures trading game
The bank is clearing cash-settled bitcoin futures, a type of contract that settles in US dollars rather than bitcoin itself, according to two sources. In a sense, the news isn't surprising; clearing cash-settled futures on an exchange like CME is similar to the trading of any other cash-settled product.
Still, the news illustrates that Wall Street is warming up to the bitcoin market. Goldman Sachs relaunched its own cryptocurrency trading operation, offering clients exposure to bitcoin futures through trading partners like Galaxy Digital, as previously reported by CNBC. Goldman Sachs and Morgan Stanley have also announced initiatives that would offer bitcoin-tied products to some of their private wealth clients.
As for Bank of America, support of bitcoin futures would not be its first foray into the market. As previously reported by The Block, the bank launched a new research team dedicated to covering the crypto market. The new unit is being led by Alkesh Shah who joined the bank in 2013, according to a memo seen by Bloomberg.
The bitcoin futures market has cooled down in recent months alongside the price of cryptocurrencies. As per The Block's Data Dashboard, aggregate open interest across bitcoin futures markets stands at $11.8 billion, down from a high of around $27.6 billion in April.
https://www.theblockcrypto.com/linked/111687/bank-of-america-has-begun-clearing-bitcoin-futures
16.07.2021
Grayscale links up with banking giant BNY Mellon to prep for bitcoin ETF
Grayscale is ramping up its efforts to get its flagship bitcoin fund ready for the ETF prime time.
The firm—which manages over $30 billion in digital assets—announced that it will offload fund account and administration functions for the Grayscale Bitcoin Trust to BNY Mellon in October. Those functions are currently executed in-house, according to CEO Michael Sonnenshein.
The new deal sets the stage for BNY Mellon's role in Grayscale's plans to convert GBTC into a bitcoin ETF.
Grayscale is among several firms in the market hoping for bitcoin ETF approval from US regulators. Despite a recent slide in crypto prices and its AUM, it is still the largest cryptocurrency asset management with more than $20 billion under management for its Bitcoin Trust product.
https://www.theblockcrypto.com/linked/111153/grayscale-links-up-with-banking-giant-bny-mellon-to-prep-for-bitcoin-etf
13.07.2021
ShapeShift to decentralize entire company, plans for largest airdrop in history
ShapeShift, a leading non-custodial cryptocurrency exchange, is planning to open-source its platform and dissolve its entire corporate structure — an unprecedented move that underscores the company's commitment to decentralization.
As part of its decentralization pledge, ShapeShift plans to airdrop 340 million FOX tokens to over one million users who traded $1 or more of Ether (ETH) or any ERC-20 token through the platform prior to June 9, 2021. Both current and past users of ShapeShift are eligible to receive the airdrop.
Wallets registered with ShapeShift that are holding cryptocurrency balances as of June 9 will also receive 250 FOX. Furthermore, users of KeepKey who have connected with ShapeShift as of June 9 are also eligible for 900 FOX.
The airdrop effectively transfers ShapeShift governance rights to the users, who will begin governing the now community-owned platform. Over 60% of the total FOX supply will be allocated to the ShapeShift community. Over 120,000 decentralized finance (DeFi) users from other platforms, including THORChain, Curve, Balancer and Uniswap, will also be eligible to collect FOX tokens through the airdrop.
https://cointelegraph.com/news/shapeshift-to-decentralize-entire-company-plans-for-largest-airdrop-in-history
14.07.2021
Stablecoins are on the rise
In Q2'21 stablecoins facilitated an impressive $1.7 trillion in transaction volume, up 1,090% year-over-year and 59% since Q1.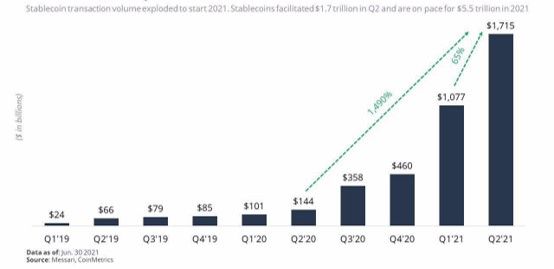 https://twitter.com/RyanWatkins_/status/1415108497730068482
https://messari.io/article/q2-21-defi-review
14.07.2021