Top 10 tips to securely handle your crypto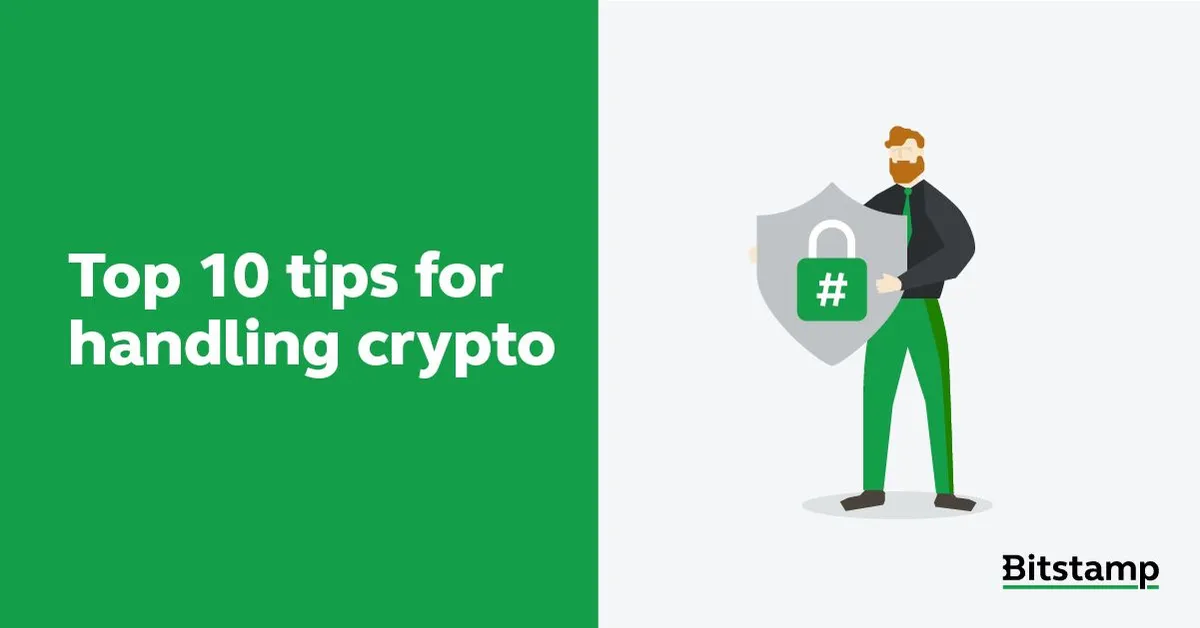 When it comes to handling your crypto assets, it's key to keep your eyes open to what's going on around you. There will always be those who prey upon unsuspecting victims on the internet, and the crypto market is no exception.

In this article, we've compiled the top 10 basic tips and guidelines for safe handling of crypto at Bitstamp. We'll tell you about the basic safe practices of handling your funds and managing your account that you should always follow to make sure your money and personal information are secure. We'll also shed some light on what you can and can't expect from a crypto exchange like Bitstamp, so you'll always be able to tell if you're dealing with a legitimate representative of our exchange or an impostor trying to scam you.
1. Keep your login credentials safe
Your User ID and password are the basic key to entering your account. That's why you should always make sure to store them safely and away from any prying eyes. We also recommend that you set a strong password and change it regularly, so that anyone who got their hands on your password would soon find themselves with obsolete information. You can enable password change notifications here.
2. Keep two-factor authentication on and under your exclusive control
We've spoken a lot about two-factor authentication in previous posts, but it's never a bad time to point out how useful this feature is in protecting your account and funds. With 2FA on, even if someone learns your username and password, they still can't enter your account without a confirmation from a device, different from that used to log in. That's why you should always have 2FA on and keep the devices used for 2FA safe and separate from each other.

To learn more about two-factor authentication, how it works and why it's important, read this article.
3. Don't let anyone else use your devices
You should be the only one who has access to the devices used to log in to your Bitstamp account and email. Don't share these devices with anyone you don't trust completely, especially strangers. This includes letting people access your devices remotely or seeing your account  while you're sharing your screen in a virtual meeting.
4. Don't accept help or guidance
When you're logged in to your account and you're managing your portfolio, there's a lot of sensitive information about you and your funds on screen. That's why you should never allow anyone to offer you guidance or give lessons on operating your account or trading with your funds. You should also be cautious and go through the registration process alone when you're registering an account.

To help you out, we've got a lot of short and simple video guides that show you exactly how to use your account (or register a new one) on our YouTube channel.
5. Don't interact with individuals and companies you don't trust
When dealing with individuals and companies that you're not familiar with, you should always check their background to see if they're trustworthy. It doesn't matter if you're buying from or selling to them, or what amounts you're transferring, it's always worth double-checking before going through with the transactions. Remember, crypto transactions are irreversible.
6. If it sounds too good to be true, it probably is
That's a basic rule of thumb, and one that you should always keep in mind. Whenever you come across an offer that seems unreasonably good or an opportunity that looks exceptionally lucrative, you should always question it. Miracles are highly unlikely, and such opportunities are, in almost every case, fake and designed to scam you out of your money or information.
7. Don't access Bitstamp's services through other websites
There's just one Bitstamp. We have a website you can access through bitstamp.net or bitstamp.com (redirects you to bitstamp.net) and a mobile app for both Android and iOS. Any other website or app pretending to be Bitstamp is not official and you should steer clear of it. Accessing our services from third parties can put your information and money at risk.
8. Communicate with Bitstamp only through official channels
Just like with our website and app, you should also only talk to Bistamp through our official channels. We're always available for your questions at support@bitstamp.net or through our ticket system in your account. We will never reach out to you from a domain other than @bitstamp.net and @team.bitstamp.net or give you an unexpected call. We will also never ask you for your credentials or ask you to make any transaction. If anyone does, they're not from Bitstamp and you should steer clear of them!
9. Bitstamp does not do giveaways with crypto
You won't see Bitstamp run any online giveaways for crypto and you should not input your credentials anywhere else except at Bitstamp's official site and app. We may occasionally give away swag, referral or joining rewards or conference tickets to promote an event, but never crypto!

10. Bitstamp does not offer investment advice or brokerage services
Any trading action or investment choice you make is down to you and you only. We cannot help you with investment advice and we do not offer brokerage services. We operate by the principle that you should trade what you understand. To help you with that, we always try to give you some background on the assets we're listing (like recently with ALGO or AUDIO), often publish market insights and educational articles on our blog, make videos presenting key features of blockchain and crypto on out YouTube channel and attend various panels and conferences where we discuss crypto, the market and the whole industry. If someone claiming to represent Bitstamp offers you investment advice or brokerage services (trading on your behalf), stay clear of them!
Following these tips and guidelines will make sure your crypto is as safe as possible and any scammer will have a hard time trying to take advantage of you. If you're ever in a situation described in these 10 points and you feel something is off, you should change your password as soon as possible and contact us at support@bitstamp.net.