Savor the new summer flavors - SOL and DOT are now available!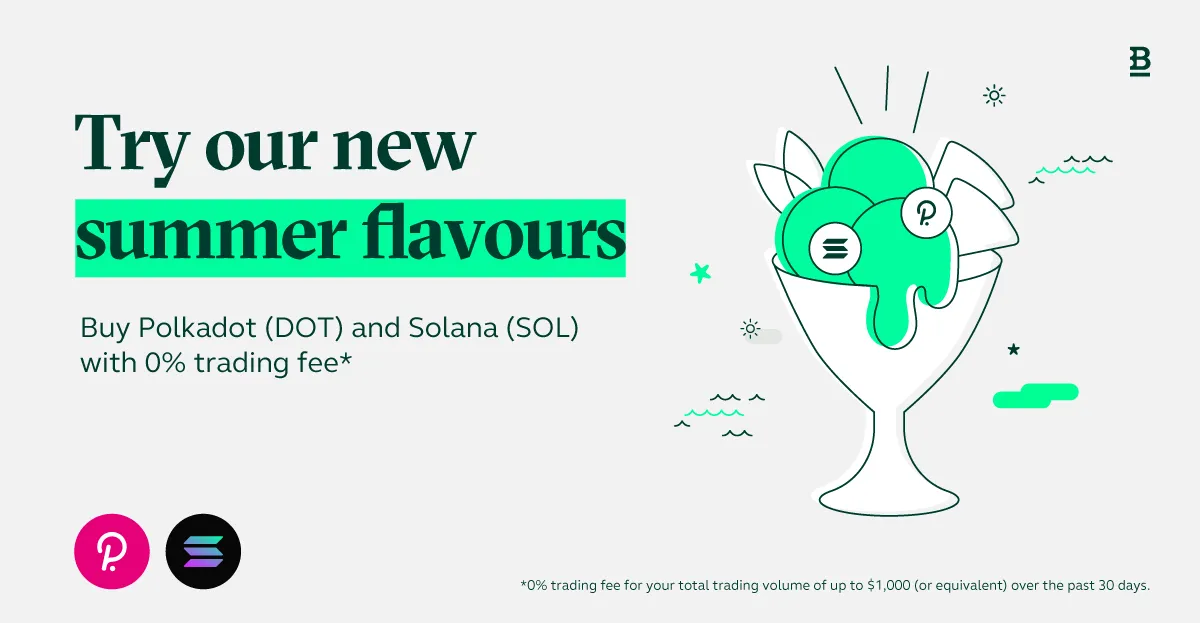 Solana (SOL) and Polkadot (DOT) arrive along with 0% trading fee
As our Summer of Discovery unfolds, we have launched SOL and DOT, giving you two more reasons to make use of our new 0% trading fee*.
Both tokens are listed globally (excluding Singapore). Here's a rundown of the projects:
About Solana (SOL)
Solana is a layer 1 blockchain platform whose goal is to maximize transaction speeds through a novel computational mechanism called Proof of History. Through its architecture, Solana aims to solve the blockchain trilemma of blockchain security, scalability, and decentralization. Accomplishing two of these goals is common for many blockchains but finding a balance of all three is notoriously difficult.
Its native token, SOL, is used by validators who stake tokens to secure the network, and by delegators who assign their tokens to validators. Each is rewarded with a share of new coins from block rewards for contributing to the network.
Click here for more information about Solana (SOL).
About Polkadot (DOT)
Polkadot is a blockchain protocol that provides the basis for building interconnected, specialized blockchain projects called parachains using the security, consensus, and transaction settlement of its main blockchain (the Relay Chain). Additionally, parachains can connect to other networks like Bitcoin and Ethereum using bridges.
Its native token, DOT, is used for a number of purposes on the network, including providing security through validator staking, staking the tokens to vote in governance proposals to make changes to the platform, and lastly, to bid for parachains to secure slots in the Polkadot ecosystem.
Click here for more information about Polkadot (DOT).
Here's the listing schedule**:
1. Transfer-only mode: Monday, August 22
Deposits and withdrawals open but trading is not enabled yet.  
2. Post-only mode: Tuesday, August 23, at 7:00 AM UTC
You will be able to place and cancel limit orders, but they will not be matched. Therefore, no orders will be completed during this stage. 
3. Limit-only mode: Tuesday, August 23, at 11:00 AM UTC 
Limit orders will be matched.

4. Full trading:
Once the order books gather sufficient liquidity, we will enable all order types and card purchases for the new trading pairs as well.
Follow us on Twitter for real-time updates on the rollout of the new trading pairs.
Here are the new trading pairs added on Bitstamp:
Log in to your Bitstamp account to start trading or get the Bitstamp mobile app (Google Play Store / Apple App Store) to trade all our cryptocurrencies on the go!
We're not done yet, so stay tuned for more discoveries through the summer.
* The 0% trading fee applies for your total trading volume of up to US$1,000 (or equivalent) over the previous 30-day rolling period, and is valid for all crypto listed on Bitstamp. Find out more about our 0% trading fee.
**The listing schedule times might be subject to change.
Not offered to customers in the following states: Hawaii, Louisiana, and Nevada. Bitstamp is licensed to engage in virtual currency business activity by the New York State Department of Financial Services.