Meet the new Bitstamp apps for Android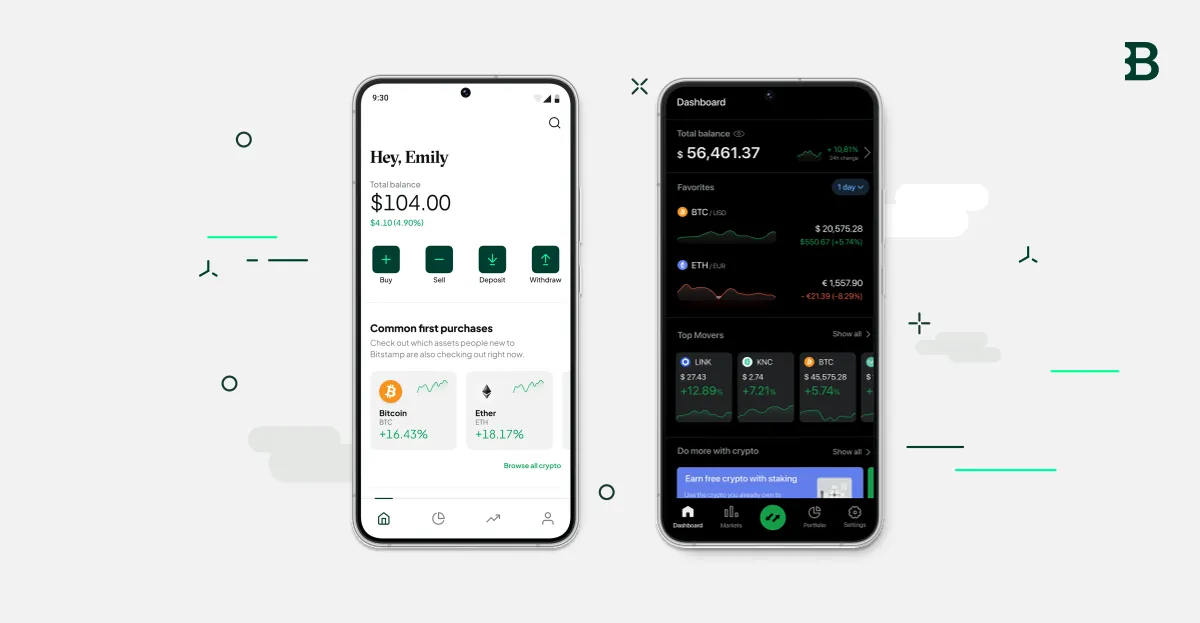 We're introducing the new Bitstamp app for Android, designed for new and experienced users alike. The app will soon also be available on iOS. Our existing app is becoming Bitstamp Pro, which will retain all its existing advanced functionality and features.
Our customers can now choose between the new Bitstamp App and our existing Bitstamp Pro app for their crypto needs.
If you're new to crypto, or just want a simplified crypto experience without all the extra functions, you'll want to grab the Bitstamp app; and if you're a professional trader with extensive crypto mileage, Bitstamp Pro* is the app for you.
The Bitstamp app is being rolled out across all our markets except the US and UK for now. It's currently available on Google Play, with the release on the App Store coming soon.
Feel good about crypto with the Bitstamp apps
Both apps provide secure access to crypto trading underpinned by all measures that make Bitstamp one of the safest exchanges in the industry. You can trade as you go with peace of mind knowing we've got your back with our live customer support, unmatched reliability, industry-leading security, and compliance with regulations.
Below are some of the highlighted features of both apps.
The Bitstamp app - The easiest way to buy and sell crypto
We want everyone to have access to crypto at their fingertips and with the new Bitstamp app, we're making buying, selling, and earning with crypto easier and faster.
Quick buy and sell functionality across all our cryptocurrencies.
Easy purchases with your debit/credit card, PayPal or bank transfers.
Pay the price you see with spread-based pricing, no additional trading fees.
Simple and intuitive interface.
Utilize and earn additional crypto with Bitstamp Earn.
The Bitstamp Pro app – Built for pro traders and crypto experts
The existing app will be named Bitstamp Pro and will retain all its existing functionality and features. It's the go-to app for staying on top of the markets with all the tools you need. Bitstamp Pro's advanced trading interface offers real-time insights into markets, a range of analytical tools and powerful order types to execute your strategy.
Full functionality of the Bitstamp exchange in your pocket
Buy crypto with debit/credit card, Google Pay, Apple Pay or bank transfer
Four order types, real-time charts, order book and a range of analytical tools
Advanced trading interface - high-performance crypto trading experience
No trading fee on all crypto on first $1000 every 30 days**
Low maker-taker trading fees over $1000
Get started now
1.Choose and download the right app for you
Download the Bitstamp app: Google Play (coming soon on the App Store)
Download the Bitstamp Pro app: Google Play, App Store, or Huawei AppGallery.
2. Set up your account
Follow the instructions in the app to register and securely verify your Bitstamp account.
3. Activate your device
Log into the app and set a PIN (Passcode), fingerprint or face ID for easier access.
4. Start your crypto journey – The Bitstamp Way
Fund your account and start exploring the world of crypto.
For more details about both apps, refer to our Bitstamp Mobile Apps FAQ.
Start feeling safe, confident and ready
The security of your assets is our top priority, and we take no shortcuts. We keep all your assets separate from our corporate funds, store them offline to ensure maximum protection, and offer additional crime insurance for online wallets. Since 2011 we've focused on making access to crypto safe and reliable for everyone. Read more about the Bitstamp Way.
The new Bitstamp app for Android is currently available in all regions except in the US and the UK (coming soon). The Bitstamp Pro app will continue to be available in all regions.
Stay tuned for the launches in other regions.
* Please note that iOS users may see the Bitstamp Pro app displayed as "Bitstamp" on their devices.
**The no trading fee applies for your total trading volume of up to US$1,000 (or equivalent) over the previous 30-day rolling period.