What is the Bored Ape Yacht Club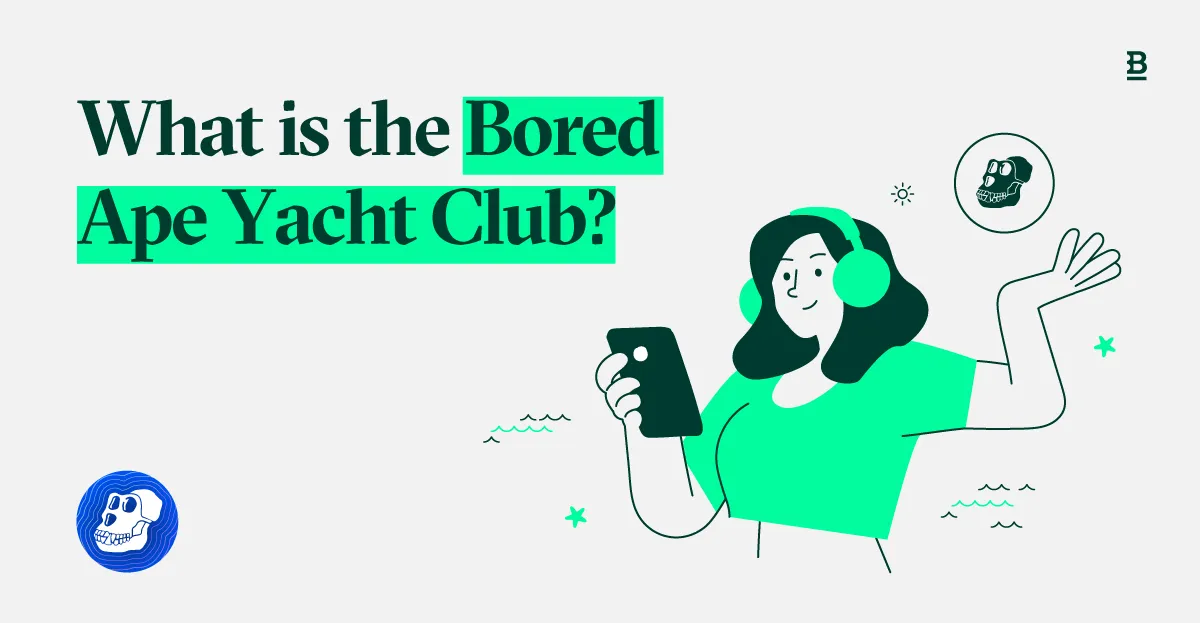 What is the Bored Ape Yacht Club (BAYC)?
The Bored Ape Yacht Club (BAYC) is a collection of 10,000 profile picture-type Non-Fungible Tokens (NFTs) living on the Ethereum blockchain.
The Bored Ape Yacht Club NFTs were created by a smart contract that randomly chosen from more than 170 traits to generate 10,000 unique cartoon apes. Those traits were divided among seven different artistic components of each ape (background, clothes, earring, eyes, fur, hat, and mouth), with certain ones being more uncommon than others. For instance, only 69 apes have "laser eyes" whereas more than 1,700 have "bored eyes." This semi-random, computer-defined rarity is part of the appeal to collectors of generative art projects like the BAYC.
What has distinguished BAYC from other NFT projects has been its strong sense of community and consistent generation of new content. From its members-only, digital community graffiti board called THE BATHROOM (similar to Reddit's r/place) to airdrops of related NFTs like the Bored Ape Kennel Club, BAYC took a collection of digital art and made it into a global brand.
Along with CryptoPunks, the BAYC NFTs epitomized the popularity of non-fungible tokens (NFTs) in 2021. Each ape NFT could be minted for only 0.08 ETH—around $200 at the time—during the project's fair launch, meaning that anyone interested in an Ape could participate in the minting process. The popularity of the project soon drove up its prices on the open market, with the price of a single ape reaching as high as 150 ETH (worth more than $422,000 at the time).
How was the Bored Ape Yacht Club developed?
The BAYC was created by four pseudonymous founders who call themselves Gargamel, Gordon Goner, Emperor Tomato Ketchup, and No Sass.
The BAYC launch was on April 30, 2021, and all 10,000 apes were minted within 12 hours. Since then, Yuga Labs (the company behind the BAYC, named after a villain from the video game Zelda who—appropriately—can turn enemies into 2D art) has developed the BAYC brand into a burgeoning ecosystem that includes NFT collections, a cryptocurrency, and even a metaverse project.
Yuga Labs has secured funding from multiple venture capital sources, including a $450 million in a March 2022 seed funding round which valued the company at $4 billion. Participants included crypto VC firm a16z, game developer Animoca Brands, crypto exchange FTX, NFL star Colin Kaepernick, and rap artist Snoop Dogg.
BAYC is operated by two other entities, the ApeCoin decentralized autonomous organization (DAO) and the APE Foundation. The ApeCoin DAO governs the regulation of ApeCoin, the native token of the BAYC-inspired ecosystem, and it consists of all holders of the APE token. The DAO's governance votes are enacted by the APE Foundation, who administers the day-to-day operations and management of projects supported by the community.
BAYC ecosystem
Bored Ape Kennel Club (BAKC)
In June 2021, Yuga Labs announced its first reward to BAYC holders. Anyone who owned a Bored Ape at that time was airdropped (or sent) a companion dog from the Bored Ape Kennel Club (BAKC), a new collection of 10,000 NFTs.
The dog NFTs could be minted for free (minus Ethereum gas fees) and could be bought and sold separately from their companion apes. This began the tradition of rewarding members of the BAYC community for owning their Ape NFTs.
Mutant Ape Yacht Club (MAYC)
In August 2021, Yuga Labs airdropped 10,000 "mutant serum" NFTs to owners of BAYC NFTs. When applied to a Bored Ape, the mutant serum created a member of the Mutant Ape Yacht Club (MAYC)—a new NFT based on the original BAYC NFT. Although the serum NFT was burned in the process, owners kept their original apes in addition to the new, mutated one.
In addition to this mechanism, Yuga Labs also sold 10,000 additional Mutant Apes for 3 ETH each and raised $96 million over the course of only an hour. This brought the total number of Mutant Apes to 20,000.
ApeCoin (APE)
In March 2022, the APE token was released under the guidance of the ApeCoin DAO and with administrative oversight by the APE Foundation.
Apecoin (APE) is a fungible, ERC-20 token built on the Ethereum blockchain and a portion of the supply was airdropped to BAYC and MAYC owners. Each holder of a BAYC NFTs was able to claim 10,094 APE tokens (worth more than $100,000 at the time) and each holder of a MAYC could claim 2,042 APE (worth more than $20,000 at the time.)
As a cryptocurrency, the stated purpose of APE is to support the development of a decentralized web3. According to the developers of ApeCoin, the four main purposes of APE are:
Governance – Participate in the ApeCoin DAO by making decisions about the direction of the community and partnerships with other ventures.
Spending – Use it as a decentralized currency, powered by the Ethereum blockchain.
Access – Hold the tokens to be granted future opportunities as part of the community.
Incentivization – Incorporate it into the ecosystems of new blockchain projects like games or metaverses.
Of note, there is a maximum fixed supply of APE, meaning that, according to the software's rules, there will only ever be 1 billion APE tokens.
Otherside
In March 2022, Yuga Labs announced its intentions to launch its own metaverse project, Otherside. It officially held a sale of metaverse land (called Otherdeeds) on April 30, 2022—exactly one year after the minting of the BAYC.
In total, 55,000 parcels of digital real estate were offered. Each was priced at 305 APE (around $6,000). In total, Yuga Labs generated more than $300 million through the sale—all transacted in ApeCoin.
Why own a Bored Ape?
There are many reasons people seek out owning an NFT of the BAYC ecosystem, chief among them is that owning a Bored Ape comes with a sense of community and perks.
In the months after its minting, BAYC became popular among celebrities. NBA superstar Steph Curry famously bought his Ape for around $180,000 and then made it his profile picture on Twitter. Others also joined, including nighttime TV host Jimmy Fallon, NFL quarterback Tom Brady, and rap legends Eminem and Snoop Dogg.
The exclusivity of the community was a big draw for celebrities and crypto enthusiasts alike. Holders of BAYC and MAYC NFTs are privy to certain perks like members-only events and exclusive merchandise. In this way, the apes are just as much membership cards as they are generative art.
Additionally, owning a bored ape entitles users to the rights to that image, and holders can use their apes to build products around. For example, the Bored and Hungry burger joint located in Southern California centered its brand and marketing around the owner's BAYC and MAYC.
Finally, there are those who seek out the value of NFTs as investments. There have been a number of headline-making sales of Bored Apes. One of the most notable was the sale of a collection of 101 Bored apes that sold at traditional auction house Sotheby's in September 2021 for over $24 million.
Conclusion
The Bored Ape Yacht Club (BAYC) is a collection of 10,000 generative art NFTs depicting stylized apes.
The company that created the BAYC has expanded the world of the apes into additional NFT collections (Mutant Ape Yacht Club, Bored Ape Kennel Club), a cryptocurrency (ApeCoin), and a metaverse concept (Otherside).
Beyond generative art hosted on the blockchain, the BAYC derives its value from a strong community backing, using the NFTs themselves as a kind of membership card.
How to buy APE
You can buy ApeCoin on Bitstamp. Sign up for a Bitstamp account and start trading APE today!
Disclosure: Bitstamp is licensed to engage in virtual currency business activity by the New York State Department of Financial Services.