We're listing SLP, SXP and CEL!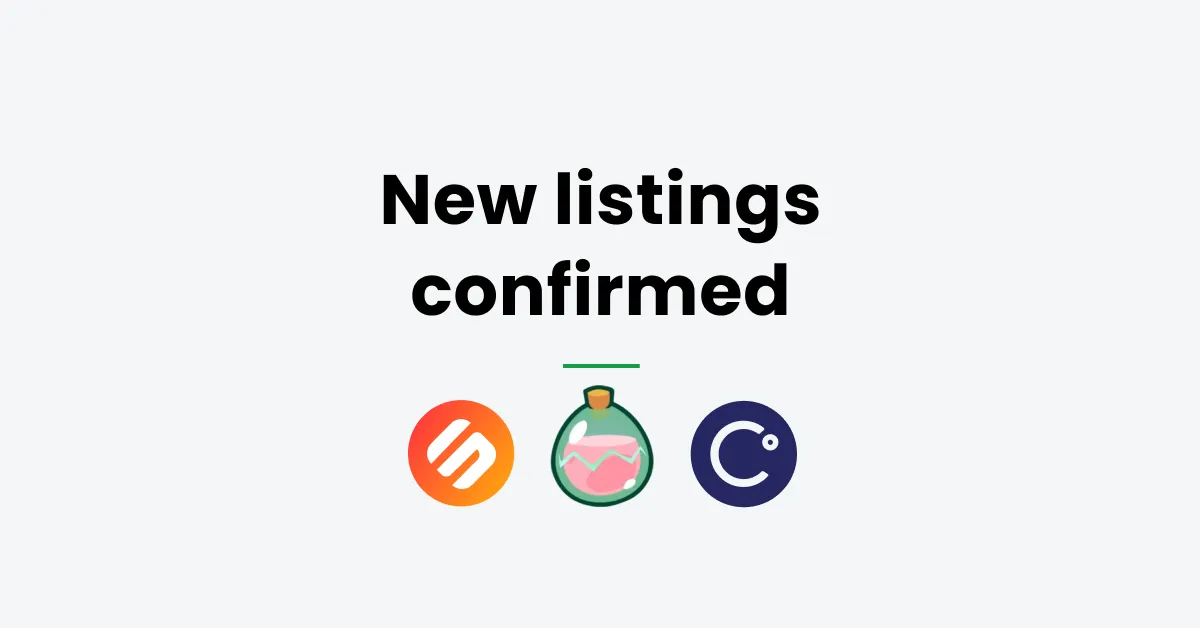 We're listing the following cryptocurrencies globally (excluding the U.S. and Singapore):
Smooth Love Potion (SLP) – The token that's earned by playing the Axie Infinity game and serves as a replacement for the game's experience points.
Swipe (SXP) – The native token behind The Swipe Wallet, a platform that's connecting fiat and cryptocurrency with its API with purpose to create global payment cards.
Celsius (CEL) – The native token behind an all-in-one crypto community platform.
Please note that for the time being, these assets will not be available to our US and Singapore customers.
---
Listing schedule
1.  Transfer-only mode: Deposits and withdrawals open but trading is not enabled yet.
SXP, CEL: Monday, November 8
SLP: Tuesday, November 23
2. Post-only mode: You will be able to place and cancel limit orders, but they will not be matched. Therefore, no orders will actually be completed during this stage.
SXP: Tuesday, November 9 at 9:00 AM UTC
CEL: Wednesday, November 10 at 9:00 AM UTC
SLP: Thursday, November 25 at 9:00 AM UTC
3. Limit-only mode: Order matching will start and trades will be executed normally. However, only limit orders will be available.
SXP: Tuesday, November 9 at 1:00 PM UTC
CEL: Wednesday, November 10 at 1:00 PM UTC
SLP: Thursday, November 25 at 1:00 PM UTC

4. Full trading: Once the order books gather sufficient liquidity, we will enable all order types and card purchases for the new trading pairs as well.
Follow us on Twitter for real-time updates on the rollout of the new trading pairs.
Here's a full list of new trading pairs to be added:
Log in to your Bitstamp account to start trading and get the Bitstamp mobile app to trade all of our cryptocurrencies on the go!
---
Smooth Love Potion (SLP):
Having problems breeding new creatures in the Axie Infinity game? You can now get a head start by buying some SLP's on our exchange. If you haven't heard about the game yet, you can find out more in our AXS listing announcement.
SLP tokens serve as replacement for in-game experience points. The tokens can be used to breed new digital pets that are known as Axies. A new player needs to win at least 15 competitions to collect enough tokens to start breeding new creatures in the game. Buying the token on Bitstamp is an easier way for gamers to get started. No, it's not cheating, we're offering a workaround.
Swipe (SXP):
SXP is the token powering Swipe, a platform that enables businesses to create card programs for its users. With Swipe, businesses can create, manage, and distribute branded virtual and physical cards. Swipe manages all the regulatory, compliance, and network responsibilities with their banking partners and direct licenses.
Swipe partnered with major payment networks to enable businesses to rapidly create crypto to fiat funded card programs.
Read more about Swipe.
Celsius (CEL):
CEL is the token behind the Celsius platform, a community of over 1 million users that earn up to 17% rewards on their crypto. By joining they get new coins every week and can borrow cash at 1%. In a nutshell, users can buy coins, earn rewards, borrow, and transfer with no fees. If users choose to earn in CEL token, they can earn up to 25% more rewards. The payouts are every Monday.
Read more about Celsius Network.