We're listing RGT, FET, and SKL!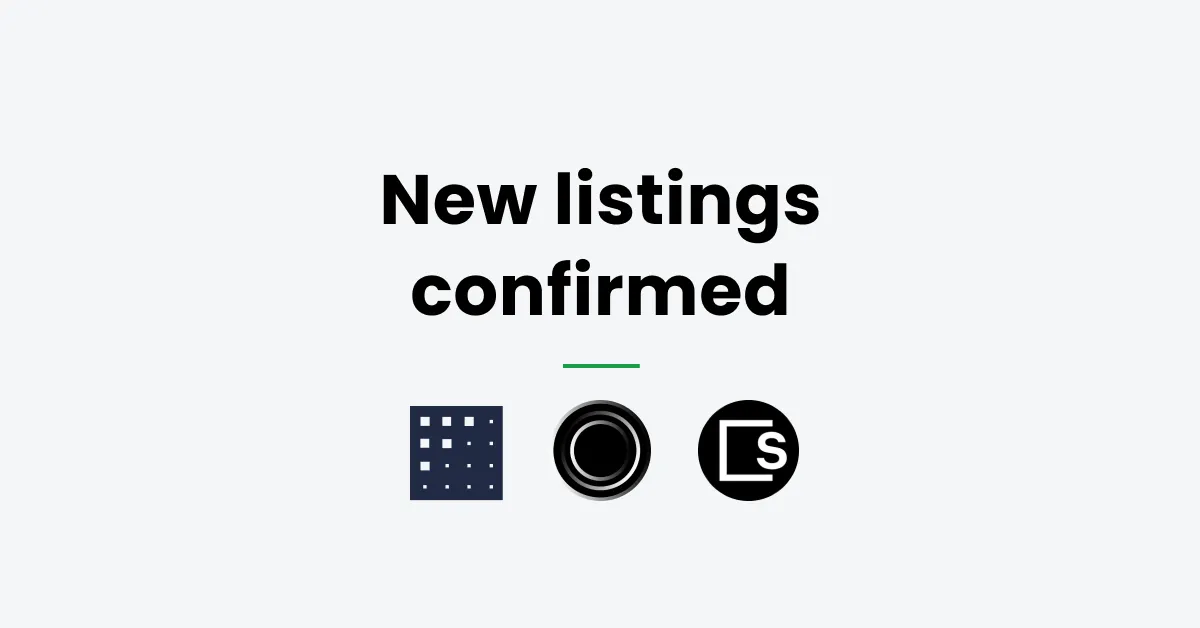 We're listing the following cryptocurrencies globally (excluding the U.S. and Singapore):
Rari Governance Token (RGT) – The native token behind Rari Capital, which is a suite of decentralized finance protocols that autonomously earns users rewards.
Fetch.ai (FET) – An open-access, tokenized, decentralized machine learning network.
SKALE Network (SKL) – A modular protocol, allowing developers to easily provision highly configurable blockchains.
Please note that for the time being, these assets will not be available to our U.S. and Singapore customers. 
---
Listing schedule:
1. Transfer-only mode: Deposits and withdrawals open but trading is not enabled yet.
RGT, FET, SKL: Monday, October 25
2. Post-only mode: You will be able to place and cancel limit orders, but they will not be matched. Therefore, no orders will actually be completed during this stage.
RGT: October 26 at 8:00 AM UTC
FET: October 27 at 8:00 AM UTC
SKL: October 28 at 8:00 AM UTC
3. Limit-only mode: Order matching will start and trades will be executed normally. However, only limit orders will be available.
RGT: October 26 at 12:00 AM UTC
FET: October 27 at 12:00 AM UTC
SKL: October 28 at 12:00 AM UTC
4. Full trading: Once the order books gather sufficient liquidity, we will enable all order types and card purchases for the new trading pairs as well.
Follow us on Twitter for real-time updates on the rollout of the new trading pairs.
---
Here's a full list of new trading pairs to be added at Bitstamp:
Log in to your Bitstamp account to start trading and get the Bitstamp mobile app to trade all of our cryptocurrencies on the go!
---
About Rari Capital (Rari Governance Token - RGT):
RGT is the token behind Rari Capital which offers its userbase the ability to create new opportunities, engaging communities, and financial products. It's a suite of decentralized finance protocols, a breathing DeFi ecosystem, that aims to connect technical and non-technical minds. Rari Capital consists of a wide array of products that create and deliver aggregate rewards:
Fuse: Open interest rate protocol that provides users the ability to create and manage customizable lending and borrowing pools.
Award Aggregator: An autonomous algorithm that rebalances users' funds into the highest-reward opportunities. Staked funds also provide liquidity to Fuse pools for borrowers.
Tranches: Peer-to-peer risk exchange protocol that utilizes the Reward Aggregator DAI pool for customized risk and earn profiles.
Pool 2: Incentives for RGT liquidity providers on decentralized exchanges.
Read more about Rari Capital
About Fetch.ai (FET):
FET is the token powering the technology of Fetch.ai, a Cambridge-based artificial intelligence lab. They're building a decentralized machine learning platform that's based on a distributed ledger. It enables secure sharing, connections and transactions based on any data globally.
The tech consists of tools and infrastructure that can be implemented into multiple industries. Its aim is to improve and increase efficiency through optimization of existing systems with the use of artificial intelligence, intelligent data sharing and machine learning.
Fetch.ai's network is based around an open-source technology that anyone can run to connect to the network, giving them access to the power of AI through software agents on a world-scale secure dataset. It's meant to be used to solve complex coordination tasks in the modern economy, aiming towards the goal of a completely decentralized digital economy.
Read more about Fetch.ai
About SKALE Network (SKL):
The SKALE Network is looking to bring scalability to the Ethereum network and boosting transaction capacity. The decentralized project aims to reduce latency and lower the payment costs as much as possible.
The creators want to enable users to build and run DApps (decentralized applications) in a decentralized modular cloud built for various real-world needs without sacrificing security.
Nodes on the Skale Network provide resources to multiple decentralized elastic blockchains. These are decentralized, configurable, and Ethereum-compatible. SKL, the token fueling the SKALE Network, grants its holders the rights to participate as a network validator, to stake as a delegator, or giving access to a share of the network's resources to developers.
Read more about Skale Network.