We're listing AVAX and WBTC!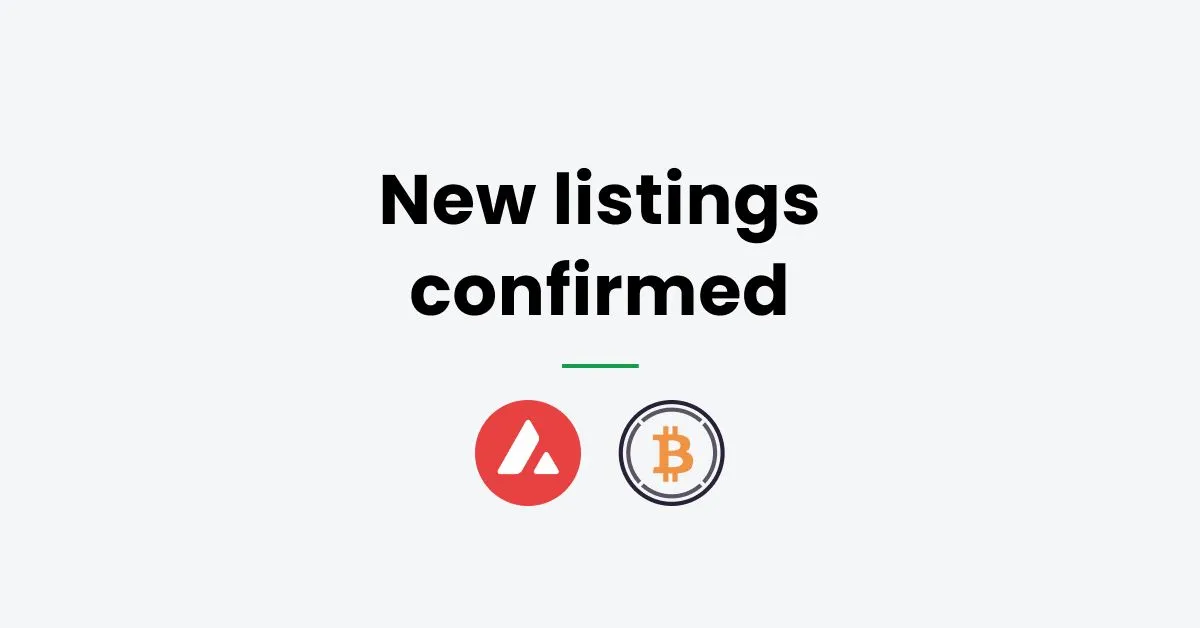 We're listing the following cryptocurrencies globally (excluding the U.S. and Singapore):
AVAX – a native, utility token of Avalanche.
WBTC – bitcoin deployed on Ethereum network as an ERC-20 token.
Here's the listing schedule:
1. Transfer-only mode:
AVAX, WBTC: Thursday, March 10
Deposits and withdrawals open but trading is not enabled yet.
2. Post-only mode:
AVAX: Friday, March 11, at 8:00 AM UTC
WBTC: Friday, March 11, at 8:00 AM UTC
You will be able to place and cancel limit orders, but they will not be matched. Therefore, no orders will be completed during this stage.
3. Limit-only mode:
AVAX: Friday, March 11, at 12:00 PM UTC
WBTC: Friday, March 11, at 12:00 PM UTC
Limit orders will be matched.

4. Full trading:
Once the order books gather sufficient liquidity, we will enable all order types and card purchases for the new trading pairs as well.
Follow us on Twitter for real-time updates on the rollout of the new trading pairs.
Here's a full list of new trading pairs to be added at Bitstamp:
---
AVAX (Avalanche)
Avalanche is a blockchain technology that focuses on scalability, usability, and interoperability. It allows for the creation of an unlimited number of customized and interoperable blockchains. Avalanche also aims to be more eco-friendly than other blockchain technologies, with faster transaction speeds and lower costs. Ultimately it solves the trilemma of scalability, decentralization, and security!
With Avalanche, users can create a variety of customized blockchains, each with its own unique features and purposes. Avalanche also enables interoperability between different blockchains, so that they can work together to create even more powerful ecosystems.
Its native token is a utility token AVAX which serves as the medium of exchange (fees, transactions, incentives, passive income) within the network.
Click here if you want to know more about the project.
WBTC (Wrapped Bitcoin)
Wrapped Bitcoin (WBTC) is an ERC-20 token that is backed by Bitcoin (BTC) at a 1:1 ratio. This means that its a listing of the cryptocurrency Bitcoin on the Ethereum blockchain and that it has the same exact value as the represented asset.
WBTC was created to increase liquidity and access to financial services in the DeFi ecosystem, because it is easier for traders to move money in and out of these applications, which increases trade volume and liquidity.
On top of this, WBTC transactions clear much more quickly than BTC transactions. By wrapping Bitcoin into an ERC20 token, WBTC allows for easier trading and usage on Ethereum-based platforms.
WBTC opens new possibilities for speed and efficiency in cryptocurrency trading and investments.
Click here if you want to know more about the project.
And that's a wrap! If you want to get in on the action, head over to our website and start trading now.