We're listing ALPHA, FTT, and STORJ!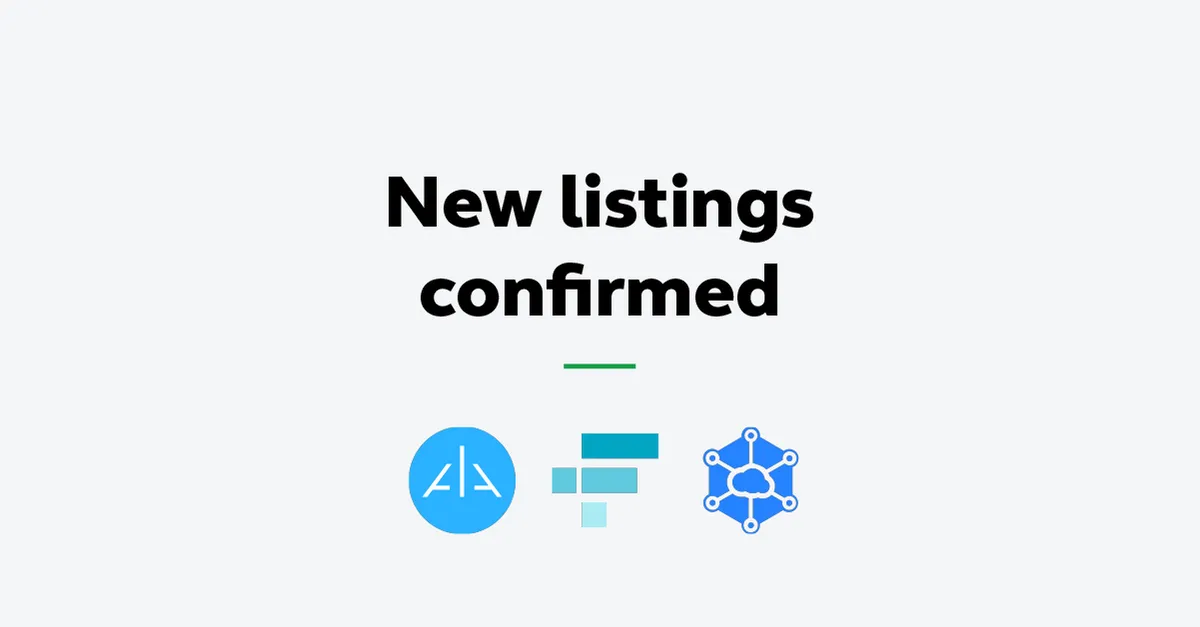 The hand-picked selections of tokens you can trade at Bitstamp is expanding rapidly, now with the three latest additions that will greatly enrich our DeFi asset listing. We welcome a token that is the lifeblood of an innovative crypto exchange, one that is behind a DeFi platform that aims to bring alpha to users across a variety of different blockchains, and last but not least, a token behind a decentralized cloud storage system.
We're listing the following cryptocurrencies:
Alpha finance lab (ALPHA) – a cross-chain DeFi platform that aims to produce an ecosystem of DeFi products addressing the needs in the industry with an emphasis on simplicity of use
FTX (FTT) - a cryptocurrency exchange that offers innovative products including volatility products and leveraged tokens
Storj (STORJ) – an open-source cloud storage platform that uses a decentralized network of nodes to host user data
Please note that for the time being, these assets will not be available to our US and Singapore customers.
---
Listing schedule:
1. Transfer-only mode: Deposits and withdrawals open but trading is not enabled yet.
ALPHA, FTT, STORJ: Monday, September 6
2. Post-only mode You will be able to place and cancel limit orders, but they will not be matched. Therefore, no orders will actually be completed during this stage.
ALPHA: September 7 at 8:00 AM UTC
FTT: September 8 at 8:00 AM UTC
STORJ: September 9 at 8:00 AM UTC
3. Limit-only mode [August 17 at 12:00 AM UTC]: Order matching will start and trades will be executed normally. However, only limit orders will be available.
ALPHA: September 7 at 12:00 AM UTC
FTT: September 8 at 12:00 AM UTC
STORJ: September 9 at 12:00 AM UTC
4. Full trading: Once the order books gather sufficient liquidity, we will enable all order types and card purchases for the new trading pairs as well.
Follow us on Twitter for real-time updates on the rollout of the new trading pairs.
Here's a full list of new trading pairs we're adding at Bitstamp:
Log in to your Bitstamp account to start trading and get the Bitstamp mobile app to trade all of our cryptocurrencies on the go!
---
About Apha Finance Lab (ALPHA):
The DeFi lab along with its token ALPHA is on a mission to build Alpha Universe. It consists of Alpha products that all entwine in a way to maximize rewards while minimizing the risks for users, and other ecosystems incubated through the Alpha Launchpad incubator program.
The Alpha products they offer include Alpha Tokenomics which allows token holders to stake ALPHA tokens; Alpha Homora which allows users to leverage rewards farm on Curve, Balancer, SushiSwap, and Uniswap, taking leverage on ETH and stablecoins; and AlphaX, a non-orderbook perpetual swap product that will allow users to hedge their leverage reward farming positions and take a directional view on any asset by opening leveraged positions, either long or short.
Among their projects, you can also find Alpha Launchpad, a program that focuses on incubating DeFi projects from the ground up and driving their significant growth later on.
ALPHA is the token fueling all their services. Read more on Alpha Finance Labs.
About FTX (FTT):
FTX is a cryptocurrency exchange that offers several innovative products, including industry-first derivatives, options, volatility products and leveraged tokens. Their aim is to construct a platform that's robust enough for professional trading firms, as well as intuitive enough for newcomers. The platform takes pride in features such as clawback prevention, universal stablecoin settlement, and a centralized collateral pool.
You'll be glad to hear that FTX donates 1% of all its net fees to charities, and that they've launched an FTX Climate program which aims to fight against global warming using the most effective solutions.
Their native cryptocurrency token is FTT. Read more on FTX.
About Storj (STORJ):
Before you get any funny ideas, we deem it's important to straighten out the pronunciation. Storj is pronounced as 'storage'. Now that we've got that settled, let's take a look at the project. The service they provide is, well, storage.
Storj is an open-source cloud storage platform. It uses a decentralized network of nodes to host user data. Anyone can become part of the system; all they need is a hard drive and a fast internet connection. By joining Storj, they become a unit in their network, called a node. Space providers are rewarded with Storj tokens. Seeing it's essentially a decentralized cloud storage, files aren't stored in centralized data centers— instead, they're encrypted, split into pieces and then distributed on a global cloud network. In theory, this makes data breaches a thing of the past. The decentralized approach also protects the data from malicious attacks.
Feel free to read more on the project Storj.