Weekly News Roundup – 4 May 2021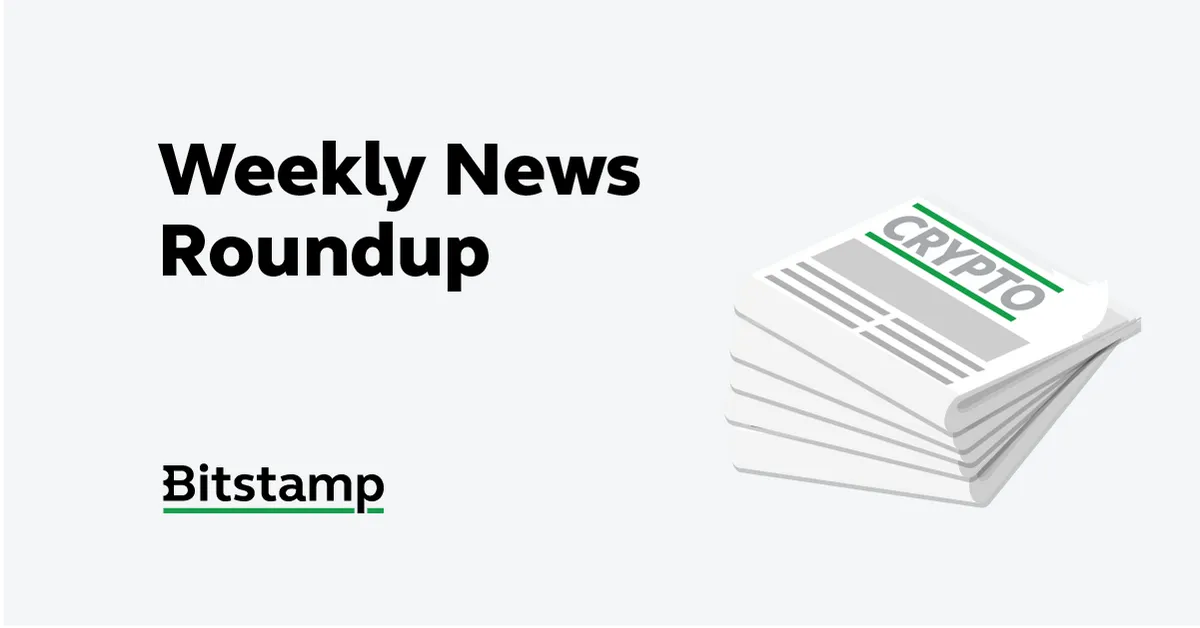 Crypto moves fast and it can be hard to keep up with all the developments. To help you stay on top of what's going on across the industry, we've created this overview of the key news from last week.
JPMorgan to let clients invest in Bitcoin Fund for first time
• JPMorgan Chase is preparing to offer an actively managed bitcoin (BTC) fund to certain clients, becoming the latest, largest and – if its CEO's well-documented distaste for bitcoin is any indication – unlikeliest U.S. mega-bank to embrace crypto as an asset class.
• The JPMorgan bitcoin fund could roll out as soon as this summer, two sources familiar with the matter told CoinDesk. Institutional bitcoin shop NYDIG will serve as JPMorgan's custody provider, a third source said.
• JPMorgan's bitcoin fund will be actively managed, multiple sources told CoinDesk. That's a notable break from the passive fare offered by crypto industry stalwarts like Pantera Capital and Galaxy Digital, which let well-heeled clients buy and hold bitcoin through funds without ever touching it themselves. Galaxy and NYDIG are now offering bitcoin funds to Morgan Stanley clients.
https://www.coindesk.com/jpmorgan-to-let-clients-invest-in-bitcoin-fund-for-first-time-sources
26.04.2021
Q1 earnings show Tesla sold off $272 million of its BTC purchase
• After putting bitcoin on its balance sheet earlier this year, electric vehicle maker Tesla sold off $272 million of its holdings. Its Q1 2021 earnings report shows the sum under "proceeds from sales of digital assets."
• Tesla first bought $1.5 billion in BTC in February of this year, according to a disclosure filing with the Securities and Exchange Commission. Crypto exchange Coinbase facilitated the purchase. The $272 million sale would leave at least $1.33 billion in BTC on Tesla's balance sheet according to the price at the Feb. 8 transaction. At this point that figure would be higher given price movements, but filing rules don't allow for Tesla to adjust the figure to the upside.
• Last month, the firm also announced it would accept payment in bitcoin. Musk said Tesla would retain those payments in their digital asset form, and forego converting them to fiat.
• Elon Musk said Tesla Inc. sold 10% of its Bitcoin holdings to demonstrate the token's liquidity, while adding that he's retained his personal investment in the cryptocurrency.
https://www.theblockcrypto.com/linked/102899/q1-earnings-show-tesla-sold-off-272m-of-its-btc-purchase
https://www.bloomberg.com/news/articles/2021-04-26/musk-tesla-sold-bitcoin-to-prove-liquidity-as-cash-alternative
26.04.2021
EIB issues CBDC-denominated digital bond on Ethereum blockchain
• The European Investment Bank (EIB), the European Union's lending arm, announced Wednesday that it issued its first-ever bond on the Ethereum blockchain.
• The issued bond is worth €100 million ($121 million) and will mature on April 28, 2023. Money from underwriters — those assuming risk by buying into a bond — is represented as a central bank digital currency (CBDC) on the Ethereum public blockchain.
• Investment banks Goldman Sachs, Banco Santander, and Société Générale will oversee the sale of the bond, which will be governed under French law.
• According to the EIB, benefits from such bond digitalization include reducing fixed costs and costs from intermediaries, improved market transparency, and quicker settlement speed. "These digital bonds will play a role in giving the Bank a quicker and more streamlined access to alternative sources of finance to boost finance for projects across the globe," EIB vice president Mourinho Félix said in a statement.
https://www.theblockcrypto.com/linked/103151/european-investment-bank-bond-public-blockchain
28.04.2021
Spot trading volumes on legitimate crypto exchanges hit $1.58 trillion in April
• Spot trading volumes on legitimate exchanges hit a new all-time high for April. The $1.58 trillion figure represents a 49% increase compared to March's $1.06 trillion.
• Key market events in April include bitcoin's surpassing of a new all-time high above $60,000 as well as a mid-month, weekend futures liquidation event as the price briefly plunged below $52,000. That event triggered a record number of crypto futures liquidations.
https://www.theblockcrypto.com/linked/103564/crypto-spot-volumes-legitimate-exchanges-april
02.05.2021
ETH staking
• Over 4 million ETH (~$11 billion) is now staked on Ethereum 2.0

https://cryptoquant.com/overview/full/599?window=day
29.04.2021
DeFi is booming
• In Q1 2021, DEX volumes went parabolic reaching over $217 billion this quarter, up 236% from Q4 2020, and a whopping 8,012% from Q1 2020.
• Uniswap led the pack, with a few following behind: PancakeSwap, SushiSwap, CurveFinance. PancakeSwap grew its market share from 2% to 37% in the quarter.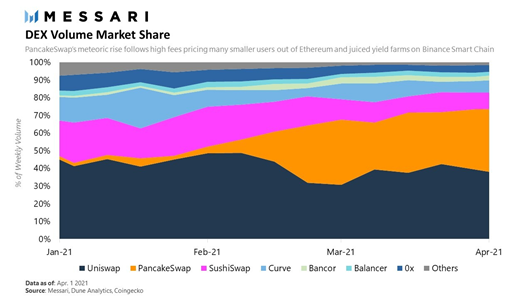 https://twitter.com/MessariCrypto/status/1385298166749278212
22.04.2021