Weekly News Roundup – 8 Nov 2021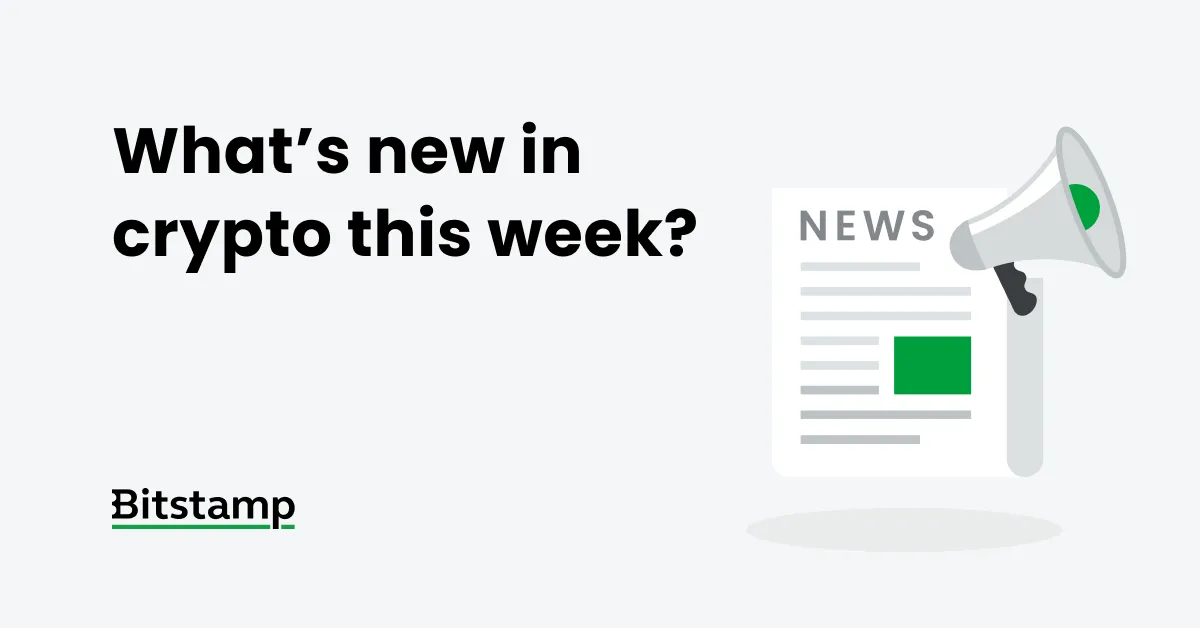 Crypto moves fast and it can be hard to keep up with all the developments. To help you stay on top of what's going on across the industry, we've created this overview of the key news from last week.
---
Quentin Tarantino to auction six uncut scripts for Pulp Fiction as NFTs
Film director Quentin Tarantino is putting six uncut and never-before-seen scenes from cult classic Pulp Fiction up for auction.
The scenes are being sold as NFTs on the OpenSea marketplace.
Visually, the NFTs take the form of iconic moments from the Pulp Fiction movie. But they also contain secret content, including uncut first draft scripts of Pulp Fiction — along with custom commentary from Tarantino.
These NFTs will be made using Secret Network and put live on the Ethereum blockchain. Secret Network enables the NFTs to both have public and private data. As a result, only the token holder is able to access the private data at any point in time.
Tarantino also plans to sell a seventh NFT in the near future at a formal auction house (such sales typically take place at Christie's or Sotheby's).
https://www.theblockcrypto.com/linked/122216/quentin-tarantino-to-auction-six-uncut-scripts-for-pulp-fiction-as-nfts
02.11.2021
---
Google invests $1B in CME Group along with 10-year Cloud deal
CME Group chair and CEO Terry Duffy said the investment and partnership would help the company "transform derivatives markets through technology, expanding access and creating efficiencies for all market participants."
Google's parent company Alphabet has made a $1 billion equity investment in the Chicago Mercantile Exchange Group, the exchange responsible for many crypto derivatives products.
In a Thursday notice to investors, the CME Group announced the $1 billion investment from Alphabet in addition to a 10-year strategic partnership with Google Cloud aimed at accelerating the exchange's move to the Cloud and changing the way global derivatives markets operate. Google made the investment through the company's nonvoting convertible preferred stock.
"Through this long-term partnership with Google Cloud, CME Group will transform derivatives markets through technology, expanding access and creating efficiencies for all market participants," said CME Group chair and CEO Terry Duffy. "This partnership will enable CME Group to bring new products and services to market faster."
The CME Group was behind the first Bitcoin (BTC) futures contract launched in December 2017. Since that time, the exchange has continued expanding its offerings of crypto derivatives to include micro BTC futures, BTC options, and micro Ether (ETH) futures. It is expected to launch on Dec. 6.
According to data from CME Group, the average daily volume in its Bitcoin futures reached 6,243 contracts as of Nov. 3, with 13,417 open interest contracts. At the time of publication, the company's market capitalization is $79.8 billion, making it a significant player in the industry.
https://cointelegraph.com/news/google-invests-1b-in-cme-group-along-with-10-year-cloud-deal
04.11.2021
---
UMA Price Up 26% In Anticipation of Across Launch
UMA stands for Universal Market Access, it describes itself as a decentralized financial contracts platform. According to their official website: "UMA enables anyone to build decentralized financial products."
The UMA protocol already has active financial platforms on its UMAverse with a TVL (total value locked) at over $80M and Total value minted at over $30M.
Such an active DeFi ecosystem with dozens of apps is a big reason for UMA's recent price hike of over 39% in the past week.
One recent announcement which may attribute to UMA's recent price hike is the upcoming launch of Across.
According to their announcement on twitter: "Across Protocol is the fastest, cheapest, and most secure L2 to L1 bridge. It will launch live on main net in 4 days. Across uses UMA's Optimistic Oracle to insure transaction. Across goes live tomorrow, November 8th and opens up a new space in DeFi core infrastructure. With the anticipation of the main-net launch, it's not surprising to see the market rise in price.
With the growing ecosystem of UMA the long term outlook on this crypto is bullish. However, because the recent price hike has been relatively dramatic and the crypto just hit $1B in market cap, more likely the market will test support before attempting to break through.
https://thevrsoldier.com/uma-price-up-anticipation-across-launch/
07.11.2021
---
CME to launch micro ether futures next month
The Chicago Mercantile Exchange (CME) is set to launch micro ether futures on December 6, according to a statement.
At present, the CME offers trading on ether futures, with a contract size of 50 ETH ($222,000). With micro ether futures, the contract size will be much smaller, allowing for more precise trades.
"Since the launch of Ether futures in February, we have seen steady growth in liquidity in these contracts, especially among institutional traders," said Tim McCourt, global head of equity index and alternative investment products at the CME Group, in the statement.
"At the same time, the price of ether has more than doubled since these contracts were introduced, creating demand for a micro-sized contract to make this market even more accessible to a broader range of participants. Micro Ether futures will offer even more choice and precision in how they trade Ether futures in a transparent, regulated and efficient manner at CME Group," he said.
CME currently offers trading for bitcoin and ether futures, along with micro bitcoin futures and options on bitcoin futures. Trades are cash-settled and use CF Benchmarks reference rates.
So far, the exchange has seen all-time trading volumes of more than 675,500 ether futures, which is equivalent to 33.6 million ETH ($149 billion).
https://www.theblockcrypto.com/linked/122982/cme-to-launch-micro-ether-futures-next-month
02.11.2021
---
BTC supply dispersion
As BTC adoption increases and miners inevitably sell new coins to cover fiat-denominated expenses, supply is getting more equal. The number of addresses with at least 0.01 BTC now stands at 9.1M, rising from 8.5M at the beginning of this year.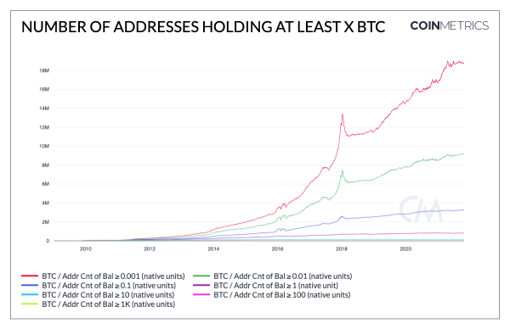 https://coinmetrics.substack.com/p/coin-metrics-state-of-the-network-issue-127
02.11.2021