Weekly News Roundup – 6 Sep 2021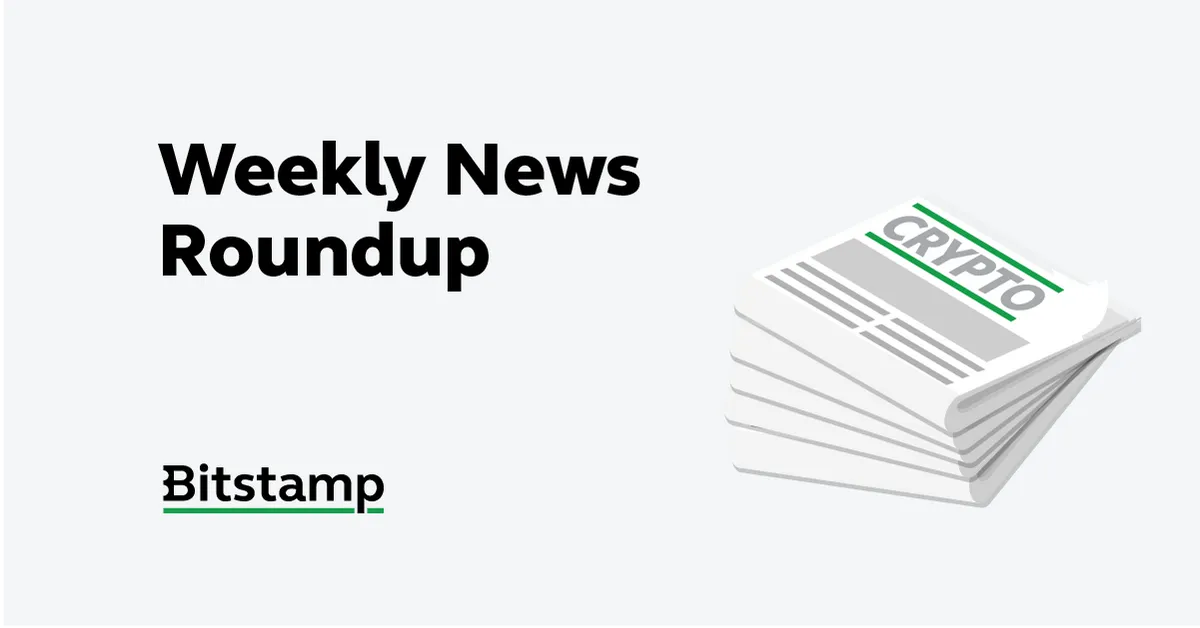 Crypto moves fast and it can be hard to keep up with all the developments. To help you stay on top of what's going on across the industry, we've created this overview of the key news from last week.
---
Twitter seems to be testing the ability to display Bitcoin and Ethereum addresses on profiles
Twitter seems to be testing the addition of crypto features to its Tip Jar service, according to a mobile developer who claims to have reverse-engineered the feature.
Alessandro Paluzzi posted screenshots today that display interfaces allowing users to add their Bitcoin and Ethereum addresses to their profiles. Beneath each prompt, a notice reads: "People will send payments to the [Bitcoin or Ethereum] address you've entered above."
The idea is to enable users to receive tips in crypto through the Tip Jar feature, according to Paluzzi. The service allows users to send funds to other accounts.
Twitter CEO Jack Dorsey implied Bitcoin would be integrated with the Tip Jar back in July. Yesterday, Paluzzi leaked images showing that Twitter is trialing the ability to tip in the cryptocurrency with the help of the Bitcoin Lightning app Strike.
To receive bitcoin tips, it seems a Strike account will be necessary. However, users do not need to link a Strike account to add their Bitcoin address to their profile, according to Paluzzi.
https://www.theblockcrypto.com/linked/116499/twitter-seems-to-be-testing-the-ability-to-display-bitcoin-and-ethereum-addresses-on-profiles
02.09.2021
---
Jack Dorsey says plan for 'TBD' bitcoin project is to build a decentralized exchange
Last month, Square CEO Jack Dorsey disclosed plans for a project called TBD that, at the time, would focus on the development of a platform for open-source financial services dedicated to bitcoin.
That project has a clearer roadmap, according to Dorsey as well as Mike Brock, the CashApp exec put in charge of the initiative: a decentralized exchange. A decentralized exchange is a system for trading wherein no central party has custody or control of funds that pass through it.
In a tweet thread, Brock wrote that "[w]e believe Bitcoin will be the native currency of the internet. While there are many projects to help make the internet more decentralized, our focus is solely on a sound global monetary system for all. But including all requires a few pieces we think are missing... Getting bitcoin today typically involves exchanging fiat at a centralized and custodial service like @CashApp or @Coinbase . These on- and off-ramps to Bitcoin have a number of issues, and aren't distributed evenly around the world."
Brock noted that the exact design principles for this platform aren't fully ironed out, highlighting Rootstock, a smart contract-enabled sidechain of Bitcoin, as one potential option. "However, the gaps needed to build this may be too large, which would also have us consider other chains as a bridge," he went on to add. "Some of the gaps we currently see are around cost and scalability. Lightning is solving for this with payments. We need a solve for exchange infrastructure between digital assets, like stablecoins," Brock wrote.
https://www.theblockcrypto.com/linked/115868/jack-dorsey-bitcoin-decentralized-exchange
27.08.2021
---
El Salvador approves $150 million trust fund to support bitcoin ambitions
The finance commission of El Salvador's Legislative Assembly has approved a $150 million trust fund to support the country's plan to make bitcoin legal tender.
That amount could be further increased, according to a report in El Salvador's Diario de Hoy newspaper.
The Central American country became the first in the world to make bitcoin legal tender in June, via a law set to take effect on September 7. On the same day, El Salvador will launch a wallet called Chivo that supports transactions in U.S. dollars — the country's national currency — as well as bitcoin. The government first announced the planned trust in June as a way to help with converting between the two currencies.
According to an announcement from El Salvador's Legislative Assembly, the fund will aid in rolling out the $30 bitcoin bonus that citizens will receive when they sign up for Chivo, which supports the conversion of cryptocurrency to dollars. El Salvador's president Nayib Bukele has underscored that citizens will have a choice about whether to download the app, although the $30 bonus will only be offered in bitcoin. In addition, the government is also setting up 200 ATMs to support bitcoin transactions.
El Salvador estimates it has 50,000 bitcoin users today and expects to increase that number to 4 million, according to that announcement. It is unclear if that number would include only active cryptocurrency users, or anyone that would sign up for the Chivo wallet.
https://www.theblockcrypto.com/linked/116200/el-salvador-approves-150-million-trust-fund-to-support-bitcoin-ambitions
31.08.2021
---
August spot exchange volume breaks $1 trillion for first time since May
Legitimate spot exchange volume for cryptocurrencies reached $1.07 trillion in August, according to data from The Block Research.
Spot exchanges have remained under $1 trillion since June, during which volumes weighed in at $958.3 billion. July saw $651.2 billion. However, the month-over-month increase from July to August was 64% — enough to push spot exchanges above the trillion-dollar mark again.
Decentralized exchange volume reached $82 billion in August — up 34% from July.
https://www.theblockcrypto.com/linked/116381/august-spot-exchange-volume-breaks-1-trillion-for-first-time-since-may
02.09.2021
---
Crypto and blockchain jobs' share grew 118% in 10 months, new data shows
Not only has demand for cryptocurrency and blockchain-related expertise increased, but new data suggests that the kinds of roles being posted have shifted over time.
Gathering the most recent data on the cryptocurrency and blockchain job market, a new report suggests that higher levels of institutional adoption have spurred greater demand for expertise in the sector. According to the employment website Indeed, as of mid-July 2021, the overall share of crypto and blockchain job postings on the platform has grown 118% compared with early September 2020.
This solid growth has also come with a shift in the roles being sought after, with the share of management posts in crypto and blockchain increasing 29.87% year-on-year as of July 16.
As the Korea IT Times observes, blockchain-related roles tend toward a higher salary range than other technology posts as they demand a strong knowledge of cryptography combined with expertise in ledger economics and object-oriented programming, among other areas. While crypto and blockchain — even DeFi— have gained traction in educational institutions steadily, the report alleges that many developers in the sector remain largely autodidact, suggesting that universities and programs are lagging.
The report further claims that reliance upon remote workers during the pandemic may prove to be a good fit for an industry that prizes decentralization, encouraging core developers and researchers to engage with multiple partners and employers on different projects.
https://cointelegraph.com/news/crypto-and-blockchain-jobs-share-grew-118-in-ten-months-new-data-shows
03.09.2021