Weekly News Roundup – 6 Dec 2021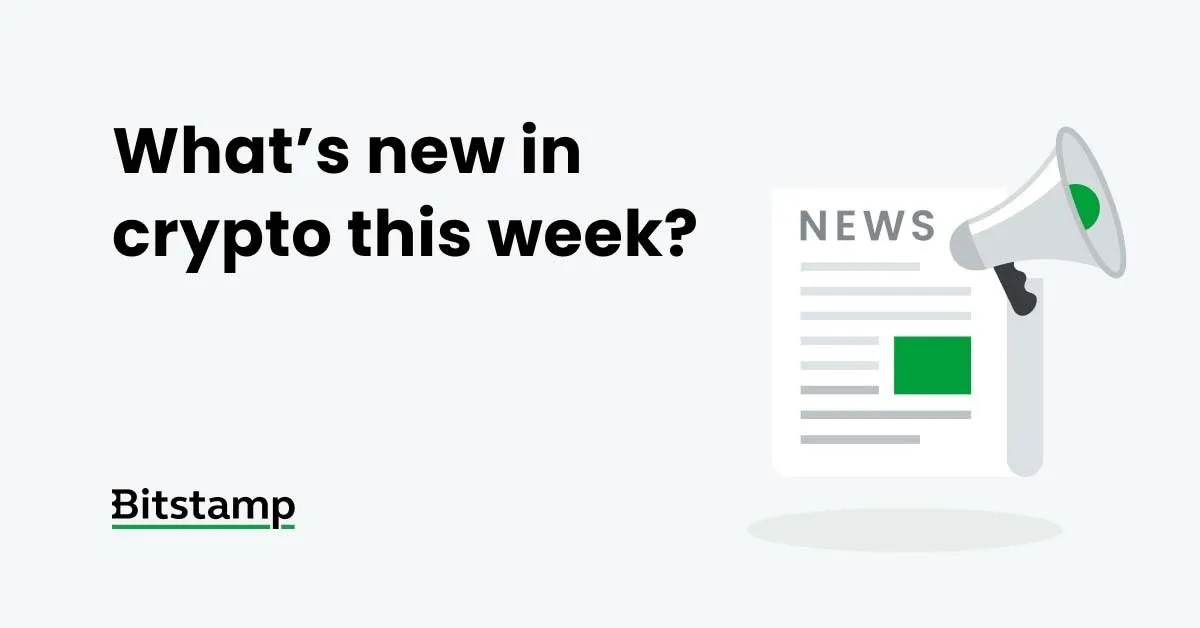 Twitter names Parag Agrawal CEO as Jack Dorsey steps down
Twitter has named Parag Agrawal as CEO as Jack Dorsey steps down, according to an announcement. Agrawal was formerly the CTO of Twitter and has worked for the company for 10 years.
"I want to thank the Board for their confidence in my leadership and Jack for his continued mentorship, support, and partnership," said Agrawal. "I look forward to building on everything we have accomplished under Jack's leadership and I am incredibly energized by the opportunities ahead."
According to the statement, Dorsey will remain a member of its board until his term expires in 2022. Twitter has named Bret Taylor as chairman of the board, replacing Patrick Pichette.
"I've decided to leave Twitter because I believe the company is ready to move on from its founders. My trust in Parag as Twitter's CEO is deep. His work over the past 10 years has been transformational. I'm deeply grateful for his skill, heart, and soul. It's his time to lead," said Dorsey.
Agarwal has played a role in Twitter's decentralization efforts. In 2019 he was tasked with finding a lead for Bluesky, a spot eventually taken by Jay Graber earlier this year.
https://www.theblockcrypto.com/linked/125695/twitter-names-parag-agrawal-ceo-as-jack-dorsey-steps-down
29.11.2021
---
Virtual land in the Metaverse dominated NFT sales over past week
Based on NFT and Metaverse sales over the past week, the demand for digital land outpaced all other items, art, and collections. Digital land is in high demand in what is already a highly lucrative market as the past week's NFT and Metaverse sales figures revealed.
Data from the industry metrics platform, NonFungible, indicates that over the past week there have been more than $300 million in NFT sales. Of that total, almost a quarter have been for digital land in the Sandbox Metaverse. Over the past week, each one of the top ten NFT Metaverse sales across the top five collections were for in-game digital land.
The Sandbox traded a total volume of $70.5 million for 4,433 assets over the past week — making it the Metaverse collection that raked in the most cash.
Although Decentraland ranked in second place for the total volume traded, the top ten most expensive metaverse NFT sales during the past week, ranging from 225,000 MANA ($758,250) to 50,000 MANA ($220,000), were all on the Ethereum-based virtual world. Decentraland traded $6.6 million in volume for 399 assets over the past week.
The Metaverse is an immersive virtual reality experience of the internet that uses blockchain technology and nonfungible tokens (NFTs) to pay and own items online. For example, when you make an in-game purchase you actually own the item, and are free to hold, trade or sell it.
According to DappRadar, $106 million worth of Metaverse land was sold among more than 6,000 traders in the week ending Dec. 2. "Undoubtedly, Metaverse land is the next big hit in the NFT space. Outputting record sales numbers and constantly increasing NFT prices, virtual worlds are the new top commodity in the crypto space," stated DappRadar in a blog post at the time.
https://cointelegraph.com/news/virtual-land-in-the-metaverse-dominated-nft-sales-over-past-week
06.12.2021
---
Fidelity Canada officially launches Bitcoin ETF and Bitcoin Mutual Fund
On Thursday, Fidelity Canada officially launched the Fidelity Advantage Bitcoin exchange-traded fund (ETF) and the Fidelity Advantage Bitcoin ETF Fund (mutual fund), marking the first such assets to be made available in the country and confirming earlier reports on the matter. The funds have the tickers FBTC and FBTC.U, denominated in Canadian and United States dollars, and are listed on the Toronto Stock Exchange. Fidelity's Bitcoin ETFs seek to track the performance of Bitcoin's (BTC) spot price. Fidelity currently manages CA$208 billion ($162.27 billion) in assets in the country.
The ETFs will have an annual management fee of 0.4%. Operating expenses and trading costs are not yet available as the assets are still new. Over 95% of Bitcoin purchased by the funds is stored in cold wallets.
The implications are significant for Canadian retail investors who open government-registered accounts, such as the Tax-Free Savings Account (TFSA), and purchase Bitcoin ETFs. As the name implies, securities held in a TFSA are exempt from capital gains tax liabilities.
Since 2009, the annual contribution limit for a TFSA has ranged from CA$5,000 ($3,903) to CA$10,000 ($7,807). Unused contributions from the previous years are carried forward, making them cumulative. In addition, all realized profits accrued in the TFSA are added back into the contribution room. Hypothetically, if an investor purchases $10,000 in a Bitcoin ETF and sells them for $20,000, then further capital appreciation from reinvesting the full $20,000, not $10,000, will be eligible for capital gains tax-exemption.
https://cointelegraph.com/news/fidelity-canada-officially-launches-bitcoin-etf-and-bitcoin-mutual-fund
02.12.2021
---
Payments giant Square is changing its name to Block
Fintech and digital payments giant Square Inc. has changed its name to Block in a move that reflects changes to its business, the company said in a statement late Wednesday afternoon ET.
The change to Block "acknowledges the company's growth," the company wrote, noting that since its founding in 2009 the firm has added mobile payment service Cash App, streaming music service TIDAL and bitcoin-focused, open developer platform TBD54566975. In terms of crypto, Square is also in the process of building a hardware wallet and is considering creating a bitcoin mining service.
"The name change creates room for further growth," the company concluded. "Block is an overarching ecosystem of many businesses united by their purpose of economic empowerment, and serves many people – individuals, artists, fans, developers and sellers." The company said "Block" has many associated meanings, including building blocks, neighborhood blocks and their local businesses, and blockchain.
There will be no organizational changes as a result of the name change, although Square Crypto, a separate project of the company dedicated to advancing bitcoin, of which Square CEO Jack Dorsey is a big fan, will change its name to Spiral.
A legal change is expected to occur on Dec. 10, and the company's stock ticker on the NYSE will remain as SQ.
The announcement comes just two days after Dorsey told investors he would be stepping down as the CEO of Twitter, though he will remain on Twitter's board of directors until his term expires in the middle of 2022. Dorsey's move has prompted some speculation that he would be focusing more of his efforts on bitcoin, either at Square or on his own.
https://www.coindesk.com/business/2021/12/01/payments-giant-square-is-changing-its-name-to-block/
01.12.2021
---
MicroStrategy buys more bitcoin for over $414 million in cash
Software company MicroStrategy announced Monday that it had bought an additional 7,002 bitcoins for around $414.4 million in cash.
The company bought these bitcoins at an average purchase price of $59,187 per coin. It purchased these bitcoins as part of its fourth-quarter purchase, i.e., during the period between October 1 and November 29.
MicroStrategy now holds a total of 121,044 bitcoins, worth nearly $7 billion at current prices. The company is currently sitting on a huge paper profit of over $3 billion as it bought these bitcoins at an aggregate purchase price of $3.57 billion. Its average purchase price is about $29,534 per bitcoin, and bitcoin is currently trading at around $57,280.
While MicroStrategy's bitcoin bet is paying off so far, what happens if bitcoin crashes at some point in the future? Some observers recently told The Block that if the price of bitcoin were to plunge far enough, MicroStrategy could struggle to pay its over $2 billion debt that it has taken on to purchase its bitcoins.
https://www.theblockcrypto.com/linked/125650/microstrategy-buys-more-bitcoin-btc-over-414-million-cash
29.11.2021
---
Decentralized exchanges near $100 billion in monthly volume for November
Monthly data for decentralized exchanges (DEXs) indicates that the ecosystem has seen nearly $100 billion in volume for the month of November.
According to The Block's Data Dashboard, the total for November is approximately $99.5 billion as of November 28. Monthly volumes have climbed since hitting a low for the year of $56.35 billion in July, with the November figure surpassing October's $89.15 billion.
Uniswap v3 and v2 exchange protocols have constituted the bulk of the monthly volume for November, reporting $47.37 billion and $24.07 billion, respectively.
To date, monthly volumes peaked in May, when DEXs reported a total of $162.83 billion in volume.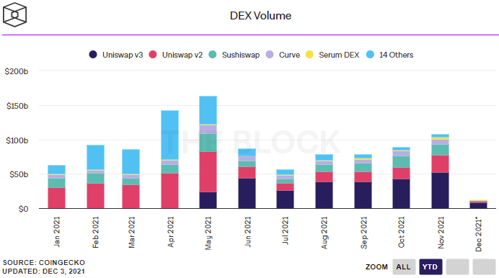 https://www.theblockcrypto.com/linked/125633/decentralized-exchanges-near-100-billion-in-monthly-volume-for-november
28.11.2021