Weekly News Roundup – 4 Oct 2021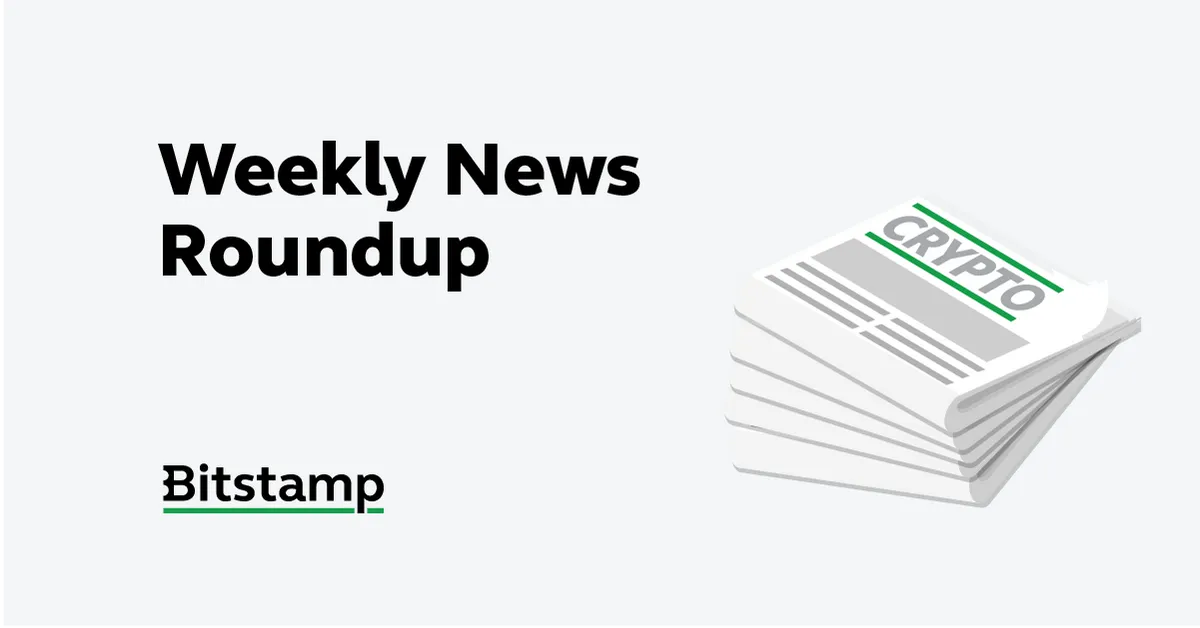 Crypto moves fast and it can be hard to keep up with all the developments. To help you stay on top of what's going on across the industry, we've created this overview of the key news from last week.
---
El Salvador has officially started using volcanos to mine bitcoin
President Nayib Bukele announced that El Salvador has mined a small proportion of its first bitcoin for the first time since officially adopting the cryptocurrency as legal tender, by utilizing power naturally obtained using geothermal power obtained from Volcanos.
The mining project has, according to the press release, generated a total of 0.00599179 BTC so far, and is operated by the state-backed LaGeo SA de CV.
"We're still testing and installing, but this is officially the first Bitcoin mining from the volcanode," tweeted Bukele, providing a breakdown of the mining rewards so far.
The bitcoin is being mined using geothermal energy generated by volcanos in the region. The country heavily relies on geothermal energy and is one of the top producers of it in the world.
Last month, El Salvador became the first country to make bitcoin legal tender. It has also created the Chivo wallet for citizens to access the Bitcoin network and make payments. It gave out $30 of bitcoin to anyone who signed up.
https://www.theblockcrypto.com/post/119215/el-salvador-has-started-mining-bitcoin-with-volcanos
01.10.2021
---
Bitcoin's Lightning Network capacity reaches an all-time high
The capacity of the Bitcoin Lightning Network has reached an all-time high, nearing 3,000 bitcoin, according to The Block's Data Dashboard.
The Lightning Network is the main Layer-2 solution for Bitcoin, designed in an effort to make small bitcoin transfers cheaper and faster. The current capacity of the network stands at around 2,955 bitcoin (over $123 million at current prices), meaning its users can move (send and receive) this much worth of amount via the network.
The Lightning Network has been growing at a rapid pace since January of this year. Several factors appear to have led to that growth, including Twitter's recent announcement that said the company has rolled out its tips function worldwide via the Lightning Network. El Salvador's official bitcoin wallet, Chivo, also supports the network for transfers.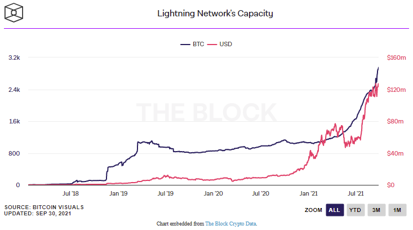 https://www.theblockcrypto.com/linked/119025/bitcoin-lightning-network-capacity-reaches-all-time-high
29.09.2021
---
Axie Infinity is launching a decentralized exchange
Axie Infinity, one of the most popular blockchain gaming startups, is bridging the nascent gaming world with the market for decentralized finance with the launch of a new decentralized exchange.
The ConsenSys-backed project has become the zeitgeist of the crypto market in the Philippines where players are playing the game to earn crypto that supplements their existing income.
While the project has seen its user-base grow from some 38,000 active users in April to around 1.7 million active users in August, interest has waned in recent weeks. Weekly volume declined from $220M from peak to around $130M.
The DEX could help keep users playing the game because it will remove certain frictions that exist for players who have to move their tokens off the platform to trade them. The DEX will be built on Ronin, an Ethereum-linked sidechain purpose-built for Axie Infinity.
Axie Infinity recently completed a $7.6 million funding round that drew in investors like billionaire entrepreneur Mark Cuban.
https://www.theblockcrypto.com/linked/119283/axie-infinity-is-launching-a-decentralized-exchange
01.10.2021
---
DeFi whales turned Central, Northern & Western Europe into the world's biggest cryptocurrency economy
Central, Northern, & Western Europe (CNWE) has the biggest cryptocurrency economy in the world, receiving over $1 trillion worth of cryptocurrency over the last year, which represents 25% of global activity.
Having ranked second last year, CNWE's new position in the top spot is the result of tremendous growth starting in July 2020, combined with a relative decline in activity in Eastern Asia.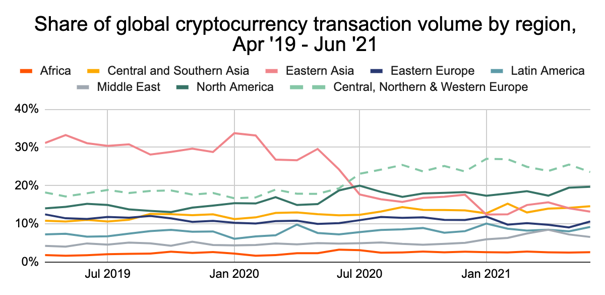 https://blog.chainalysis.com/reports/central-northern-western-europe-cryptocurrency-geography-report-2021-preview
28.09.2021
---
Payment network Affirm will allow customers to buy and sell crypto
Affirm Holdings Inc., the publicly traded provider of payment services, plans to allow customers to buy and sell crypto, according to a presentation posted Tuesday on the company's website.
Affirm joins other companies such as PayPal, which last year gave customers the ability to buy, sell and hold cryptocurrency. Last month PayPal extended its crypto service to the U.K., allowing customers to buy, sell and hold four different cryptocurrencies on its platform.
For its recently completed 2021 fiscal year, Affirm notched revenue of $870.5 million, a 71% increase over the previous year.
https://www.coindesk.com/business/2021/09/28/lending-platform-affirm-will-allow-customers-to-buy-and-sell-crypto/
29.09.2021
---
First cryptocurrency fund approved in Switzerland
Cryptocurrency adoption continues gaining momentum in Switzerland as local financial authorities grant more regulatory approvals for crypto investment instruments.
The Swiss Financial Market Supervisory Authority (FINMA) has approved the Crypto Market Index Fund as the "first crypto fund according to Swiss law," the authority officially announced on Wednesday.
The fund is launched by Swiss asset manager Crypto Finance and is administered by investment management firm PvB Pernet von Ballmoos AG with custody by regulated custodian SEBA Bank AG.
FINMA noted that the newly approved fund is restricted to qualified investors, investing primarily in cryptocurrencies or digital assets "based on the blockchain or distributed ledger technology."
The regulator said that the Crypto Market Index Fund may only invest in leading cryptocurrencies with a "sufficiently large trading volume." According to Crypto Finance, the fund will track the performance of the Crypto Market Index 10, a product administered by the SIX Swiss Exchange.
"The objective of the Crypto Market Index 10 is to reliably measure the performance of the largest, liquid crypto assets and tokens and to provide an investable benchmark for this asset class," Crypto Finance noted.
FINMA added that it would require investors to invest only through established counterparties that are based in a member country of the Financial Action Task Force and are subject to corresponding Anti-Money Laundering regulations.
https://cointelegraph.com/news/first-cryptocurrency-fund-approved-in-switzerland
29.09.2021
---
SEBA Bank granted the first Swiss digital asset custody license
SEBA Bank AG, a fully regulated Swiss-based institution that focuses on offering digital cryptocurrency assets, announced Wednesday the approval of a CISA license from the Swiss Financial Market Authority, or FINMA, to facilitate an institutional-grade custodian service for nation-native collective investment schemes.
This announcement enables the bank to become Switzerland's — and indeed one of the world's first — digital asset-centric banks to gain a custody license. The endorsement will allow the institution to provide greater investment opportunities to professional clientele in the emerging cryptocurrency markets.
Founded in mid-2018 as an advocate of next-generation digital banking, the firm soon rose to prominence as a pioneer in the regulated digital asset sector. One year later in August 2019, the bank attained its banking and securities firm license and introduced their SEBAwallet app, e-banking service and SEBA card to the market, supporting five major cryptocurrencies including Bitcoin and Ethereum.
CEO of SEBA Bank Guido Buehler shared his thoughts on the banks recent successes: "Two years ago, SEBA Bank received a Swiss banking and securities firm license and is now enjoying excellent business momentum as institutional adoption of crypto & digital assets accelerates globally."
Regulatory assurances in what is often considered a volatile market soon attracted the attention of Europe's elite. In mid-2020, France's central bank Banque de France selected SEBA to participate in their experimental digital Euro pilot project in a bid to explore the feasibility of CBDCs in cross-border payments.
Buehler also commented on the implications of attaining the CISA licence for European adoption: "With our new CISA license, SEBA Bank continues its pioneering role in the institutional digital asset space. Asset managers can now offer strategies based on crypto or other digital asset underlyings to a broader audience utilizing Swiss-based mutual fund structures secured by SEBA Bank as the CISA-licensed custodian."
https://cointelegraph.com/news/seba-bank-granted-the-first-swiss-digital-asset-custody-license
29.09.2021