Weekly News Roundup – 31 May 2021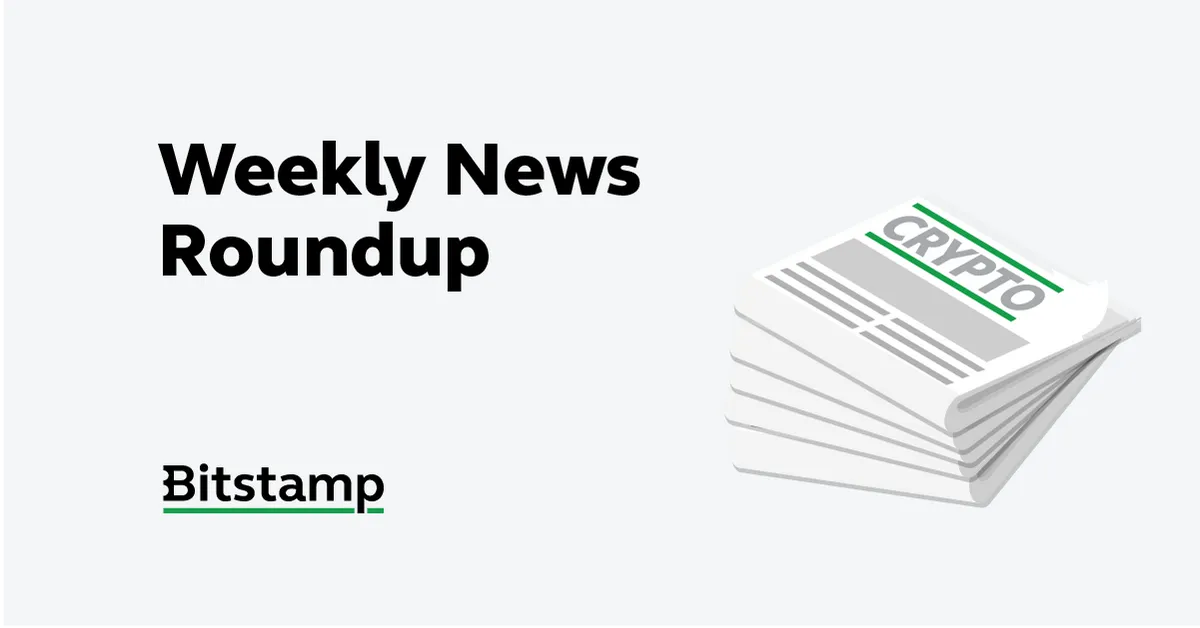 Crypto moves fast and it can be hard to keep up with all the developments. To help you stay on top of what's going on across the industry, we've created this overview of the key news from last week.
Crypto Hedge Funds show growing appetite for DeFi: PwC
Crypto hedge funds managed nearly $3.8 billion in 2020, up from $2 billion in 2019, and are showing a taste for decentralized finance (DeFi), according to a new report from PwC and the Alternative Investment Management Association (AIMA).
The third annual Global Crypto Hedge Fund Report, co-authored by Elwood Asset Management, shows that 31% of crypto hedge funds use decentralized exchanges (DEXs), with Uniswap being the most widely used (16%), followed by 1inch (8%) and SushiSwap (4%).
Meanwhile, DeFi-specific tokens are on the rise: oracle service Chainlink's LINK was included in 30% of hedge fund investments, with interoperability protocol Polkadot's DOT and lending platform Aave's AAVE making up 28% and 27%, respectively.
The total value locked in Ethereum-based DeFi platforms now sitting at $60 billion, according to DeFi Pulse.
Some large traditional hedge funds like Steven Cohen's Point72 are reported to be taking an interest in DeFi, as part of a strategy of setting up crypto-focused funds.
While bitcoin (BTC) remains far and away the most popular asset among funds, Ethereum's native ETH token was included in 67% of investments. Crypto hedge funds are also involved in cryptocurrency staking (42%), lending (33%) and borrowing (24%).
Crypto hedge funds on average returned 128% in 2020 (versus 30% in 2019). The vast majority of investors in such funds are either high-net-worth individuals (54%) or family offices (30%). The percentage of crypto hedge funds with over $20 million in AUM increased in 2020 from 35% to 46%.
47% of traditional hedge fund managers surveyed, representing $180 billion of AUM, are already invested or looking at investing in crypto, according to the report.
Read more: https://www.pwc.com/gx/en/financial-services/pdf/3rd-annual-pwc-elwood-aima-crypto-hedge-fund-report-(may-2021).pdf
Total stablecoin supply crosses the $100 billion mark
The total supply of dollar-pegged stablecoins has risen past the $100 billion mark, according to The Block's Data Dashboard.
At the time of writing, the total supply of stablecoins stands at $100.33 billion. Most of that growth has been driven by the two largest stablecoins: Tether's USDT and the Centre consortium's USD Coin (USDC).
Tether has a 62% market share, while USDC has a 21% share, although USDC's market share has been increasing at a faster clip in recent weeks. Late last year, USDC's market share was less than 10%.
Most of the stablecoin growth has happened in recent months. At the beginning of this year, for instance, the total supply of stablecoins was only around $30 billion.
The sharp growth in stablecoins suggests that crypto market participants are increasingly deploying funds, including in areas such as derivatives and decentralized finance (DeFi). Derivatives traders often use stablecoins for collateral, whereas DeFi users utilize stablecoins to trade and lend funds to earn yields.
The growing use of stablecoins has caught the attention of global regulators, including the U.S. Last December for instance, members of the U.S. Congress proposed the Stablecoin Tethering and Bank Licensing Enforcement (STABLE) Act. If the act proposal were to become law in its current form, it would require all stablecoin issuers to have bank licenses. The proposal effectively declares that stablecoins are a kind of deposit under federal law.
Read more: https://www.theblockcrypto.com/post/106082/total-stablecoin-supply-100-billion-mark
PayPal exec says payments giant is working on crypto withdrawal capability
A PayPal executive said Wednesday that the payments giant is working to allow its customers to withdraw their cryptocurrency holdings.
Speaking at CoinDesk's Consensus 2021 virtual conference, Jose Fernandez da Ponte — a PayPal vice president and general manager for blockchain, crypto and digital currencies — said during an interview:
"We want to make it as open as possible, and we want to give choice to our consumers, something that will let them pay in any way they want to pay. They want to bring their crypto to us so they can use it in commerce, and we want them to be able to take the crypto they acquired with us and take it to the destination of their choice."
The timing of any withdrawal feature launch is unclear at this juncture.
PayPal partnered with crypto startup Paxos last year to enable crypto purchases for its customers on PayPal and Venmo, and in late March began to allow customers to spend their crypto.
PayPal has held exploratory talks around a potential stablecoin, according to industry sources. According to CoinDesk, da Ponte said: "This is way too early."
Read more: https://www.theblockcrypto.com/linked/106196/paypal-exec-says-payments-giant-is-working-on-crypto-withdrawal-capability