Weekly News Roundup – 31 Jan 2022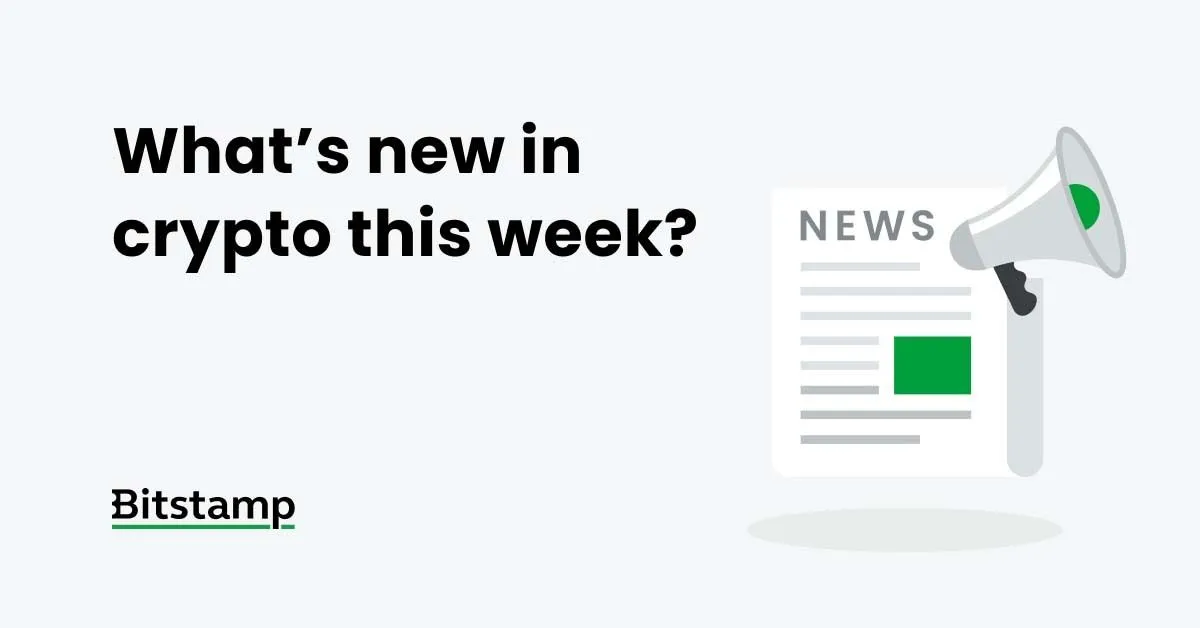 Goldman Sachs Sees the Metaverse as $8 Trillion Opportunity
Global investment bank Goldman Sachs has predicted that the metaverse could be an $8 trillion opportunity. Goldman Sachs' analyst Eric Sheridan explained the bank's metaverse prediction in a recent "Exchanges at Goldman Sachs" episode, titled "Understanding the metaverse and web 3.0."
He was asked about the evolution of the metaverse ahead and how big the potential opportunity could be. The analyst replied: We think this could be as much as an $8 trillion opportunity on the revenue and monetization side.
"We look at the digital economy today, which is roughly about 20%, 25% of the global economy … We see the digital economy continuing to grow, and on top of that we see a virtual economy that will grow within and alongside this digital economy," the analyst described.
"That's how we came up with the number for various outcomes of anywhere from $2 trillion to $12 trillion, with $8 trillion at the midpoint of all potential outcomes," he clarified.
Several people have estimated the potential size of the metaverse. Rival investment bank Morgan Stanley similarly predicted in November last year that the metaverse is an $8 trillion market opportunity. In December, Bank of America's strategist, Haim Israel, said that the metaverse is a massive opportunity where cryptocurrencies will be widely used as currencies. "I definitely believe this is a massive, massive opportunity," he stressed.
Meanwhile, the CEO of Ark Investment Management, Cathie Wood, said the metaverse will be a multitrillion-dollar market, and crypto-asset manager Grayscale Investments said the metaverse is a potential $1 trillion business opportunity.
https://news.bitcoin.com/goldman-sachs-metaverse-8-trillion-opportunity/
25.01.2022
---
Rio De Janeiro to Allocate 1% of Treasury Reserves to Crypto: Report
The Brazilian city also plans to give discounts on tax payments made with bitcoin.
The mayor of Rio de Janeiro said Thursday he plans to allocate 1% of Brazil's second-most populous city's treasury reserves to cryptocurrencies, according to a Globo report.
"We are going to launch Crypto Rio and invest 1% of the treasury in cryptocurrency," Mayor Eduardo Paes said at the Rio Innovation Week.
According to Pedro Paulo, Rio de Janeiro's finance secretary, the city plans to apply discounts to tax payments made with bitcoin. "You take the single quota discount of 7%, it would make 10% if you pay in bitcoin," Paulo said, adding that the administration needs to study the legal framework.
Miami Mayor Francis Suarez also spoke at the event, and discussed the challenges in transforming cities into technological hubs. In February, Suarez told CoinDesk he plans to place a portion of Miami's treasury in bitcoin.
https://www.coindesk.com/policy/2022/01/27/rio-official-explains-why-city-is-putting-1-of-its-treasury-reserves-into-crypto/
27.01.2022
---
Meta to wind down stablecoin project Diem with $200 million asset sale: report
Californian bank Silvergate Capital has swooped to buy Meta-backed crypto project Diem's technology assets for $200 million, according to the Wall Street Journal.
The bank had agreed last year to partner with Diem to launch a US stablecoin pegged to the dollar. The offering was meant to be user-friendly, and to revive the project first coined Libra in 2019, when Meta was still called Facebook. The stablecoin never launched, however.
Citing people familiar, Bloomberg reported earlier in the week that Meta was weighing a sale of Diem's assets as a way to return capital to its investor members. Investment bankers had been brought in to evaluate how best to sell its IP and try to find employment for its engineers.
Diem had faced stern opposition from regulators from the outset and was forced to rein in its ambitions. Instead of a stablecoin backed by a basket of global fiat currencies, the vision morphed into individual tokens backed by single national currencies.
But the setbacks kept coming. In August last year, The Block reported that Meta's crypto subsidiary Novi was planning to work with a stablecoin issuer other than Diem.
Meta's crypto lead David Marcus — a co-founder of Diem — resigned from the social media company in November.
https://www.theblockcrypto.com/linked/132015/meta-to-wind-down-stablecoin-project-diem-with-200-million-asset-sale-report
27.01.2022
---
Amazon marketplace owners can now be bought out in crypto
Amazon Marketplace owners who sell their business to Elevate Brands will now have the option of being paid in crypto.
Elevate Brands, which holds a portfolio of Amazon-focused consumer products companies, is teaming up with Coinbase Prime to offer the option.
"We've learned that [Fulfillment by Amazon] sellers are already well entrenched in crypto, so we are thrilled to be the first company in the Amazon ecosystem to offer the option of Cash or Coin," Ryan Gnesin, CEO of Elevate Brands said in a press release.
Elevate has raised over $370 million from institutional investors and owns over 30 private label brands. The company says it's a top 100 seller on Amazon.
Amazon's U.S. selling partners sold over 3.8 billion products and averaged more than $200,000 in sales, up year-over-year from about $170,000, according to Amazon's 2021 small business empowerment report, released last October.
https://www.coindesk.com/business/2022/01/27/amazon-marketplace-owners-can-now-be-bought-out-in-crypto/
27.01.2022
---
Tether has recovered $87 million in USDT sent to wrong addresses since its launch
Stablecoin issuer Tether has helped users recover $87 million in USDT sent to wrong addresses since its launch in 2014, its CTO Paolo Ardoino told The Block.
Tether has a recovery mechanism in place that allows it to blacklist addresses on the Ethereum and Tron blockchains, freeze funds in those addresses, and issue new USDT tokens to affected users.
"Some users make mistakes when sending tokens to DeFi [decentralized finance] projects or trading platforms, which result in tokens being sent to smart contracts or addresses that do not have the functionality to recover the funds," said Ardoino. "As part of the recovery process, Tether has to blacklist the address in order to recover a token. This revokes all USDT held by that address and reissues an equivalent amount of USDT to an escrow address in order to process and return funds to their rightful owners. To be safe, Tether requires confirmation of ownership, among other information, to start the recovery."
Tether's recovery process isn't a free service. The stablecoin issuer charges $1,000 or up to $10% of the recovery amount, whichever is greater, according to its website. That means it has made up to $8.7 million in fees. Tether accepts recovery requests for amounts exceeding $1,000.
Tether also blacklists addresses because of regulatory reasons. Earlier this month, for instance, Tether blocked three Ethereum addresses holding over $160 million worth of USDT. At the time, Ardoino said, "Tether is cooperating with a law enforcement request, imposing a temporary freeze to allow the investigation to proceed."
Tether has been a market leader since its launch. But last week, the total supply of its rival USD Coin (USDC) surpassed tether on the Ethereum blockchain and continues to remain higher. The current total supply of USDC on Ethereum stands at over 42 billion, whereas USDT's total supply on the blockchain stands at nearly 40 billion, according to Etherscan. Across all blockchains, tether remains in the lead, according to The Block's Data Dashboard.
https://www.theblockcrypto.com/post/131258/tether-recovered-87-million-usdt-wrong-addresses-since-launch
22.01.2022
---
Dragonfly Capital is raising $500 million for new fund
Dragonfly Capital, a crypto-focused venture capital firm, is raising $500 million for a new fund, according to a filing submitted with the Securities and Exchange Commission.
The new fund, dubbed Dragonfly Ventures III Feeder, will join a number of newly launched investment vehicles in the space, including Paradigm's $2.5 billion venture fund and crypto exchange FTX's newly launched fund.
Dragonfly had also launched a $225 million fund in March of 2021 that was focused on non-fungible token (NFT), Ethereum Layer 2 solutions and related businesses, decentralized finance (DeFi) and centralized finance infrastructure, The Block previously reported.
The venture firm backed numerous funding rounds for crypto startups within the past year, such as the DeFi "credit score" protocol ARCx, the smart contract automation project Gelato Network and the Web3 investment firm Folius Ventures LLC.
As per the LinkedIn profile of Dragonfly partner Mia Deng, the firm manages $2 billion—making it one of the largest venture investment firms in the crypto market.
https://www.theblockcrypto.com/linked/131596/dragonfly-capital-is-raising-500-million-for-new-fund
25.01.2022
---
Fireblocks raises $550 million in Series E funding, now valued at $8 billion
Fireblocks, an institutional crypto custody provider, has raised $550 million in a mega Series E round and is now valued at $8 billion.
D1 Capital Partners and Spark Capital co-led the round, with General Atlantic, Index Ventures, Mammoth, CapitalG (Alphabet's independent growth fund), Altimeter, and ParaFi Capital also participating. Existing investors such as Sequoia Capital, Coatue, Ribbit, Bank of New York Mellon, Paradigm, and SCB10x, also joined the round.
The Series E round comes just five months after Fireblocks raised $310 million in Series D funding at a $2.2 billion valuation. The company's valuation has soared over ten times in the last year, from $700 million to $8 billion today.
Fireblocks CEO Michael Shaulov told The Block in an interview that the company has seen "phenomenal financial results" in the past year, with the number of customers growing from 150 to over 800 and revenues growing over 600%. Shaulov declined to provide absolute revenue numbers but said the firm isn't profitable yet.
Founded in 2018, Fireblocks provides institutions with an all-in-one platform that includes crypto services such as custody, access to decentralized finance (DeFi), staking, and tokenization. Fireblocks says it has $45 billion in assets under custody and over $2 trillion in crypto assets have been transferred securely through its platform.
Its customers include Bank of New York Mellon, Revolut, Galaxy Digital, BlockFi, Deribit, eToro, CoinShares, Three Arrows Capital, and B2C2. Shaulov said Fireblocks will continue to enhance its offerings and add more customers with fresh capital in hand.
Earlier this month, Fireblocks became the first whitelister for Aave Arc, a permissioned version of the popular DeFi lending platform.
https://www.theblockcrypto.com/post/131952/fireblocks-raises-550-million-in-series-e-funding-now-valued-at-8-billion
27.01.2022