Weekly News Roundup – 29 Nov 2021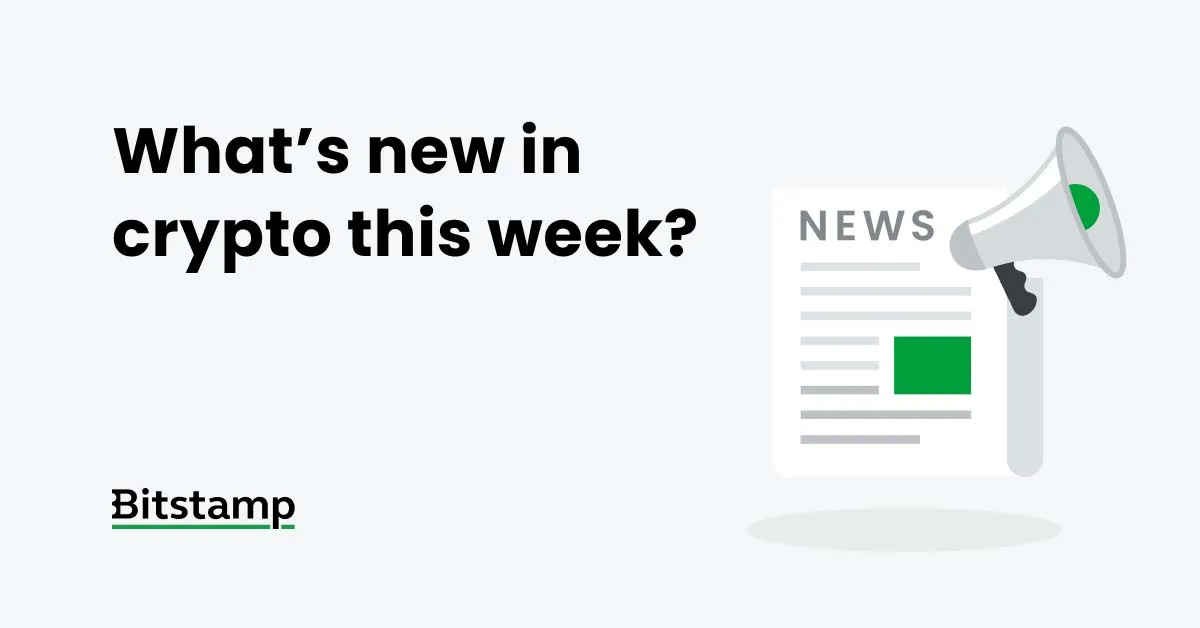 Bitcoin overtakes Paypal on value transferred, sets sights on Mastercard report
The Bitcoin network already processes more volume by dollar value than Paypal and the largest decentralized cryptocurrency network in the world by market cap could outstrip Mastercard by as early as 2026.
A Nov. 25 report from market intelligence platform Blockdata titled When might the Bitcoin network process volumes like Mastercard and Visa? points out that the Bitcoin network processed about $489 billion per quarter in 2021, which is greater than Paypal's $302 billion. After just 12 years in existence, Bitcoin processes about 27% of Mastercard's $1.8 trillion per quarter, and 15% of Visa's $3.2 trillion.
Three factors could see the Bitcoin network to rise to the level of the two credit card giants in terms of total volume processed: the total number of transactions, the average amount of Bitcoin sent per transaction, and the rise of the price of Bitcoin (BTC).
The first factor — total number of transactions — is the most variable-dependent. Theoretically, "if Bitcoin were to increase its value transferred per transaction today by ~260%, it would be processing an equivalent volume to Mastercard on a daily basis." However, the report could not find current data indicating that the average amount of Bitcoin sent per transaction is on an upswing. The trend could change in the future, but a rise in price to $245,000 at the current volume would also bring Bitcoin to match Mastercard. This price action is potentially more likely than an uptick in volume, according to some analysts.
Blockdata ultimately claims that it is unlikely for Bitcoin price to rise to the appropriate level to match Mastercard. If one considers the average yearly Bitcoin price, it might take until 2060. On the other hand "taking the current growth rate in 2021 as a metric, it could happen as soon as 2026." "It's impressive how Bitcoin, as a 12-year-old decentralized network, is 27% of the way in terms of volume processed compared to Mastercard, a company founded in 1966."
https://cointelegraph.com/news/bitcoin-overtakes-paypal-on-value-transferred-sets-sights-on-mastercard-report
26.11.2021
---
More than 1 million ETH has been burned following EIP-1559
The Ethereum network has now burned over 1 million ETH since the London upgrade that ushered in the fee burning mechanism, according to figures from WatchTheBurn — a website that tracks the transaction fee burning process. At the current price of ether, the total value of the total ETH destroyed so far now stands at over $4.2 billion.
In August, the London upgrade introduced Ethereum Improvement Proposal 1559 (EIP-1559) that split transaction fees in two: a base cost and a priority fee. The former is burned while the latter serves as a form of payment to miners.
The purpose of EIP-1559 was to make transaction fees easier to estimate. The reason behind this was to make transactions more reliable, since underestimating fees can lead to canceled transactions, and wasted fees. Plus, it helps for periods of high demand.
EIP-1559 was also designed to exert deflationary pressure on the ETH supply since the base fee gets burned and can no longer be used on the network. This reduces the amount of inflation on the network.
Since EIP-1559, the net ETH emission has declined significantly according to The Block's Data Dashboard. Wednesday's burn landmark also coincided with the price of ether rising to its highest level against bitcoin since August.
https://www.theblockcrypto.com/linked/125383/more-than-1-million-eth-has-been-burned-following-eip-1559
24.11.2021
---
Axie Infinity plot of virtual land sells for record $2.4 million
A virtual land plot in the Axie Infinity NFT game sold for a record price of 550 ether (about $2.4 million) on Wednesday.
The plot is part of the "Genesis" land type, which Axie Infinity describes as "extremely rare." Genesis land is located in the center of the Axie Infinity map and is capped at 220 plots. The seller of the plot goes by "ArcaChemist," and the buyer goes by "Lunacian #789512."
There are different types of land in Axie Infinity, including Mystic and Arctic, and they are all collectively called Lunacia. Lunacia is the homeland for Axies — in-game fantasy creatures that are required to play the game.
Axie Infinity is a popular play-to-earn NFT game that enables users to earn tokens called small love potions (SLP) that can be exchanged for cash or other cryptocurrencies.
An Axie Infinity spokesperson told The Block that Axie land "has entertainment value, social value, and economic value in the form of future resource flows, and this is why we are seeing such sales."
In February, nine plots of land on Axie Infinity were sold for over 888 ETH (around $1.5 million at the time and nearly $4 million at current prices).
The latest record purchase comes amidst the rising popularity of virtual land in the blockchain gaming ecosystem. Earlier this week, Canadian investment firm Tokens.com purchased virtual land in Decentraland for a record price of $2.5 million in MANA, the native token of Decentraland.
https://www.theblockcrypto.com/linked/125497/axie-infinity-plot-of-virtual-land-sells-for-record-2-4-million
25.11.2021
---
Bitcoin exchanges see large deposits despite BTC reserves hitting 3-year lows
Bitcoin (BTC) whales are moving large amounts of coins to exchanges in tandem with large outflows, curious new data shows.
According to the exchange whale ratio indicator from on-chain analytics firm CryptoQuant, large transactions have accounted for over 90% of recent exchange deposits.
"Whales are depositing BTC to exchanges," CryptoQuant CEO Ki Young Ju summarized. "$BTC Exchange Whale Ratio(72h MA) reached 91%. This indicates the top 10 deposits take 91% of the deposit volume across all exchanges in the hourly timeframe."

https://cointelegraph.com/news/bitcoin-exchanges-see-large-deposits-despite-btc-reserves-hitting-3-year-lows
23.11.2021
---
Long-term Bitcoin holders at multi-year high: Glassnode
Glassnode's latest weekly on-chain report indicated that long-term holders of Bitcoin (BTC) are at a multi-year high, and markets are not yet saturated with profit-taking.
These long-term holders (LTH) appear to be reducing their spending while continuing to add to their positions, according to the report by analytics provider Glassnode.
The analysis delved into Spent Volume Age Bands (SVAB), which are used to identify the age of coins dominating the on-chain flows on any given day. The metric can be used to identify when the process of profit-taking or accumulation begins, according to Glassnode.
Consistent spending of coins older than one month began in November 2020 and ended between April and May in 2021. The SVAB metric has now fallen back to 2.5% of the daily volume since concurrently spiking with BTC's all-time high in October. Glassnode noted: "This can reasonably be interpreted as longer term holders reducing their spending, and thus are more likely to be adding to positions, not exiting them."
Glassnode also indicated that the total supply held by short-term holders (STH) is at a multi-year low, at less than 3 million BTC, which in turn means that the amount held by LTHs is at a multi-year high.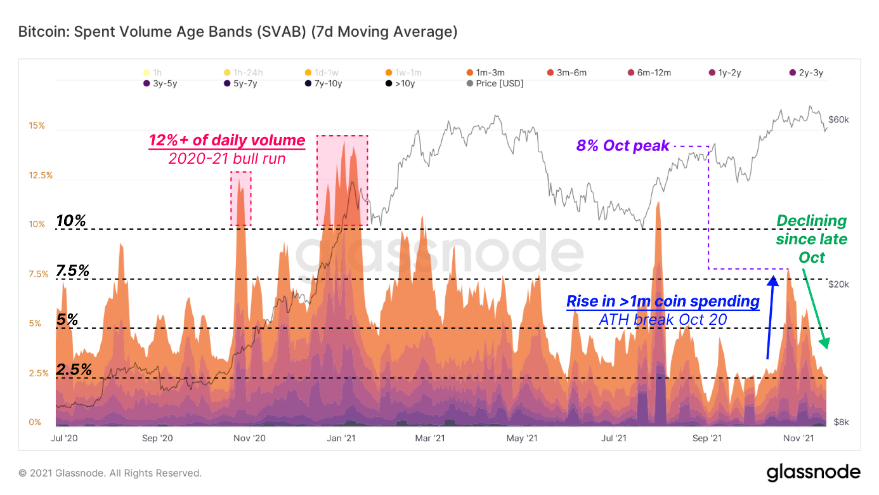 https://cointelegraph.com/news/long-term-bitcoin-holders-at-multi-year-high-glassnode
23.11.2021
---
'NFT' named top word of the year by the dictionary publisher Collins
Collins, a dictionary publisher founded in 1824 recording over 4.5 billion words, named "NFT," or 'non-fungible token,' as the top word of the for 2021.
"It's certainly a buzzword we've heard over and over again in the past 12 months, in breathless news reports and on social media," the publisher wrote in a Wednesday blog post, describing it as the intersection between internet and money.
As The Block's data shows, interest in NFTs exploded in 2021. NFT transaction volume grew steadily since January and reached a record high of $1.05 billion in August of this year.
Centuries-old art auction house Sotheby's auctioned off numerous NFTs this year, even launching its own NFT platform called Sotheby's Metaverse in October. Celebrities to join the bandwagon include Katy Perry, The Weeknd, Rob Gronkowski and Simone Biles.
In addition to "NFT," the Collins named "metaverse" and "crypto" as other top words of the year — also due to their increased interest within 2021. Other words on the list include "climate anxiety," "double-vaxxed," "cheugy," "pingdemic," "hybrid working," "neopronoun" and "regencycore."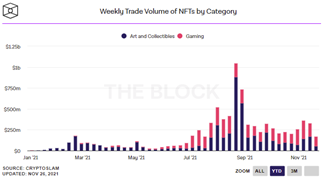 https://www.theblockcrypto.com/linked/125425/nft-named-top-word-of-the-year-by-the-dictionary-publisher-collins
24.11.2021
---
Nearly one-third of hedge fund managers plan to invest in crypto: Ernst & Young
Pardon the oxymoron, but traditional alternative investors are slowly warming to cryptocurrencies, according to a new study from big four accounting firm Ernst & Young.
Thirty-one percent of hedge fund managers, 24% of alternative investors, and 13% of private equity managers said they planned to add crypto to their portfolios in the next one to two years. Managers of the largest firms–hedge funds overseeing more than $10 billion or investors with $2 billion to $10 billion–were most likely to be planning to get into crypto, according to the study.
"Alternative investment" has been an umbrella term for anything that's not a stock, bond, or cash. It may seem like cryptocurrencies would be a perfect fit among the alternative crowd, but that hasn't been the case.
Only 7% of alternative fund managers and investors interviewed for the EY study said they or their firms already have "crypto-related assets" in their portfolio. Of those holding cryptocurrencies directly, derivatives (futures or options) and providing funding to private blockchain companies were the most popular forms of participation.
Joe McCarney, the global blockchain assurance leader at EY, told Decrypt an even smaller number of firms were invested in crypto in 2020. That was before a question specifically asking about them had even been added to the poll.
Seventy-eight percent of holdout firms cited the fact that crypto doesn't fit into their fund's strategy as the top or one of the top reasons they hadn't yet invested. The other top reasons included volatility, regulatory uncertainty, and a lack of understanding of the asset class.
The 2021 Global Alternative Fund Survey, conducted by Greenwich Associates from July to September, polled 264 alternative institutional investors. It's a small pool of respondents, but they represent funds that total nearly $5 trillion.
https://decrypt.co/86494/hedge-fund-invest-crypto-bitcoin-ernst-young
22.11.2021