Weekly News Roundup – 27 Sep 2021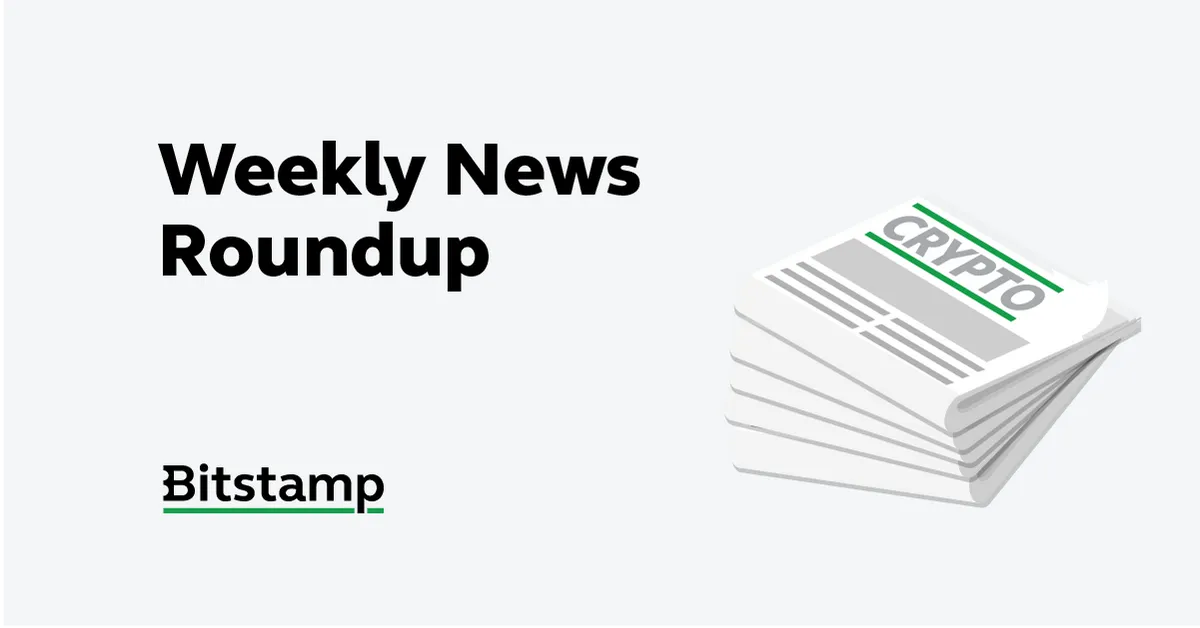 Crypto moves fast and it can be hard to keep up with all the developments. To help you stay on top of what's going on across the industry, we've created this overview of the key news from last week.
---
Twitter rolls out bitcoin tipping for iOS users via Lightning, looks to NFTs for the future
After rumors swirled earlier this month, social media platform Twitter has officially rolled out its tips function worldwide — with a bitcoin integration included via the Lightning network.
Clicking on the feature enables users to tip creators through third-party services like CashApp, which is operated by Square, a payments company founded by Jack Dorsey. But in an effort to make monetization accessible in places that may not have easy access to fiat, users can also tip in bitcoin.
The bitcoin component will utilize the Lightning Network, a layer-two solution that product manager Esther Crawford said the team selected for its lower transaction fees. Users can add their bitcoin lightning wallet or their bitcoin address to enable the sending and receiving of tips in bitcoin. For now, the integration is only rolled out to iOS users, but Android is soon to come, promised Crawford.
At the start of this month, mobile developer Alessandro Paluzzi leaked an image of a reverse-engineering of Twitter's product that showed the beta for Lightning integration with Tips. In an explanation of his findings, he said the integration would use the Lightning-focused app Strike. A Twitter representative confirmed to The Block that the integration uses Strike. Paluzzi also previously posted screenshots that displayed interfaces allowing users to add their Ethereum addresses to their profiles. Today's roll-out only includes a Lightning/Strike integration.
The Twitter product team is still exploring ways to enable payouts across the world in various countries, but using bitcoin to tip mitigates that, according to Crawford.
Twitter is also exploring blockchain-based tools outside the scope of monetization. Crawford shared that the team is also in the early stages of exploring non-fungible token (NFT) authentication. To be clear, Twitter is in the early stages of its NFT project.
https://www.theblockcrypto.com/post/118450/twitter-rolls-out-bitcoin-tipping-for-ios-users-via-lightning-looks-to-nfts-for-the-future
23.09.2021
---
Snoop Dogg Reveals Himself as Ethereum NFT Whale With $17M Collection
The rapper says that he is Cozomo de' Medici, a pseudonymous crypto Twitter personality with a highly valuable NFT collection.
Snoop Dogg has already made waves in the NFT space, launching his own branded collectibles this spring, as well as a collaboration with the creator of the popular meme, Nyan Cat. However, the rapper's latest move is truly unexpected: he claims to be the real person behind a pseudonymous crypto Twitter personality—one that has spent millions of dollars acquiring a very valuable collection of blue chip Ethereum NFTs.
On Monday, Snoop Dogg tweeted to his 19 million followers that he is Cozomo de' Medici, a pseudonymous NFT collector that joined Twitter in August. Cozomo has been tweeting steadily through his NFT journey in recent weeks, discussing the large sums of money spent on popular NFT collections while displaying an in-depth understanding of the culture.
But Snoop didn't create his NFT-centric Twitter personality in public, linked to his existing social media channels. Before he chose to reveal it to the world yesterday, it was a pseudonym first with no apparent ties to Snoop. Also notable: Snoop appears to have a seriously valuable NFT collection. Cozomo de' Medici's wallet has more than $17 million worth of collectibles within, according to DappRadar's portfolio estimate tool.
The collection is headlined by nine CryptoPunks, with the most valuable of the profile picture NFTs estimated at $4.6 million based on current market prices. The wallet also has 10 Meebits NFTs—the 3D avatars created by CryptoPunks makers Larva Labs—as well as a bunch of different NFTs from the generative artwork series, Art Blocks. Other valuable holdings in Cozomo's wallet include an NFT from photographer Justin Aversano's Twin Flames collection, as well as a couple of Moonshot Bots, which benefit the development of Ethereum tools. Earlier this month, Cozomo even tweeted about the value of supporting Ethereum developers.
https://decrypt.co/81478/snoop-dogg-ethereum-nft-whale-cozomo-medici
21.09.2021
---
$2 Billion Worth of Unpeeled Casascius Physical Bitcoins: There's Less Than 20,000 Coins Left Active
While bitcoin continues to become scarcer every day, the most popular set of physical bitcoins, crafted by Mike Caldwell from 2011 to 2013, have become far scarcer than their digital counterparts. As of September 18, 2021, there are now less than 20,000 active bitcoins from the Casascius physical bitcoin collection.
Casascius bitcoins sport a holographic tamper-resistant sticker on one side of the coin, and if the sticker is peeled, the digital bitcoin's private key is revealed. Caldwell crafted both coins and bars that held loaded bitcoin (BTC) and created series 1 (1-1,000 BTC), series 2 (0.5-500 BTC + the DIY Storage Bars), and series 3 (0.5-1 BTC).
Unfortunately, the U.S. government forced Caldwell to stop minting Casascius bitcoins with loaded BTC on them. By the end of Caldwell's tenure making these coins, he managed to mint around 27,920 Casascius bitcoins with various increments of loaded BTC. Over the years owners have redeemed the loaded value held on these Casascius bitcoins in a process called a "peel."
According to statistics from casasciustracker.com, on September 18, 2021, there's approximately 19.92K active Casascius bitcoins waiting to be peeled. So far 8,009 coins or bars have been redeemed over the last ten years and there's approximately 43K BTC left unpeeled worth over $2 billion. 48,169 BTC worth $2.3 billion has been spent by the peel process. Furthermore, there are some lucky owners who still have yet to peel 1,000 BTC bars or coins worth $48 million using today's exchange rates. For instance, out of the six 1,000 BTC Series 1 Casascius bitcoins, only 2 have been redeemed so far.
In that same series, Caldwell minted 16 1,000 BTC bars and so far 87.50% or 14 bars have been redeemed. There were 81 Series 2 100 BTC coins (worth $4.8M each) minted by Caldwell and to date 47 coins or 58.02% of the BTC has been redeemed from that minted set.
https://news.bitcoin.com/2-billion-worth-of-unpeeled-casascius-physical-bitcoins-theres-less-than-20000-coins-left-active/
18.09.2021
---
Deutsche Boerse launches Solana and Polkadot ETNs by VanEck
German stock market operator Deutsche Boerse continues diving into the cryptocurrency derivatives by listing three new crypto exchange-traded notes (ETN) by VanEck.
Deutsche Boerse officially announced on Tuesday that VanEck's new ETNs on Polkadot's DOT, Solana (SOL) and Tron (TRX) are now tradable on its digital stock exchange, Xetra, and the Frankfurt Stock Exchange.
The new listings expand Deutsche Boerse's crypto ETN offerings as the company previously started offering similar products on cryptocurrencies such as Bitcoin (BTC), Ether (ETH), Bitcoin Cash (BCH) and Litecoin (LTC), the firm noted.
"All crypto ETNs tradable on Xetra are physically collateralized and listed on the Regulated Market of the Frankfurt Stock Exchange," the announcement reads.
According to Deutsche Boerse, investors can purchase crypto ETNs similar to shares or exchange-traded funds (ETF) without needing to set up crypto wallets. "Through central clearing, institutional investors also benefit from significantly reduced risks in settlement of transactions," the firm added.
VanEck noted in its own announcement that the new products follow previous launches of exchange-traded products on Bitcoin and Ether. "Further ETNs are now following in order to open up the future market of cryptocurrencies for European investors. With this step, the accomplished ETF provider further expands its pioneering role for innovative and future-oriented investment solutions," the firm wrote.
The news comes amid Deutsche Boerse actively expanding the range of supported crypto derivatives products across its operated exchanges. On 13 September, Deutsche Boerse's derivatives exchange, Eurex, debuted crypto derivatives trading with ETC Group's Bitcoin (BTC) ETN futures product. Earlier this year, Xetra debuted trading of Ether-based ETPs by ETC Group.
https://cointelegraph.com/news/deutsche-boerse-launches-solana-and-polkadot-etns-by-vaneck
21.09.2021
---
NFT marketplace OpenSea launches mobile app for iOS and Android
The NFT marketplace OpenSea launched a mobile app for iOS and Android users on Thursday, according to a post on the OpenSea official YouTube channel.
The mobile app allows users to connect their OpenSea profile and discover new works, save works to favorites and filter NFT searches based on criteria such as category, name, collection and creator. Users can also view the stats of NFT collections and get links to exclusive releases.
OpenSea has not announced the new app on their more popular Twitter or other channels, and it is not clear whether the app is being soft-launched.
OpenSea's release of a mobile app comes a day after the marketplace's head of product Nate Chastain was asked to resign after allegations emerged that he'd traded on the site using insider knowledge.
Last month, OpenSea became the first one to surpass $1 billion in monthly trading volume in August and currently constitutes the vast majority of September's NFT trading volume, according to The Block's Data Dashboard.
https://www.theblockcrypto.com/linked/118021/nft-marketplace-opensea-launches-mobile-app-for-ios-and-android
17.09.2021
---
China issues tougher measures to keep cracking down on crypto trading
The People's Bank of China has issued a new document where it lays out how it is toughening measures to keep cracking down on crypto trading activities. The Chinese central bank said in an announcement on Friday that all services that let you exchange fiat currencies and crypto assets or between crypto assets themselves are now treated as illegal activities.
Such treatment will target over-the-counter services that are still available on Huobi, OKEx and Binance, which allow Chinese users to exchange their fiat yuan into crypto assets in order to participate in crypto trading activities. Further, the notice specified that offering crypto derivative trading services is also an illegal business in China, even for overseas exchanges that make the service accessible to Chinese residents. It remains to be seen, however, if Huobi, OKEx and Binance will discontinue their OTC services.
The PBoC said individuals who live inside China but work for overseas crypto exchanges that making crypto trading available in China are also subject to legal prosecution. What's also notable in the statement is that it's jointly issued by not only government agencies but also law enforcement.
The price of bitcoin has dropped about $2,000 after the release of the PBoC's statement, which follows its crackdown notice in May this year (one that saw a large exodus of bitcoin miners from the region). Meanwhile, the National Development and Reformation Commission, the central macro economic planning agency in China, has issued a separate document this month that is making crypto mining crackdown part of the provincial government's yearly key performance metrics.
It's a move that aims to make the mining crackdown a systemic and continued effort given that Chinese investors have still been mining in a more decentralized and disguised fashion.
https://www.theblockcrypto.com/linked/118581/china-issues-tougher-measures-to-keep-cracking-down-on-crypto-trading
24.09.2021
---
Bitcoin acts less like digital gold and more like a stock
When Wall Street makes the case for crypto, it's all about the benefits of diversification. But when markets go down, Bitcoin has an embarrassing habit of getting swept up in the selloff.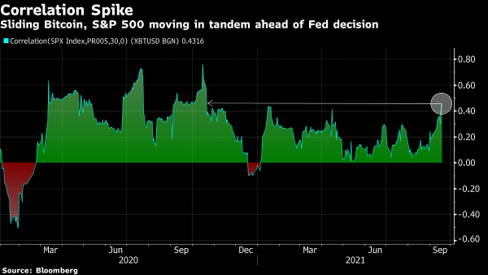 Bitcoin plunged as much as 11% on Monday as stock markets trembled in the wake of a potential default from China Evergrande Group. A correlation analysis shows that U.S. stocks and Bitcoin are moving more in lockstep, with the link between the two assets at the strongest level in a year.
https://www.bloomberg.com/news/articles/2021-09-20/slumping-bitcoin-s-p-500-are-moving-increasingly-in-tandem?sref=v5BR3Nbh
20.09.2021
---
Image sources: