Weekly News Roundup – 27 Dec 2021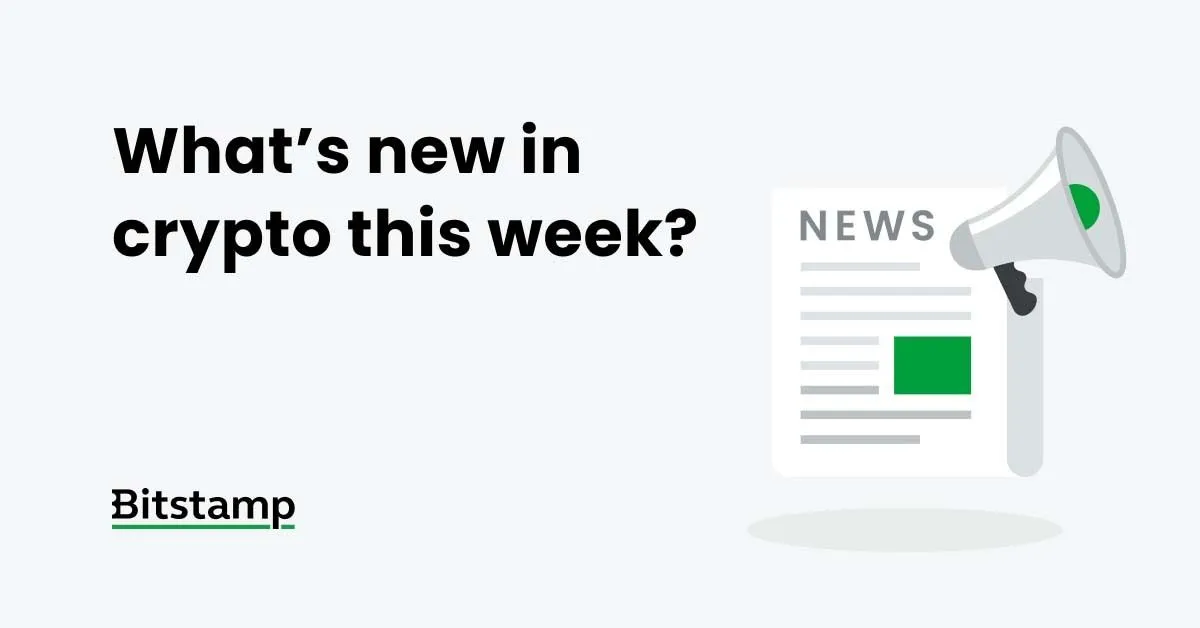 Bitcoin miners generated more than $15 billion in revenue during 2021
Bitcoin miners made more than $15 billion in revenue over the course of 2021, according to The Block Research.
The estimate represents a year-over-year increase of 206%, per The Block Research's 2022 Digital Asset Outlook Report. It should be noted that the estimate is premised on the notion that mining companies sell their accrued digital assets to pay for electrical power and other resources; some miners hold on to some of their mined coins.
As noted in the chart above, estimated mining revenue peaked in March, when miners brought in some $1.75 billion, including $167 million in transaction fees.
Throughout the year, bitcoin mining revenue was buoyed by soaring prices for the digital asset, which hit an all-time high in early November.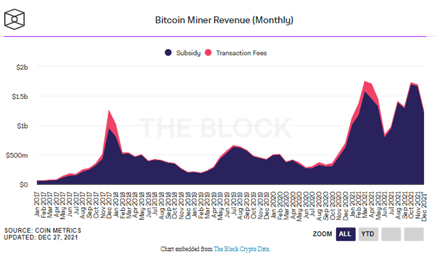 https://www.theblockcrypto.com/linked/128475/bitcoin-mining-2021-revenue
23.12.2021
---
Bored Ape Yacht Club NFTs flip CryptoPunks in terms of floor price
The floor price of Bored Ape Yacht Club (BAYC) NFTs has flipped that of Larva Labs' CryptoPunks for the first time. The floor price is the lowest price at which a type of NFT is currently available for sale.
The current floor price of a BAYC NFT is 53.9 ETH ($215,350), whereas the floor price of a CryptoPunk NFT is 52.69 ETH ($210,515).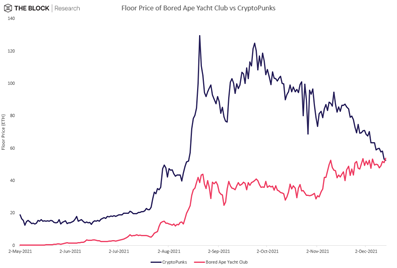 https://www.theblockcrypto.com/post/128338/bored-ape-yacht-club-nft-flip-cryptopunks-floor-price
22.12.2021
---
Opera to integrate with Polygon, opening DApp ecosystem to 80M users
On Wednesday, Opera, an internet browser with Web 3.0 application support and a built-in crypto wallet, announced an upcoming integration with Polygon (MATIC). The integration, which is scheduled to go live in the first quarter of 2022, will first open Polygon's ecosystem to Opera's over 80 million users on the Android mobile, then to the rest on other devices and platforms. Polygon is a layer two Ethereum (ETH) scaling solution designed for lower gas fees and faster transaction times.
Through the integration, Opera users will be able to access Polygon decentralized applications, or DApps, such as Sushiswap, Curve and Aave, as well as blockchain games and nonfungible tokens platforms such as Decentraland, OpenSea and TheSandbox.
Jorgen Arnese, executive vice president of Opera Mobile, said the new integration will help "remove the biggest challenge that crypto enthusiasts" face — namely, high gas fees and slow transaction speeds.
Arjun Kalsy, vice president of growth at Polygon, added: "With this integration, Opera's hundreds of millions monthly active users will be able to experience Polygon's thriving DApp ecosystem and best-in-class Web 3.0 technology."
Ethereum scaling solutions such as Polygon have become vital in recent years as the network can only handle about 15 transactions per second. In times of peak network activity, as when celebrities try to drop over 10,000 NFTs all at once, gas prices can soar to absurd amounts. Fees are even higher in decentralized finance protocols, such as peer-to-peer borrowing and lending, where multiple smart contract confirmations are required for loan origination.
https://cointelegraph.com/news/opera-to-integrate-with-polygon-opening-dapp-ecosystem-to-80m-users
22.12.2021
---
Stablecoin supply grew by 388% this year, driven by DeFi and derivatives
The market for stablecoins experienced breakneck growth in 2021, with the supply for dollar-backed cryptocurrencies surging by 388%.
The aggregate supply of stablecoins has increased from $29 billion at the start of 2021 to more than $140 billion. That growth benefited a swathe of stablecoins, including tether (USDT) and USD coin (USDC), which is managed by a consortium that includes Circle and Coinbase.
Several factors contributed to the surge in the outstanding supply of stablecoins, which historically have been used by high-speed crypto trading firms as a way to dampen volatility when trading between different cryptocurrencies. Retail traders parked stablecoins on decentralized finance protocols as a way to tap into juicy yields.
The growth of the derivatives market was another tailwind. Most derivatives venues settle futures contracts in stablecoins, noted Tether's Paolo Ardoino.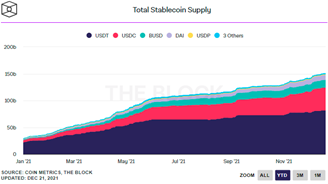 https://www.theblockcrypto.com/linked/128027/stablecoin-supply-grew-by-388-this-year-driven-by-defi-and-derivatives
https://www.tbstat.com/wp/uploads/2021/12/The-Block-Research-2022-Digital-Asset-Outlook.v2.pdf
20.12.2021
---
Crypto attracts more money in 2021 than all previous years combined
Venture capital funds have poured about $30 billion into crypto, or more than in all previous years combined for the little more than decade-old technology.
That's almost quadruple the previous high of around $8 billion in 2018, or the year following Bitcoin's more than 1,300% breakthrough gain, according to transaction data compiled by PitchBook Data Inc.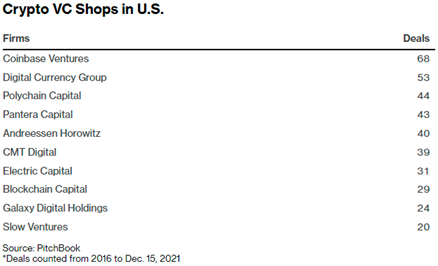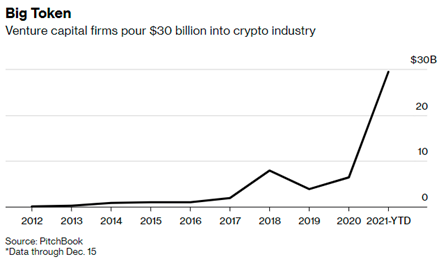 https://www.bloomberg.com/news/articles/2021-12-19/ftx-moonpay-axie-lead-crypto-firms-attracting-record-30-billion-in-2021?sref=v5BR3Nbh
19.12.2021
---
El Salvador buys 21 Bitcoins on 21st day of last month of 21st Year of 21st Century
El Salvador bought another 21 bitcoins to mark the 21st day of the last month of the 21st year of the 21st century, President Nayib Bukele said in a series of tweets on Tuesday night.
Bukele said he made the purchase at 21:21:21, and pointed out that El Salvador's land area is 21,000 square kilometers. The president posted a screenshot of the transactions, totaling just over $1 million, saying, "got the receipt."
Before the purchase, the Central American nation held 1,120 bitcoins in its treasury, Reuters reported on Oct. 27, which would bring its total now to 1,141 bitcoins. El Salvador plans to buy another $500 million worth of the world's biggest cryptocurrency by market value, funded by the issuance of $1 billion worth of tokenized bonds.
El Salvador in September became the only country to use bitcoin as legal tender. The president also plans to create a "Bitcoin City," where residents won't have to pay taxes.
https://www.coindesk.com/business/2021/12/22/el-salvador-buys-21-bitcoins-on-21st-day-of-21st-year-of-21st-century/
21.12.2021