Weekly News Roundup – 24 May 2021
Crypto moves fast and it can be hard to keep up with all the developments. To help you stay on top of what's going on across the industry, we've created this overview of the key news from last week.
The May 2021 cryptocurrency crash in review
• While last week was harsh on the crypto market, it does not appear that institutions are significant sellers, although they may be more cautious as buyers right now. The chart below shows that bitcoin inflows into exchanges are relatively low compared to past sell-offs, at 412,000 BTC in over the most crucial three days last week, compared to 412,000 on the 13 March 2020 alone. This suggests that much of the selling is from people with assets already on exchanges, who tend to be retail investors.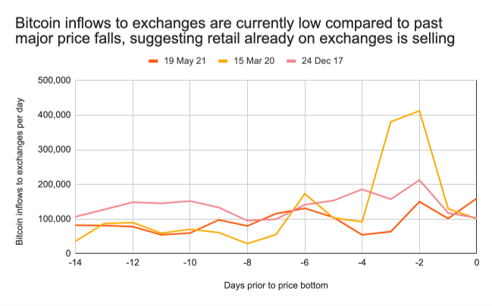 https://blog.chainalysis.com/reports/cryptocurrency-price-crash-may-2021
19.05.2021
Google search volume for cryptocurrency topics breaks all-time high
• Weekly search volume on Google for the topic "cryptocurrency" has reached its highest level yet both in the U.S. and worldwide, according to data from GoogleTrends. The search volume peaked during the week of 9 – 15 May when the price of bitcoin was mostly still above $50,000.
• A topic on GoogleTrends includes related search terms, meaning this volume is more indicative of a wider interest in the crypto space than just the specific word. In fact, search volume for the word "cryptocurrency" is actually lower than it was in 2017.
• Possible explanations for the increased interest in the cryptocurrency ecosystem could involve Ethereum's bull run, as it shot up drastically to hit an all-time high price above $4,000 during that week. Data compiled by The Block shows Google keyword searches for "Ethereum" also reached record highs around the same time.
• The period between May 9 and May 15 is also when Ethereum miners earned higher revenue than bitcoin miners. On May 15, Ethereum miners earned $128.04 million — an all-time high — compared to bitcoin's $61.6 million on the same day.
• Tesla CEO Elon Musk also hosted Saturday Night Live (SNL) on May 8, joking with his mother that he would buy her dogecoin for Mother's Day — coinciding with record high search terms for Dogecoin on GoogleTrends. This was four days before Musk announced on Twitter that Tesla would no longer accept bitcoin for Tesla car payments on May 12 due to environmental concerns.
• GoogleTrend's Twitter account pointed out that searches for "Should I sell my crypto" rose 400% in the U.S., as prices across the board plummeted. It added that searches for "environmentally friendly cryptocurrency" are also rising — likely thanks to Musk's recent tweets — along with questions over how the Bitcoin network uses energy.
https://www.theblockcrypto.com/linked/105590/googletrends-search-interest-for-cryptocurrency-at-all-time-high
20.05.2021
Blockstream hosts BlockFi's new Bitcoin mining venture
• Bitcoin and crypto lender BlockFi is now in a bitcoin mining partnership with Blockstream.
• Blockstream Mining is hosting BlockFi's new mining machines in one of its warehouses in Adel, Ga., which supports up to 300 megawatts of capacity, according to a press release.
• "As BlockFi looks to expand our offerings to the mining community and accumulate bitcoin on our balance sheet, mining directly to support the Bitcoin network provides a means to vertically integrate our supply chain while diversifying our revenue streams," said Joe Chu director of portfolio credit and mining at BlockFi.
• BlockFi said it is running a mix of MicroBT and Bitmain miners but would not reveal how many it has purchased. The firm also did not state how much hashpower its venture would add to the network.
• The partnership marks BlockFi's first foray into mining at a time of increasing investment in the North American bitcoin mining industry.
• A product of Blockstream, a builder of Bitcoin and blockchain infrastructure, Blockstream Mining is one of a handful of companies that operates machines on behalf of itself and others in so-called colocation facilities. The largest of these, Core Scientific, recently expanded its operational capacity to accommodate a mass of new chip orders for itself and its partners.
• With North America's bitcoin mining rush in full tilt, mining machines are backordered for months, and miners are struggling to find warehouse space to hold those computers.
www.coindesk.com/blockstream-hosts-blockfis-new-bitcoin-mining-venture
18.05.2021
Bank of America joins Paxos's blockchain-based settlement network for equities
• Bank of America, the second-largest bank in the U.S., has joined Paxos's blockchain-based settlement network for equities.
• Bloomberg reported the news on Monday, saying that the network would help Bank of America settle stock trades in minutes rather than days using blockchain technology.
• Paxos's solution is a private, permissioned blockchain network that allows two parties to settle securities trades with each other on the same day. Paxos launched the network in February 2020 after receiving a no-action relief from the U.S. Securities and Exchange Commission (SEC) in October 2019. Paxos also has plans to apply for a clearing agency registration with the SEC.
• Once approved as a clearing agency, Paxos's clients that have joined its network, such as Bank of America, Credit Suisse and Nomura's Instinet, won't have restrictions on volume and number of trades they can settle through the network.
• The Paxos Settlement Service differs from the Depository Trust & Clearing Corporation (DTCC) in the fact that DTCC generally allows settlement of T+2, and T+0 or same day for only those trades that occur before 11 am ET.
• Although DTCC aims to shorten the settlement cycle to T+1 by 2023, that won't be close to what Paxos is offering under the no-action relief for a limited period of 24 months. The T+0 settlement cycle offered by Paxos "can free up the collateral we'd have to post on an overnight basis," Bank of America's head of financing and clearing Kevin McCarthy told Bloomberg. "The return-on-assets in this business would improve, which has been a challenge."
https://www.theblockcrypto.com/linked/105036/bank-of-america-paxos-blockchain-settlement-network-equities
17.05.2021
ETF provider Teucrium Trading files for a Bitcoin Futures ETF
• ETF provider Teucrium Trading filed an application with the SEC to launch an ETF that would trade on NYSE Arca and would track a benchmark of bitcoin futures contracts.
• While the SEC has yet to approve the application of any bitcoin ETF, Teucrium could be hoping the Teucrium Bitcoin Futures Fund (BCFU) would have an advantage over applications that propose ETFs that are physically backed by bitcoin.
• Bitcoin ETF proponents have been hoping newly confirmed SEC Chair Gary Gensler will oversee the approval of an ETF, but recent comments from SEC staff that called bitcoin "highly speculative" may mean the regulator is not yet ready to support such a vehicle.
https://www.coindesk.com/etf-provider-teucrium-trading-files-for-a-bitcoin-futures-etf
21.05.2021