Weekly News Roundup – 24 Jan 2022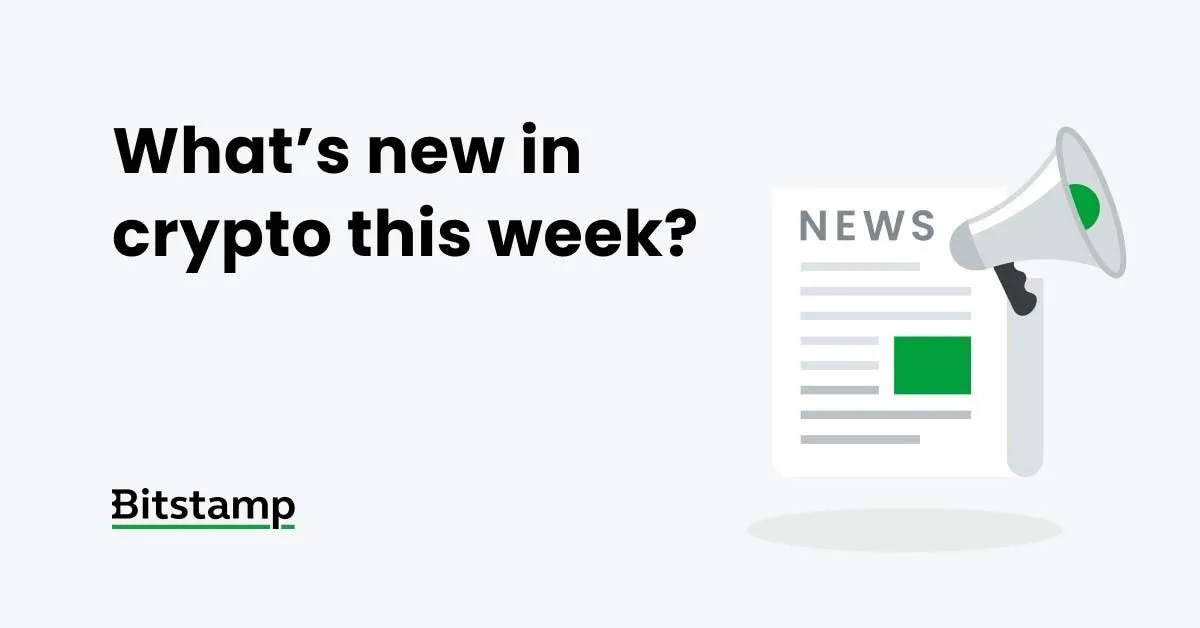 Twitter begins rolling out access to NFT profile pictures
NFT profile pictures have begun to arrive on Twitter. Twitter Blue, the social media platform's subscription service, rolled out the feature Thursday with a splashy introduction video and step-by-step explainer page.
According to the announcements, Twitter's profile picture feature is being powered by the API of NFT marketplace OpenSea. Supported wallets are Coinbase Wallet, MetaMask, Rainbow, Argent, Trust and Ledger Live.
"Setting up an NFT profile picture means people can associate your Twitter account with your connected wallet's public crypto wallet address," Twitter said on its explainer page. "This means your Twitter account will be associated with your current and historical crypto wallet transactions and holdings, including all other NFTs in that wallet, because this information is all available on the public blockchain."
Twitter stressed that it will never seek funds from or access to a user's wallet, cautioning about potential scammers who may attempt to do so.
At present, the feature is limited to those on the iOS mobile platform. "Right now subscribers can only set an NFT as their profile picture from the Twitter for iOS app, but the hexa-shaped profile picture is seen across all platforms," said Twitter.
The move is a significant development for the platform's crypto-related ambitions, which last September enabled bitcoin tipping via the Lightning Network. The company also offered details about its internal NFT projects as well. In practice, a Twitter account with the NFT profile picture feature enabled displays an array of information about the NFT in question, including its creator, specific properties and characteristics, network (like Ethereum) and which token standard was used to deploy it, among other details.
https://www.theblockcrypto.com/post/131052/twitter-begins-rolling-out-access-to-nft-profile-pictures
20.01.2022
---
Intel Is Apparently Making a Bitcoin-Mining Chip to Save GPUs for Gamers
The chipmaker looks set to release a purpose-built chip for mining bitcoin next month.
Crypto mining is loathed by gamers and anyone who cares about the environment, but that isn't stopping Intel from getting into the bitcoin-harvesting business.
While the chipmaker hasn't said anything publicly just yet, eagle-eyed reporters at Tom's Hardware noticed that Team Blue is set to give a presentation about a new "Bonanza Mine" processor at the 2022 International Solid-State Circuits Conference (ISSCC), which kicks off on Feb. 20. The chip is described as an "ultra-low-voltage energy-efficient bitcoin-mining ASIC," where the acronym stands for an application-specific integrated circuit—a chip made for one specific purpose.
Intel had, in a way, already teased this chip last year when GPU chief Raja Koduri stated in a live stream that the company was working on specialized crypto-mining hardware. And as Tom's Hardware points out, Intel had previously filed a patent for a processing system using SHA-256, a cryptographic hash function used by several cryptocurrencies, including bitcoin, for verifying transactions.
If Intel does indeed release its own crypto-mining chip, it will be in direct competition with Bitmain, a Chinese company that specializes in making ASICs for mining bitcoin. But Intel isn't starting from scratch—its SHA-256 Extensions are supported on Ice Lake processors and later, and as we all know, the company has extensive experience optimizing silicon.
This is obviously good news for bitcoin miners, but what about gamers? If we dig into Koduri's comments a bit deeper, he suggests that discrete graphics for gaming should be separate from processing chips made exclusively for crypto mining.
https://gizmodo.com/intel-is-apparently-making-a-bitcoin-mining-chip-to-sav-1848378634
18.01.2022
---
USDC's supply on Ethereum surpasses that of rival USDT's for the first time
The total supply of the USDC stablecoin on the Ethereum blockchain has surpassed that of rival Tether's (USDT) for the first time.
The current total supply of USDC on Ethereum stands at 39.92 billion, whereas USDT's total supply on the blockchain stands at 39.82 billion, according to Etherscan.
USDC's supply beating USDT's on Ethereum is significant since the blockchain remains a major contributor of growth for both stablecoins. USDC and USDT are available on several blockchains, including Solana and Algorand.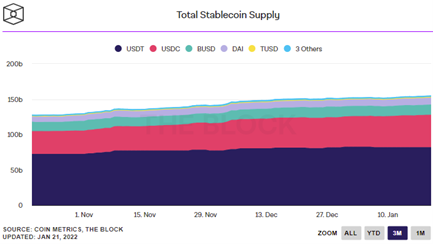 https://www.theblockcrypto.com/post/130342/usdc-supply-on-ethereum-surpasses-usdt-first-time
14.01.2022
---
Facebook's parent company Meta is looking to launch NFT marketplace: Report
Meta, Facebook's parent company, is reportedly drawing up plans to allow users to create and display NFTs on their profiles along with a prototype feature for minting tokens in the pipeline.
The Financial Times reported the news on Thursday, citing "several people familiar with the matter." The report comes after Meta recently said that its upcoming metaverse product will support NFTs. Last month, Instagram CEO Adam Mosseri also said that the company is looking at ways to bring NFTs to a wider audience via its app.
According to the FT report, teams at both Facebook and Instagram are looking at NFT integration, with Meta currently discussing the possible launch of an NFT marketplace. Meta's digital currency wallet Novi is also said to be a key component in its push into NFTs. However, the companies' plans are reportedly at an early stage and could change.
Meta's move into the NFT space comes at a time when cash is flooding into the space. According to The Block's Data Dashboard, NFT marketplace monthly trading volume has already surpassed a record $4 billion this month.
Meta rival Twitter is also exploring supporting NFTs, while Reddit has launched its own NFT collection.
https://www.theblockcrypto.com/linked/130974/meta-nft-report
20.01.2022
---
70% of US crypto holders started investing in 2021: Report
The vast majority of cryptocurrency owners in the United States made its first-ever crypto investments just within last year, according to a new survey.
About 70% of crypto hodlers in the U.S. started investing in cryptocurrencies like Bitcoin (BTC) in 2021, according to the Crypto Perception Report 2022 by Huobi Group, the operator of major crypto exchange Huobi.
The company polled about 3,100 American adults in mid-December 2021 to assess respondents' knowledge of crypto, what they think about the crypto market rise in 2021 and more.
The survey found 68% of respondents got their first crypto exposure within the last year, while another 21% of those started investing in crypto up to two years ago. 12% of respondents made their first crypto investment within four years, while 9% began investing in crypto more than four years ago.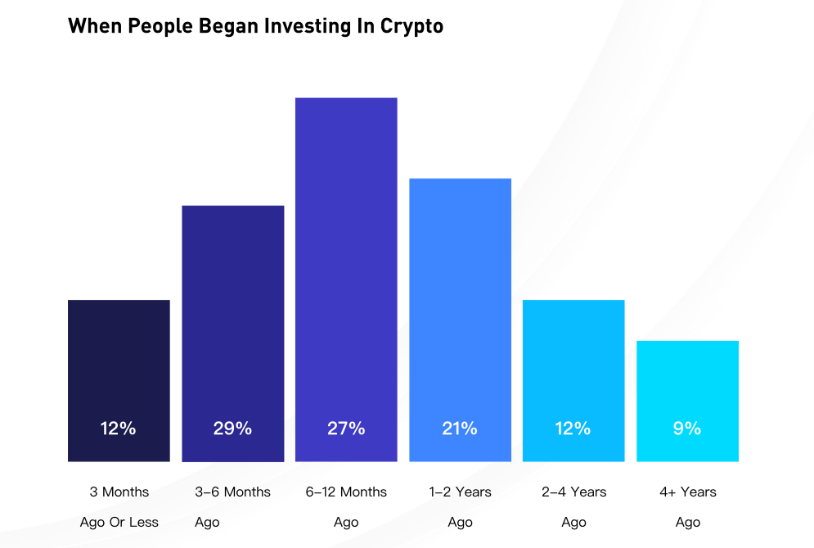 https://cointelegraph.com/news/70-of-us-crypto-holders-started-investing-in-2021-report
14.01.2022
---
Crypto job ads surged by nearly 400% in 2021, says LinkedIn
LinkedIn, the popular social networking site for professionals, said last week that the number of job ads related to the digital asset industry soared in 2021.
Postings related to "bitcoin," "blockchain," "Ethereum," and other terms surged 395% between 2020 and 2021, according to LinkedIn. By comparison, the broader tech sphere "saw a 98% increase in listings during the same time period."
"While most of the job postings were in software and finance, other industries are also seeing a rise in demand for crypto talent. These include professional services like accounting and consulting, as well as the staffing and computer hardware sectors," LinkedIn News noted in a post.
The Block has extensively covered the hiring boom taking place across the digital asset ecosystem. Fueling the activity is a shift in talent from traditional talent spheres to crypto.
A survey of 27 crypto firms revealed a headcount increase of more than 8,400 people in the last year, with an average of over 300 people for each surveyed company. Predictably, exchanges and investment-oriented companies led the pack.
https://www.theblockcrypto.com/linked/130434/crypto-job-ads-surged-by-nearly-400-in-2021-says-linkedin
16.01.2022
---
Google exec says company will 'evolve' with user, merchant demand for crypto payments
Google is shuffling the proverbial deck on the payments front, tapping a former PayPal executive to lead that division and, as Bloomberg reports it, "set a new course."
The move to hire former PayPal senior vice president and chief product architect Arnold Goldberg comes months after Google discontinued efforts to form a service akin to digital banking, according to Bloomberg.
Bill Ready, Google's president of commerce, told the publication that the tech giant wants to broaden the scope of its payments efforts across the spectrum of consumer-facing use cases.
Crypto-related efforts referenced in the interview with Ready highlighted Google's relationships with industry companies Coinbase and BitPay, both of which announced last year that their customers could connect their respective crypto debit cards to Google Pay's app. Ready reportedly said that more linkages of this kind are on the horizon.
"Crypto is something we pay a lot of attention to," Ready told the publication. "As user demand and merchant demand evolves, we'll evolve with it."
Google moved to revamp its advertising policies for crypto exchanges and wallet providers last year, though it still maintains restrictions on topics like initial coin offerings.
https://www.theblockcrypto.com/linked/130909/google-exec-says-company-will-evolve-with-user-merchant-demand-for-crypto-payments
19.01.2022