Weekly News Roundup – 21 Jun 2021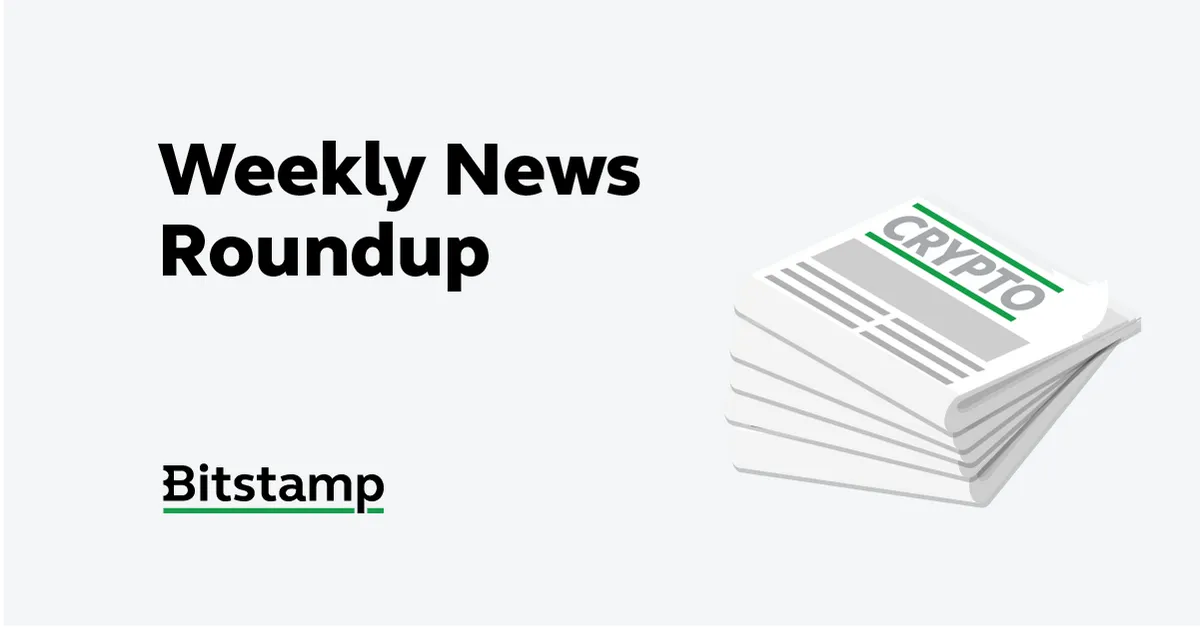 Crypto moves fast and it can be hard to keep up with all the developments. To help you stay on top of what's going on across the industry, we've created this overview of the key news from last week.
Bitcoin Lightning network capacity accelerated to 1,500 BTC
The capacity of the Bitcoin Lightning network has broken above 1,500 bitcoin, according to The Block's Data Dashboard, an amount worth $61.3 million at current prices.
The Lightning network is Bitcoin's main scaling solution, designed to make it cheaper and faster to send small amounts of bitcoin. Typically, payments on the network take just a few seconds and the fees start from just 1 satoshi, or about $0.00038.
The network has been growing rapidly since January, when its capacity was as low as 1,040 bitcoin. This means it has shot up by nearly 50% in under six months after taking three years to break significantly above 1,000 bitcoin.
The number of nodes on the network has increased to 21,567, although only 12,040 of them have channels that are online and active. Across the network, there are now more than 50,000 channels connecting the nodes together.
https://www.theblockcrypto.com/linked/108718/bitcoin-lightning-network-capacity-accelerates-to-1500-btc
Goldman expands in crypto trading with plans for Ether options
Goldman Sachs Group Inc. is moving beyond the world of Bitcoin and expanding into Ether. The bank plans to offer options and futures trading in Ether, the coin that fuels the Ethereum network, in the coming months, according to Mathew McDermott, head of digital assets at Goldman.
Despite all the warnings from regulators about the risks posed by crypto's extreme volatility and role in money laundering, investment banks are stepping up to offer Bitcoin services to their big clients. Even after prices fell in May, hedge funds are still enthusiastic to trade Bitcoin.
Other banks have also expanded their crypto operations. Cowen Inc. plans to offer "institutional-grade" custody services for cryptocurrencies, while Standard Chartered Plc is setting up a joint venture to buy and sell virtual currencies.
https://www.bloomberg.com/news/articles/2021-06-14/goldman-expands-in-crypto-trading-with-plans-for-ether-options
Morgan Stanley set to expand Bitcoin fund options
Morgan Stanley's wealth management clients may soon have even more options for getting into Bitcoin. New York Digital Investment Group (NYDIG), a "financial services firm dedicated to Bitcoin," and FS Investments have filed paperwork with the US Securities and Exchange Commission (SEC) for a pooled investment fund aimed at clients of U.S. mega-bank Morgan Stanley.
Such funds allow companies and/or people to get exposure to Bitcoin's price without taking custody of the asset. The funds do that, more or less, by tracking the price of BTC and adding on a management fee—though some funds can trade at a premium or discount compared to their underlying asset.
According to the SEC filing, Morgan Stanley "will receive certain placement and servicing fees with respect to clients it refers to the issuer."
In May, NYDIG partnered with Fidelity National Information Services (FIS) to announce a way for ordinary bank customers to buy Bitcoin within their accounts.
https://decrypt.co/73733/morgan-stanley-set-expand-bitcoin-fund-options
Switzerland's Sygnum Bank gets into DeFi
Switzerland's Sygnum Bank is launching custody and trading across a range of decentralized finance (DeFi) tokens including Aave, Aragon, Curve, Maker, Synthetix, Uniswap and 1inch network.
Sygnum, which has also added banking services for the USDC stablecoin, plans to expand with a suite of yield-generating products for its clients, which include banks, hedge funds, asset managers and family offices.
These products "can either be based on the proof-of stake protocol, so staking itself, or also leveraging and decentralized lending to generate yield for our clients, which is a bit further out on the roadmap," said Thomas Eichenberger, Sygnum Bank's head of business units.
Banks and institutions are currently keen to interact with DeFi, a $60 billion market of decentralized lending and trading mainly on Ethereum.
https://www.coindesk.com/switzerlands-sygnum-bank-gets-into-defi
How the stablecoin and CBDC landscape is shaping up
A CBDC (central bank digital currency) represents the virtual form of a fiat currency. It is an electronic record or a digital token. It is centralized, issued and regulated by a central bank and/or government authority of a country.
A number of monetary authorities decided to develop their own form of stablecoin. It has now become a case for many central banks around the world to hop on the digital currency bandwagon.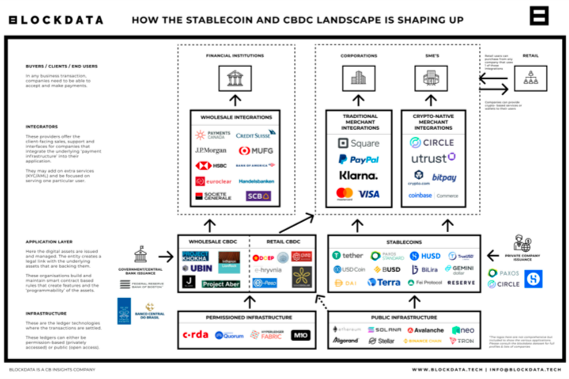 https://app.blockdata.tech/blog/general/regulation-stablecoins-and-cbdc-s-what-you-need-to-know