Weekly News Roundup – 20 Sep 2021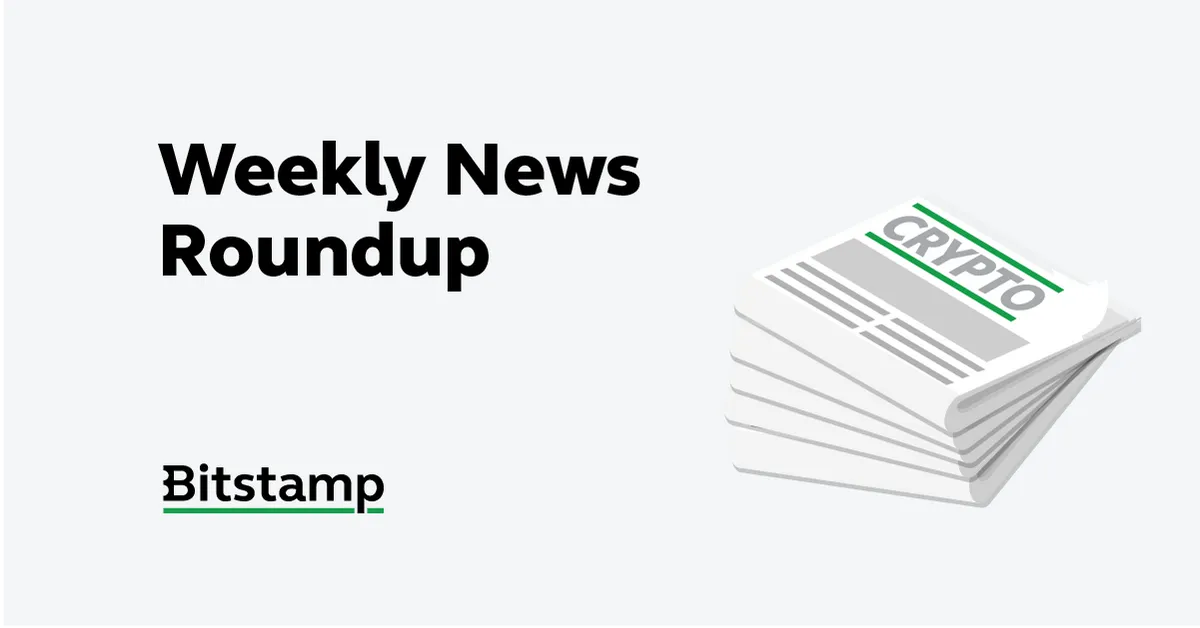 Crypto moves fast and it can be hard to keep up with all the developments. To help you stay on top of what's going on across the industry, we've created this overview of the key news from last week.
---
90% of surveyed investors find digital assets appealing
Fidelity Digital Assets, the crypto-focused wing of global asset manager Fidelity, has published the results of a survey that interviewed 1,100 investors across the globe.
The study surveyed 408 American, 299 Asian, 393 European investors on their investment behavior and view of digital assets such as cryptocurrency. Of the survey participants, 312 were financial advisors and 302 were high net worth investors.
As per the report, 90% of surveyed investors found digital assets appealing, particularly for their "high potential upside." Eight in ten also felt digital assets could belong in a portfolio.
For the barriers halting widespread adoption of digital assets, 54% of investors said it's the price volatility created and 44% noted a lack of fundamentals to gauge their proper value.
Overall, 52% of surveyed investors said they have invested in digital assets, with Asian and European investors more likely to do so than those based in the U.S.
The market conditions of 2020 following the COVID-19 pandemic pushed investors toward digital assets, according to the report, as it had also pressured central banks to adopt central bank digital currencies and piqued the federal government interest in blockchain technology.
Source: The Block Crypto (16.09.2021)
---
Blockchain-based music platform Audius raises $5 million from music industry giants
Audius, a blockchain-based music streaming platform with over six million monthly users, announced Thursday that it raised $5 million from some of the music industry's top people.
Investors in Audius include artists such as Katy Perry, The Chainsmokers, Nas, Jason Derulo, Pusha T, Mark Gillespie, as well as industry leaders like former Sony Music CEO Martin Bandier, CEO of the investment firm K5 Global Michael Kives, and CEO of the performance rights organization SESAC John Josephson.
This year has seen more artists enter the digital asset and blockchain space — especially Katy Perry, who is releasing an NFT collection in December of this year, and the ever-bullish Jason Derulo, owner of a CryptoPunk NFT.
"I've known that blockchain will change the world since I invested in Coinbase five years ago and I believe it might be the most important technology to ever hit the music industry," said the rapper Nas in the statement. "Everyone who uploads to Audius can be an owner, you can't say that about any other platform."
Audius is a San Francisco-based company founded in 2018. To date, it has raised $8.6 million with contributions from Coinbase Ventures, Pantera Capital, Multicoin Capital, and other investors. In mid-August of this year, Audius became the first streaming platform to integrate with the video-sharing giant TikTok. Audius also has its own token, $AUDIO, that can be traded at Bitstamp.
Source: The Block Crypto (16.09.2021)
---
Interactive Brokers rolls out crypto trading with Paxos
Global electronic brokerage firm Interactive Brokers Group is teaming up with Paxos to enable crypto trading.
Interactive Brokers' clients can now trade and custody Bitcoin, Ethereum, Litecoin and Bitcoin Cash through Paxos. The assets will be accessible alongside traditional assets through a single interface.
For now, the services are only available to U.S. residents with individual or joint accounts. In its announcement, Interactive Brokers said there are plans to launch crypto trading to other client bases, including Financial Advisors, and those outside the U.S.
The firm is also touting low commissions, charging 0.12%–0.18% of trade value as commission.
Paxos nabbed approval for a bank charter from the Office of the Comptroller of the Currency this April, enabling it to expand its custody offerings for firms like Interactive Brokers. Its own brokerage offering, Paxos Crypto Brokerage, is the API enabling the trading, custody and liquidity, while Interactive Brokers maintains the client base.
Chairman Thomas Peterffy founded Interactive Brokers in 1977 as a market maker before incorporating the firm into a broker-dealer in 1993. It currently has more than $9 billion in equity as one of the largest electronic brokerages in the world. Peterffy has been skeptical of cryptocurrencies in the past, but during an interview with CNBC earlier this year, he admitted to having some money in digital assets because "you have to play the odds."
At that time, Peterffy teased that several of the firm's clients had expressed interest in crypto trading. Interactive Brokers caters to an institutional client base; in the firm's announcement, CEO Milan Galik referenced the growing investor demand.
Source: The Block Crypto (13.09.2021)
---
Latest version of open-source Bitcoin Core software released
Bitcoin Core version 22.0, the second Bitcoin Core update for 2021, was released on Monday.
The new update largely bolstered remote procedure calls (RPCs) — communication channels that allow users to interact with the Bitcoin network — as well as improvements to the build system, files, tools and utilities, wallets, graphical user interface (GUI) and network.
A few notable changes include the removal of support for the anonymous browser Tor v2 in favor of Tor v3 and allowing the use of external signers such as hardware wallets.
The last update to the Bitcoin Core occurred on January 14, 2021. One hundred and twenty-eight individuals are credited as helping to develop the most recent version.
Source: The Block Crypto (13.09.2021)
---
Ethereum hashrate reaches all-time high
Ethereum's hashrate reached an all-time high on Sunday, indicating that the worst effects of China's crackdown are in the past.
Etherscan said the hashrate was 715.4 terahash/second on Sunday, while OKLink showed it was 677.9 TH/s. Those are record values on both platforms.
The hashrate has been on an upward trajectory since the end of June. Prior to the incline that led to today's level, the all-time high was on May 19, when Etherscan recorded 632.8 TH/s and OKLink 604.5 TH/s.
Chinese cities and provinces have been cracking down on crypto mining since a May 21 statement from the State Council. As miners powered off their rigs and tried to move their operations abroad, hashrates for both ethereum and bitcoin fell. Many of these miners are now operational again.
Eddie Wang, a senior researcher at OKLink, also attributed the increase to a change in miners' expectations. Miners and analysts expected Ethereum's London hard fork, which was implemented on Aug. 5, to cause a fall in miner revenue, Wang told CoinDesk via WeChat.
But high demand on the network, with minting of non-fungible tokens that carry high priority fees, has kept miners' revenue up, Wang said.
Because mining has proven profitable after the hard fork, more miners are coming online, Wang said.
Source: Coindesk (13.09.2021)
---
More than $1 billion worth of ether has been burned since Ethereum's London upgrade
Since the introduction of Ethereum's London upgrade on August 5, more than 297,000 ETH has been burned — worth just over $1 billion.
The upgrade added a new burning mechanism to transaction fees with the goal of making them easier to price. To make a transaction, you now pay a base fee, which gets burned, and a priority fee that's effectively a tip to the miner.
As a result, Ethereum's inflation rate has been decreasing. Miners on the network produce about 13,000 ETH each day (given to them as mining rewards) but the burning mechanism is starting to counter that. Some days, the amount of ETH burned has overtaken the amount produced. Currently the net emission is around 6,800 ETH.
Part of the reason why so much ETH is being burned is the prevalence of high transaction fees on the network, due to consistent demand — along with moments of high demand as we are in NFT minting season. The number of Ethereum transactions has remained high at 1.2 million transactions per day.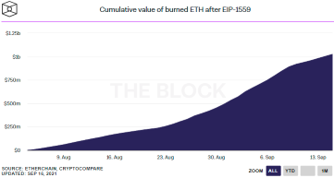 Source: The Block Crypto (15.09.2021)