Weekly News Roundup – 20 Dec 2021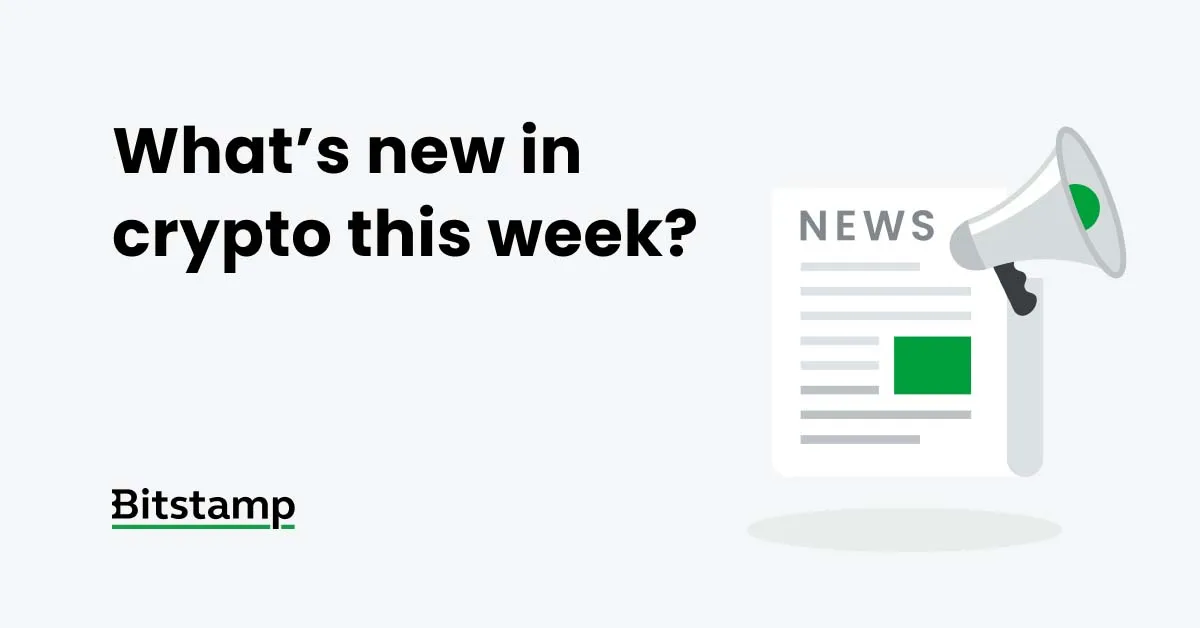 Crypto moves fast and it can be hard to keep up with all the developments. To help you stay on top of what's going on across the industry, we've created this overview of the key news from last week.
Adidas Originals nets $23 million after closing its first NFT drop
The German sportswear brand Adidas Originals earned 5,924 ETH, or $23.5 million, from its collaborative "Into the Metaverse" drop with Bored Ape Yacht Club (BAYC), the non-fungible token (NFT) collector gmoney and the crypto-focused media group PUNKS Comic.
Adidas Originals began its early-access minting stage on December 17, in which holders of an Adidas Originals proof-of-attendance protocol ("POAP," which are given to attendees of virtual or physical events), gmoney POAP, a BAYC or Mutant Ape Yacht Club NFT or a Pixel Wallet NFT gained entry. The Early Access stage minted 20,000 NFTs for 0.2 ETH — $15.5 million — and finished a little after 5pm ET.
Those without these assets could still mint one of the 9,620 "Into the Metaverse" NFTs in a general sale beginning at 6pm ET. Upon completion, that added about $7.5 million to the total mint earnings. Adidas Originals and its partners are holding 380 NFTs for future events.
As The Block previously reported, Adidas Originals paused its earlya-access mint soon after its launch due to an issue with Mutant Ape Yacht Club. The brand assured users that those with failed transactions will be able to mint once the sale resumes and that they'll cover the cost of lost gas fees.
https://www.theblockcrypto.com/linked/128003/adidas-originals-nets-23-million-after-closing-its-first-nft-drop
17.12.2021
---
Nike buys NFT collectables startup RTFKT
Nike announced on Monday that it is pushing further into the metaverse with the acquisition of RTFKT (pronounced "artefact").
RTFKT is a collectables studio known for making NFTs that merge culture and gaming. The brand was first launched in January 2020 by Benoit Pagotto, Chris Le and Steven Vasilev. Nike said in a press release that the team "leverages the latest in game engines, NFTs, blockchain authentication and augmented reality to create one of a kind virtual products and experiences".
Nike did not disclose the terms of the deal. In May, RTKFT had raised $8 million at a $33.3 million valuation.
"This acquisition is another step that accelerates Nike's digital transformation and allows us to serve athletes and creators at the intersection of sport, creativity, gaming and culture," said John Donahoe, President and CEO of Nike.
"We're acquiring a very talented team of creators with an authentic and connected brand. Our plan is to invest in the RTFKT brand, serve and grow their innovative and creative community and extend Nike's digital footprint and capabilities."
RTFKT already has a strong track record in the digital realm, having recently launched a lauded partnership with artist Takashi Murakami called CloneX. The project has already seen more than $75 million in transaction volume, according to CryptoSlam.
"Nike is the only brand in the world that shares the deep passion we all have for innovation, creativity and community, and we're excited to grow our brand which was fully formed in the metaverse," said Pagotto.
https://www.theblockcrypto.com/linked/127417/nike-buys-nft-collectables-startup-rtfkt
14.12.2021
---
Sotheby's netted $100 million from NFT sales in 2021: report
The centuries-old art auction house Sotheby's reported that it earned $100 million from non-fungible token (NFT) sales this year, according to a release shared with The Block.
The auction house held its first NFT sale from the digital artist Pak between April 12-14, which brought in $16.8 million from 3,000 buyers. Since then, Sotheby's sold an NFT of the original World Wide Web source code for $5.3 million, a rare CryptoPunk worth $11.8 million, a collection of 101 Bored Ape Yacht Club NFTs for $24.4 million, among other notable NFT auctions.
More than three-quarters (78%) of the NFT bidders were new to Sotheby's and over half were under 40, Sotheby's notes.
The auction house was one of the first historical art institutions to lean into the blockchain-based digital asset explosion of this year — and it paid off. So much so that Sotheby's launched its own curated NFT platform called Sotheby's Metaverse in October.
Barring the 20 auctions left, Sotheby's earned a total of $6 billion from its 2021 auctions — up 71% from 2020 — and $7.3 billion in year-to-date consolidated sales.
https://www.theblockcrypto.com/linked/127649/sothebys-netted-100-million-from-nft-sales-in-2021-report
15.12.2021
---
AccuWeather Taps Chainlink to Explore Crop Insurance and More
Blockchain oracle services firm Chainlink has added U.S. meteorology forecasting provider AccuWeather to further bolster its suite of real-world data feeds. Back in August of this year, Chainlink, which allows data providers to port data into the digital agreements that run on top of blockchains, announced it was incorporating weather data courtesy of Google Cloud.
Chainlink approached AccuWeather's Matt Vitebsky, the firm's director of flagship products, earlier this year. Vitebsky said he's had a personal interest in blockchain technology since 2017. "One of the important use cases is parametric insurance, and crop insurance is definitely a big one," Vitebsky said in an interview. "Being able to cut out that middleman in some countries that are perhaps underserved in terms of insurance. The other place we're looking is futures markets."
The type of financial products that can benefit from blockchain smart contracts combined with weather data are offerings such as parametric insurance, where a payout could be triggered by events such as a flood or drought conditions.
AccuWeather has a set fee for access to its weather data APIs, which will be paid in LINK, Chainlink's native token, and which developers can connect with via the Ethereum blockchain network or the Polygon layer 2 network, Vitebsky explained. A layer 2 is a second network built on top of the layer 1 Ethereum blockchain.
"We didn't want to miss the boat on this opportunity, we want to be at the forefront of innovation in the weather space," said Vitebsky.
Also this year, Chainlink partnered with the Associated Press to provide U.S. elections data as well as sports and macroeconomic information.
https://www.coindesk.com/business/2021/12/14/accuweather-taps-chainlink-to-explore-crop-insurance-and-more/
14.12.2021
---
Bitcoin touches new milestone with 90% of total supply mined
Ninety percent of all bitcoins have been mined as of Monday morning, according to data from blockchain tracker Blockchain.com. The feat means 18.89 million bitcoins – of a maximum of 21 million – are now on the open market.
Reaching the milestone took nearly 13 years since the first bitcoins were mined on Jan. 9, 2009. However, the remaining supply is not expected to be mined until February 2140, based on network activity estimates and Bitcoin's halving schedules.
Prices have mirrored the increasing supply as demand for newer bitcoin heats up. The asset exchanged hands for less than $0.10 when 10% of the supply was mined in early 2010, and hovered at $7.50 when 50% of the supply was mined in December 2012. As of press time, bitcoin trades at over $49,000, having declined 28% from its peak of $69,000 earlier this year, as per data from CoinGecko.
Bitcoin, as a proof-of-work network, relies on network participants called miners who continually process transactions and validate blocks in a process broadly referred to as mining.
Such participants provide their computing resources and hardware to solve millions of complex calculations on the Bitcoin network each second, receiving bitcoin as rewards. Miners currently receive 6.25 bitcoin for each block they mine, which would drop to 3.125 bitcoin after the next halving in 2024.
Meanwhile, not all of 21 million bitcoin is expected to be available on the open market. Crypto analytics firm Chainalysis estimates 3.7 million bitcoin have been "lost" based on analyzing address activity, from reasons ranging from losing one's private keys to even death. A further 1 million bitcoin is still held by Bitcoin creator Satoshi Nakamoto, untouched because the pseudonymous person/s mined the amount in the network's early days.
https://www.coindesk.com/tech/2021/12/13/bitcoin-touches-new-milestone-with-90-of-total-supply-mined/
13.12.2021
---
Chainalysis adds Lightning Network support
Blockchain data platform Chainalysis will start supporting the Lightning Network in February, the company announced Friday.
The Lightning compatibility will be available for customers of Chainalysis' cryptocurrency compliance software, KYT (Know Your Transaction). KYT helps virtual asset service providers (VASPs) like exchanges detect risk patterns and illegal activity.
Now, these VASPs will be able to "compliantly allow deposits and withdrawals of Bitcoin from a Lightning node," Chainalysis said in a press release. KYT will be able to provide alerts for Lightning transactions and pre-screening for withdrawals, it added.
"By enabling our customers to compliantly support Lightning transactions, we hope to grow the network's popularity and help it scale," Chainalysis chief product officer Pratima Arora said in a statement.
The Lightning Network is a decentralized, Layer-2 protocol for sending instant Bitcoin payments. Its capacity has been growing rapidly this year.
https://www.theblockcrypto.com/linked/127180/chainalysis-adds-lightning-network-support
10.12.2021
---
Valkyrie launches innovative balance sheet ETF
Issuer Valkyrie Funds launched a new exchange-traded fund (ETF) yesterday which holds public firms with bitcoin on the balance sheet.
The Valkyrie Balance Sheet Opportunities ETF aims to give investors exposure to bitcoin by holding firms that directly or indirectly invest in, transact in or hold bitcoin on their balance sheets. That includes firms like MicroStrategy, Block (formerly Square), Tesla, Coinbase and PayPal among others.
The fund plans to limit its exposure to mining companies in order to mitigate risk related to firms dealing directly in the bitcoin ecosystem Valkyrie Funds co-founder Steven McClurg told the TD Ameritrade Network.
"Overall, we are pleased with how the reception VBB has received and are eager to help spread the gospel of why companies that allocate to Bitcoin tend to outperform their peers who don't," said Valkyrie Funds CEO Leah Wald. "Ultimately, we know this fund has a longer tail in terms of education and are eager to meet this challenge."
Valkyrie also provided ETF-based exposure to bitcoin through its bitcoin futures ETF, which began trading in late October after considerable lead up to a bitcoin-focused ETF. That product posted $78 million in volume on its opening day.
Still, a spot bitcoin ETF has yet to hit the market. Valkyrie currently has an offering before the Securities and Exchange Commission, and expects an answer by Jan 1, 2022. Two other applications in this cycle have already been rejected.
https://www.theblockcrypto.com/linked/127856/valkyrie-launches-innovative-balance-sheet-etf
16.12.2021