Weekly News Roundup – 2 Nov 2021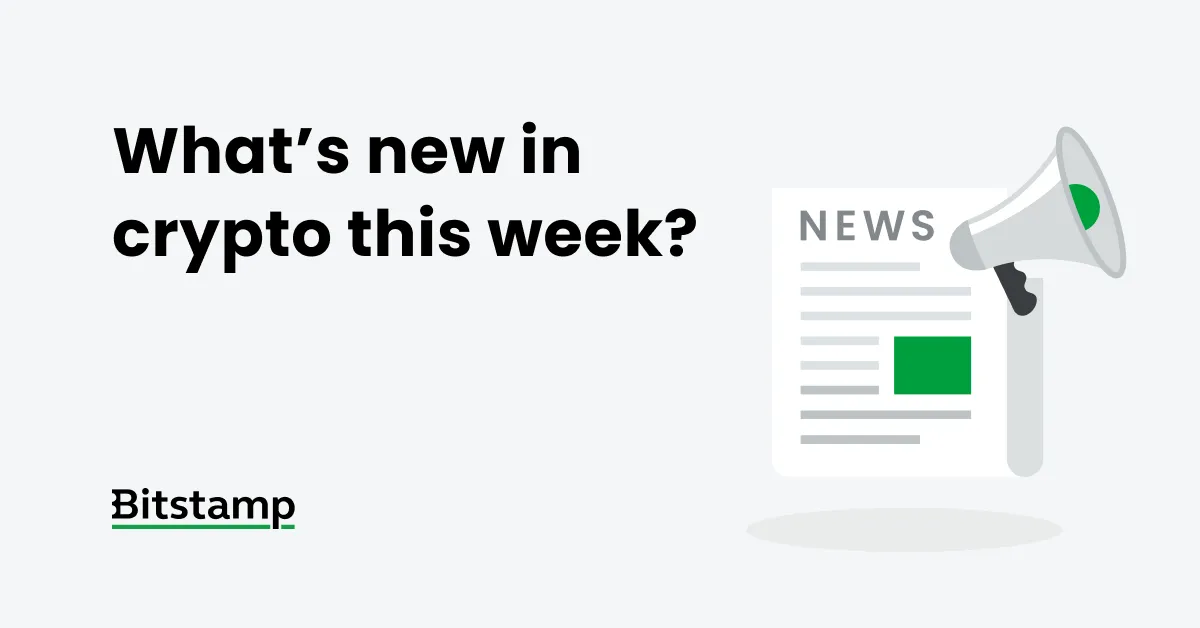 Crypto moves fast and it can be hard to keep up with all the developments. To help you stay on top of what's going on across the industry, we've created this overview of the key news from last week.
Bitcoin's white paper was published 13 years ago
The bitcoin white paper was released 13 years ago, on October 31, 2008.
The email containing the white paper was sent just after 2 p.m. ET on a mailing list for cryptographers. According to a copy of the email maintained by the Nakamoto Institute, bitcoin's pseudonymous creator, Satoshi Nakamoto, wrote at the time: "I've been working on a new electronic cash system that's fully peer-to-peer, with no trusted third party."
"The main properties: Double-spending is prevented with a peer-to-peer network. No mint or other trusted parties. Participants can be anonymous. New coins are made from Hashcash style proof-of-work. The proof-of-work for new coin generation also powers the network to prevent double-spending," Nakamoto went on to write.
Bitcoin was later officially launched on January 3, 2009, the date on which the first block of transactions — known as the genesis block — was mined.
https://www.theblockcrypto.com/linked/122703/bitcoins-white-paper-was-published-13-years-ago-today
31.10.2021
Metaverse, NFTs and gaming token prices soar as Facebook goes Meta
Prices of metaverse, non-fungible tokens (NFTs), and gaming tokens have shot up recently, with markets buoyed by the news that Facebook is to rename itself Meta. The tech giant reaffirmed its plans to rebrand itself as a "metaverse company" – and has made references to "crypto" and "NFTs" in its communications on the name change.
Some metaverse-related coins shot up by up to 100%+ over the last few days, with the most meteoric growth coming in the hours after the tech titan's announcement. At 07:50 UTC, starlink (STARL) was up by 109%, while decentraland (MANA) jumped by 39%, and the sandbox (SAND) increased by 23%. In the NFT/gaming world, data from Coingecko showed strong growth, with the market-leading Sky Mavis game Axie Infinity shards (AXS) coin up 11% in the 24 hours after Facebook's announcement. Other gaming-related coins were also up.
As previously reported, the industry was been made aware of a forthcoming name change last week, while founder Mark Zuckerberg has been speaking about a metaverse pivot for several months. But the name Meta and the language that Zuckerberg and his colleagues have been using to speak of the company's new direction has led the markets to believe big money is about to flow the metaverse's way.
In a "founder's letter," Zuckerberg wrote that the new pivot would "require not just novel technical work – like supporting crypto and NFT projects in the community – but also new forms of governance." At the firm's annual Connect event, the firm said that it had explored what the "metaverse could feel like over the next decade," looking at matters including "social connection, entertainment, gaming, fitness, work, education, and commerce."
https://cryptonews.com/news/metaverse-nfts-and-gaming-token-prices-soar-as-facebook-goes-meta.htm
29.10.2021
NFT gaming firm The Sandbox raises $93 million in round led by SoftBank
Hong Kong-based gaming platform The Sandbox has raised $93 million in a round led by SoftBank's Vision Fund 2.
The Sandbox, released on iOS, Android and Windows, allows users to create their own universe inside the game using different elements. In 2018, Hong Kong-based NFT digital property firm Animoca Brands acquired Pixowl, the original developer and publisher behind The Sandbox.
That allows The Sandbox to add in non-fungible tokens in its gaming experience for users to monetize their in-game creations on the Ethereum network. Animoca Brands said in a statement on Tuesday that The Sandbox has experienced notable growth this year with "over 500,000 registered wallets and 12,000 unique virtual LAND owners."
The latest round is poised to help the firm expand the metaverse economy beyond just gaming, The Sandbox chief operating officer and co-founder Sebastien Borget said in an interview with Reuters.
"We are creating this open metaverse. We are positioning the Sandbox against those giant tech companies who are claiming the metaverse to be theirs, offering an alternative where users are first," Borget was quoted as saying.
The funding also came months after Animoca Brands raised nearly $140 million earlier this year.
https://www.theblockcrypto.com/linked/122936/crypto-sandbox-93-million-softbank
02.11.2021
Mastercard and Bakkt roll out crypto tools for partner banks and fintech firms
Card giant Mastercard has announced a new partnership with crypto exchange Bakkt to broaden the cryptocurrency services it offers to partners. The aim of the initiative is to offer "quick access to cryptocurrency capabilities," according to a press release.
With the help of Bakkt, Mastercard's partners – including banks, merchants and fintech firms – will be able to roll out crypto investment tools for their users through custodial wallets. They will also be given a route to issuing branded crypto debit and credit cards.
Mastercard plans to integrate crypto into its loyalty products, meaning rewards points can be spent in crypto rather than loyalty points.
"Mastercard is committed to offering a wide range of payment solutions that deliver more choice, value and impact every day," said Sherri Haymond, executive vice president of digital partnerships at Mastercard, in a statement. "Together with Bakkt and grounded by our principled approach to innovation, we'll not only empower our partners to offer a dynamic mix of digital assets options, but also deliver differentiated and relevant consumer experiences."
Launched by Intercontinental Exchange in 2018, Bakkt recently listed on the New York Stock Exchange via a merger with VPC Impact Acquisition Holdings. Its shares are trading up since its listing last week, rising more than 50% to around $15 at the time of writing.
https://www.theblockcrypto.com/linked/121905/mastercard-bakkt-crypto-tools-banks-fintech
25.10.2021
MicroStrategy added 9,000 BTC last quarter, its stash is now worth $7 billion
MicroStrategy added almost 9,000 Bitcoin to its holdings in Q3, bringing its total BTC stash to a valuation of around $7 billion.
The company highlighted the purchase of 8,957 BTC in its Q3 report on Oct. 28, with the firm's perma-bull CEO Michael Saylor stating that there is more BTC accumulation to come: "Today, MicroStrategy is the world's largest publicly traded corporate owner of Bitcoin with over 114,000 Bitcoins. We will continue to evaluate opportunities to raise additional capital to execute on our Bitcoin strategy."
The software firm has increased its Bitcoin holdings by 198% since the same period last year, and as of Sept. 30 the total stood at 114,042 BTC with an estimated average purchasing price of $27,713 per coin, or a total spend of $3.16 billion.
On paper, Microstrategy posted a carrying value of $2.406 billion for its BTC holdings at an impairment loss of $754.7 million since the acquisition, however this is a paper loss. As the firm categorizes Bitcoin as an "intangible asset," accounting rules mandate that it must report an impairment loss when the carrying value dips below its cost basis. However, the firm is not required to report any paper gains on the asset until a profit is realized through a sale.
As BTC is priced at roughly $60,600 at the time of writing, the value of MicroStrategy's holdings equates to around $6.9 billion, suggesting that the firm would make nearly $3.75 billion in profit if it sold today.
MicroStrategy provides business intelligence software, mobile app software and cloud-based solutions, and the firm pulls in revenue via streams such as product licensing and subscription services.
https://cointelegraph.com/news/microstrategy-added-9-000-btc-last-quarter-its-stash-is-now-worth-7-billion
29.10.2021
Two US banks sign up for bitcoin trading platform from Q2 and NYDIG
New York's Five Star Bank and California's UNIFY Financial Credit Union are the first U.S. institutions to offer bitcoin trading through a platform from Austin-based Q2 Holdings and New York Digital Investment Group (NYDIG).
Through the so-called Q2 Digital Banking Platform, people will be able to use each bank's branded desktop or mobile banking app to buy, sell or hold bitcoin while also seeing their bitcoin balance alongside their fiat accounts. The interface also includes up to 10 educational tabs explaining more about Bitcoin and blockchain, said Jonathan Price, Q2's executive vice president, emerging businesses, corporate & business development in an email to The Block.
Price noted that by early 2022, the offering will be available to at least 450 banks and credit unions using Q2's digital banking platform.
The announcement marks what seems to be an emerging trend of banks announcing the option to trade or use cryptocurrencies. For example, Brazilian investment bank BTG Pactual announced in September that it is close to launching a new platform called Mynt for trading bitcoin and ether, which will be available via its apps for investing and digital banking. NYDIG also announced in June that it would partner with NCR Corporation so that 650 banks and credit unions can offer bitcoin purchases.
According to NYDIG, the firm's research findings point to more than 20% of U.S. adults owning bitcoin, with more than 80% of those people having an interest in storing it via their go-to bank or credit union if given the opportunity.
Five Star Bank describes itself as a "$5 billion community bank" with about 50 locations, and UNIFY Financial Credit Union has more than $3 billion in assets and branches in several U.S. states.
https://www.theblockcrypto.com/linked/121782/two-us-banks-sign-up-for-bitcoin-trading-platform-from-q2-and-nydig
22.10.2021