Weekly News Roundup – 18 Oct 2021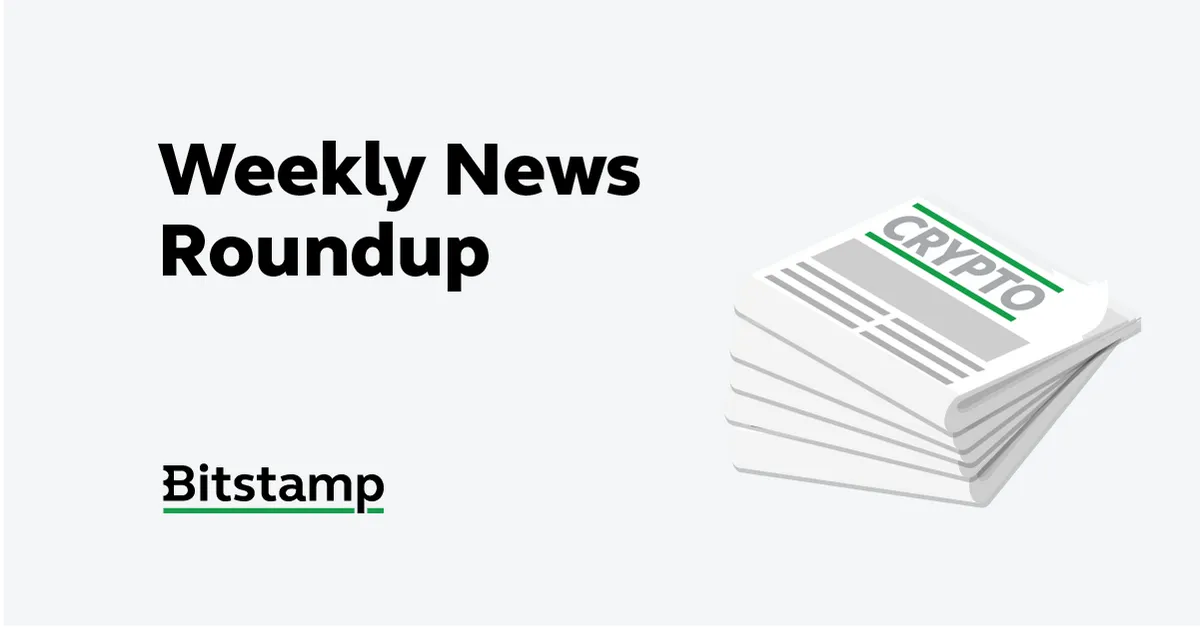 U.S. Bitcoin futures ETF slated to list Monday
The ProShares bitcoin futures-based exchange traded fund (ETF) is slated to list Monday Oct 18 pending no last minute regulatory interference.
The firm filed a post-effective amended prospectus stating its intention to launch on Oct. 18. It will list under the ticker $BITO
There will likely be no formal green light from the Securities and Exchange Commission (SEC). In the case of such registrations, once 75 days lapses from the initial filing with no dissent from the SEC, a product is clear to list. ProShares most recent filing indicates it will list on NYSE Arca this Monday.
It will be the first crypto futures-based product to list on a U.S. exchange. Though it does not provide a vehicle to directly invest in the bitcoin spot market, it will be the most direct exposure available to investors in the form of an ETF. The listing of a crypto-based ETF has been long-awaited by many in the industry. After Canada gave several crypto-based products the green light earlier this year, many speculated the U.S. securities regulators could look more favorably on a bitcoin ETF.
However, SEC chairman Gary Gensler expressed he was particularly enthused by the prospect of an ETF filed under the Investment Act of 1940 tied to CME bitcoin futures. ProShares was the first to file under these conditions after the chairman's comments, meaning it will be the first to list. Other registrants jockeying for position include Valkyrie, VanEck, Invesco and BlockFi among others.
Still, the quest for a spot bitcoin ETF has yet to come to an end. Issuers with spot products before the commission continue to face repeated extensions. VanEck will likely be the first to receive its answer. The SEC recently punted on the decision a final time, moving the decision deadline to November 14. The SEC has historically cited concerns of market manipulation in bitcoin spot markets in its previous rejections.
https://www.theblockcrypto.com/linked/120894/bitcoin-futures-etf-slated-to-list-monday
15.10.2021
Decentralized finance is now a $200 billion industry
There's now $200 billion tied up in decentralized finance (DeFi) protocols, according to tracking site DefiLlama. That number has doubled since late June.
This metric is known as the total value locked (TVL) in these protocols. It refers to the dollar value of the tokens held in smart contracts within DeFi protocols, such as lending or trading platforms. It's worth noting that these estimates are not perfect, since such trackers can count the same coins more than once.
DefiLlama looks at these protocols across multiple blockchains, so this is quite a wide ranging figure, encompassing big blockchains like Ethereum as well as those newer to DeFi, like Avalanche and Solana.
The majority of the value is held in projects on Ethereum. DefiLlama puts this figure at $140 billion (notably this is 55% higher than the estimate on DeFi Pulse). Up next comes Binance Smart Chain with $18.5 billion and Solana with $11.7 billion. The next biggest chains are Terra, Avalanche and Fantom.
DefiLlama also includes a few scaling networks built on Ethereum, such as Polygon (although more of a sidechain), Arbitrum and Optimism. The latter two have only recently launched and have relatively small amounts of value locked in protocols on their networks.
Despite Ethereum's strong market share and growing TVL, it has lost significant dominance due to the emergence of DeFi protocols on other chains. It has declined from 98% dominance in January to 68.5% today. During that timeframe, however, its TVL increased by four times.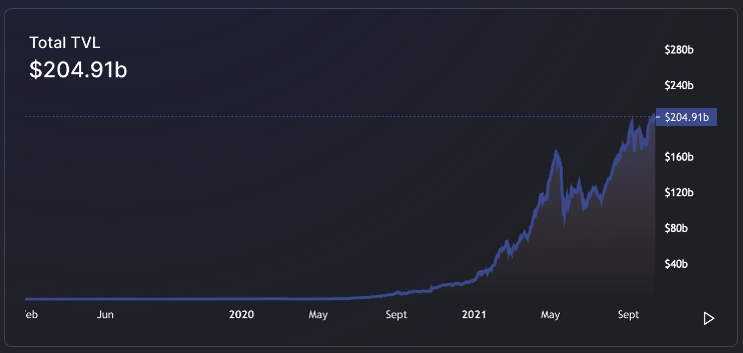 https://www.theblockcrypto.com/post/120379/decentralized-finance-is-now-a-200-billion-industry
13.10.2021
Latest data shows the US now leads with 35% of Bitcoin's hash rate
The latest data compiled by the Cambridge Centre for Alternative Finance (CCAF) suggests that the U.S. has replaced China as the country with the biggest market share of Bitcoin's hash rate. The CCAF estimates that the U.S. is responsible for 35.4% of the mining activity, based on an analysis of 44% of the market's hash rate.
The CCAF's mining map as of August shows that Bitcoin mining firms in the U.S had a total of 42.7 exahashes per second (EH/s) of hash rate, followed by Kazakhstan, Russia and Canada. This has been due to mining firms buying large swathes of new equipment and expanding their operations — in light of both the opportunity presented by China's crackdown on mining and bitcoin's recent price rally.
Meanwhile, the joint market share of U.S. mining firms surged to 35% during the third quarter from just above 17% in May thanks to waning competition from rival Bitcoin mining operations in China after the country's crackdown.
This has posed well for the bigger firms. Over the third quarter this year, just seven publicly listed bitcoin mining firms in the U.S. alone mined about 7.5% of the Bitcoin block rewards up for grab. Those firms were holding over 20,000 BTC as of last month.
But the U.S. is not the only winner following China's mining crackdown. The hash rate powered by mining firms in Kazahkstan has also doubled since Q2 to nearly 22 EH/s in August with a market share of 18.1%. As The Block reported previously, after China's crackdown in May, Kazahkstan has become one of the top destinations for Chinese miners who have considered relocating their operations. Bitcoin mining operations in Russia and Canada are also competing closely for the third place, with 11.2% and 9.6%, respectively. Russia-headquartered mining colocation provider BitRiver has said that over the summer it signed hosting deals with Chinese customers for over 100 megawatts of capacity.
https://www.theblockcrypto.com/post/120372/us-lead-bitcoin-hash-rate-cambridge
13.10.2021
Morgan Stanley CEO says cryptocurrencies 'aren't going away'
Morgan Stanley CEO James Gorman said that his crypto doesn't touch a large part of his firms business, but he doesn't think the asset is going away.
"I don't think crypto's a fad, I don't think it's going away," Gorman said on a call with analysts Thursday morning. "I don't know what the value of bitcoin should or shouldn't be, but these things aren't going away and the blockchain technology supporting it is obviously very real and powerful."
"It's just not a huge part of the business demand from our clients, and that may evolve, and we'll evolve with it," the CEO added.
Morgan Stanley — which reported a net earning of $14.8 billion for the third quarter — showed particular interest in crypto this year. It's $150 billion investment unit Counterpoint Global explored bitcoin in February of this year, and the firm purchased more than 28,000 shares of Grayscale's Bitcoin Trust in June of this year.
https://www.theblockcrypto.com/linked/120678/morgan-stanley-ceo-says-cryptocurrencies-arent-going-away
14.10.2021
Crypto companies raise record-breaking $6.5B in Q3 2021
Venture funding for blockchain companies between July and September 2021 hit an all-time high of $6.5 billion in 339 rounds–and that's in disclosed deals only, according to recent research from Blockdata.
This is the third consecutive record this year, with $3.83 billion and $5.131 billion raised in Q1 and Q2, respectively.
Notably, the latest numbers are almost double the total amount raised throughout all of 2020, when VC funds invested $3.8 billion in crypto companies.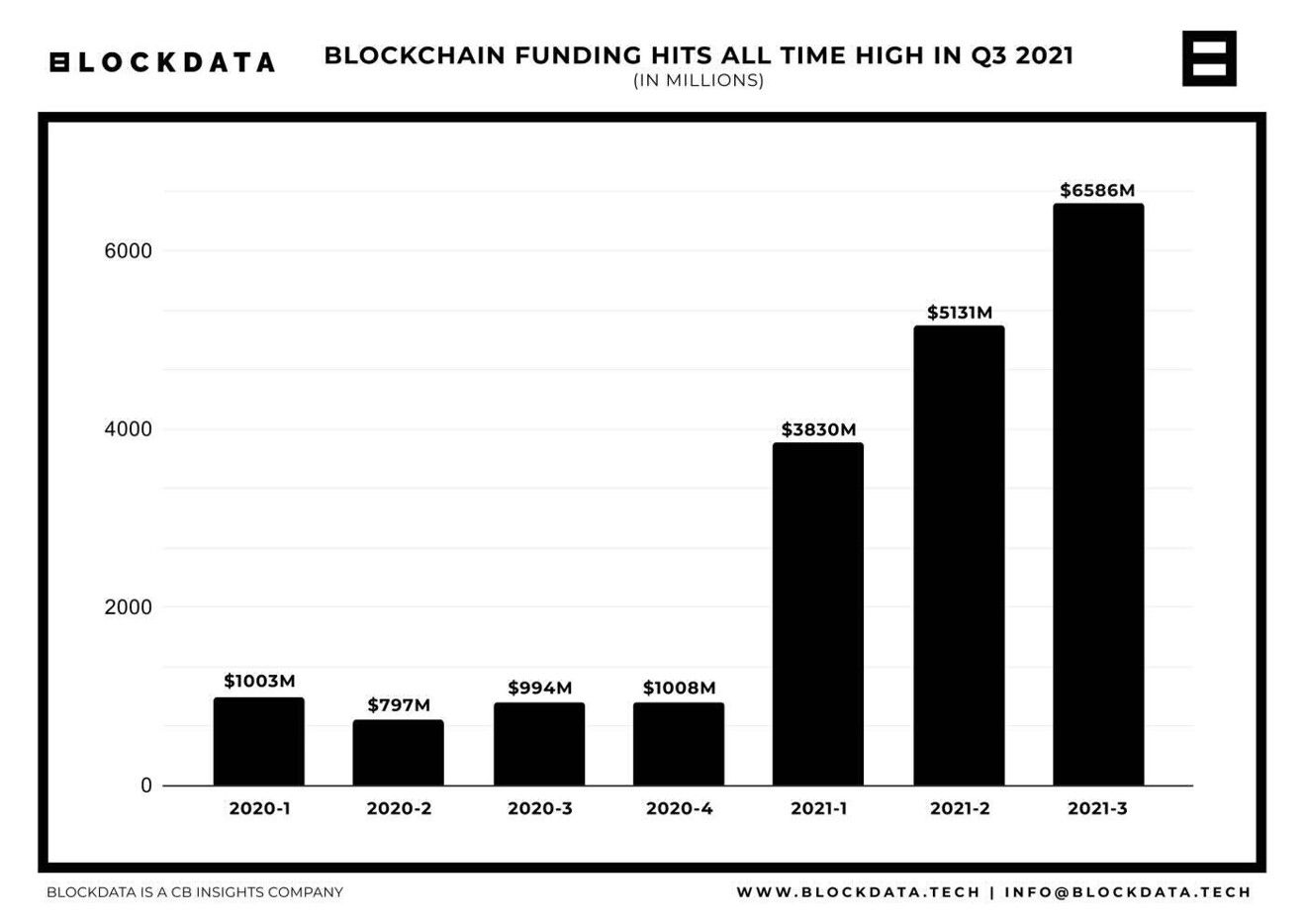 https://decrypt.co/82930/crypto-companies-raise-record-breaking-6-5b-q3-2021
08.10.2021