Weekly News Roundup – 17 May 2021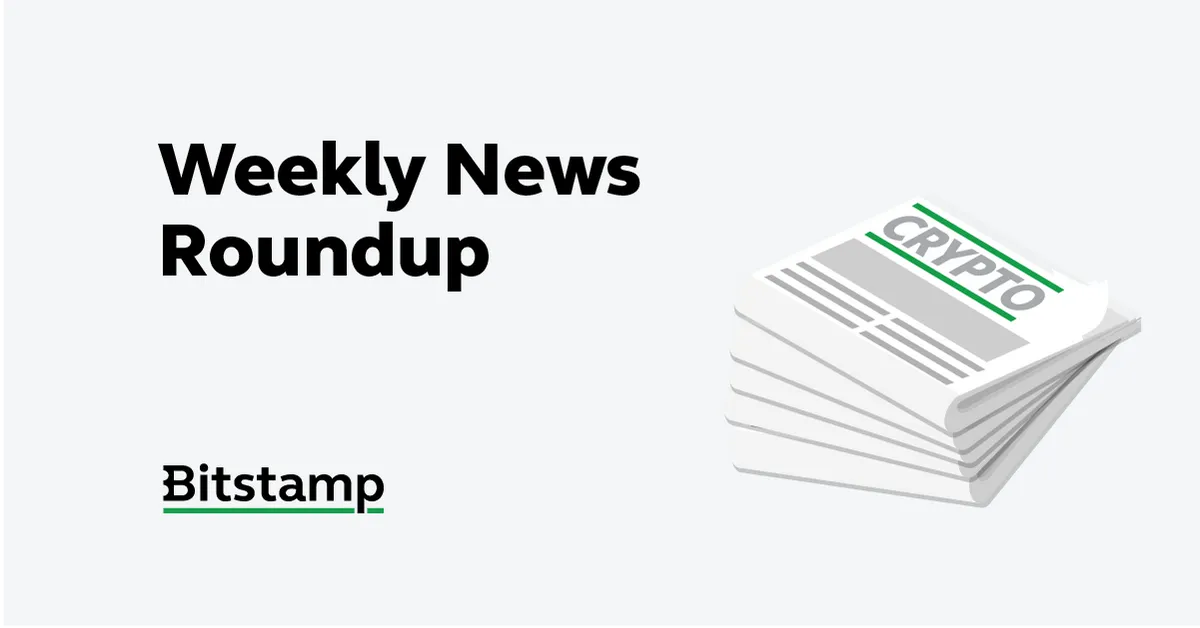 Crypto moves fast and it can be hard to keep up with all the developments. To help you stay on top of what's going on across the industry, we've created this overview of the key news from last week.
Singapore's biggest bank launches crypto trust solution
· DBS Private Bank, one of the biggest wealth managers in Asia outside China, has launched a cryptocurrency trust solution amid growing demand for digital assets.
· After setting up its own crypto exchange in December 2020, the Singaporean banking giant is now expanding its crypto services via its wholly-owned trust company DBS Trustee.
· The new crypto trust solution allows the company's private banking clients to invest, custody and manage cryptocurrencies. The trust will support four cryptocurrencies including Bitcoin (BTC), Ether (ETH), Ripple (XRP), and Bitcoin Cash (BCH), which are the sole digital assets hosted on the DBS Digital Exchange.
· "Our trust structure allows clients to conveniently hold these assets, with a peace of mind that they will be safely managed and passed on to their intended beneficiaries," DBS Private Bank group head Joseph Poon said. He added that more clients have expressed interest in investing in crypto or already invested in digital assets. "We expect this trend to accelerate as cryptocurrencies turn more mainstream," Poon noted.
· DBS's newly launched crypto trust solution comes shortly after the company recorded tenfold volume growth on its cryptocurrency exchange in the first quarter of 2021. As part of its further crypto-related plans, DBS is looking to host a security token offering in the second quarter of 2021. The bank is also working with investment bank JPMorgan and state investment firm Temasek to improve cross-border payments via a new blockchain venture.
· Amid growing demand for digital asset exposure, a number of major global banks have moved into the crypto industry this year. Last month, Morgan Stanley added Bitcoin exposure to 12 investment funds after announcing plans to offer crypto services to wealthy clients in March. Major investment bank Goldman Sachs also confirmed its plans to offer crypto-assets to investors starting in Q2 2021.
https://cointelegraph.com/news/singapore-s-biggest-bank-launches-crypto-trust-solution
14.05.2021
10 million Ethereum entered DeFi since May 2020
· Despite the latest cooldown, the long-term trend of the crypto market is hot, with the Ethereum price soaring well above $4k last week. The buying pressure is coming from DeFi, with 10 million Ethereum entering DeFi since May 2020, and new investor whales, who have acquired 6.3 million Ethereum since November 2020.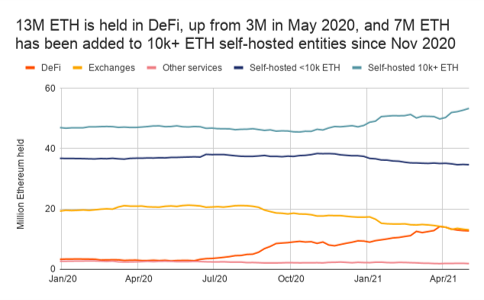 https://twitter.com/philip_gradwell/status/1392520780412510209
12.05.2021
eBay officially opens its platform to NFT sales
· The online sales platform eBay is now permitting the sale of non-fungible tokens (NFTs) for digital collectibles. The company told Reuters that beginning Tuesday an "NFT inventory will be provided to sellers who meet eBay's standards."
· Users can bid on NFTs as they would for a physical item. All payments will be made in U.S. dollars — unlike other prominent NFT platforms, which usually accept Ether (ETH) for NFT payments.
· Many of the NFTs currently available for sale on eBay appear to be on the WAX blockchain, with sellers stipulating that buyers create a WAX wallet in order to receive their NFT.
· The move to allow NFT sales comes a week after the e-commerce firm's CEO Jamie Iannone told CNBC that the company was looking at ways to incorporate NFTs on its platform.
· It also appears to be part of a larger plan. "In the coming months, eBay will add new capabilities that bring blockchain-driven collectibles to our platform," Jordan Sweetnam, senior vice president and general manager for eBay's North America market, told Reuters.
https://www.theblockcrypto.com/linked/104508/ebay-offering-nft-sales
11.05.2021
Bitcoin addresses with 0.01 and 1 BTC
· BTC adoption has still been growing. The number of addresses holding relatively small amounts, between 0.01 and 1 BTC, has grown by 710K since the start of the year with a big surge in April. For context, in 2020 the number of addresses holding between 0.01 and 1 BTC increased by a total of 610K.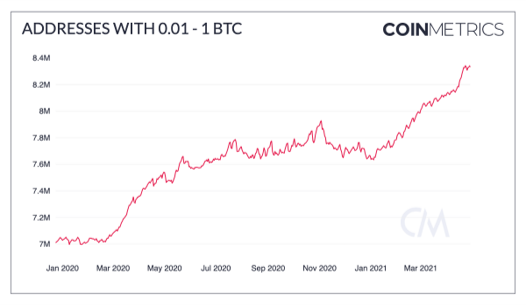 https://coinmetrics.substack.com/p/coin-metrics-state-of-the-network-c63
11.05.2021
Tesla stops taking bitcoin for car purchases, citing 'great cost to the environment'
· Tesla CEO Elon Musk posted a tweet announcing that Tesla will suspend vehicle purchases using bitcoin due to concerns over the environmental impact.
· "We are concerned about the rapidly increasing use of fossil fuels for Bitcoin mining and transactions, especially coal, which has the worst emissions of any fuel," read the statement.
· The electric car maker began taking bitcoin for payment in March, just over a month after it disclosed in an SEC filing a purchase of $1.5 billion worth of bitcoin. Last month, its earnings report for the first quarter of 2021 revealed that Tesla had sold $272 million worth of its bitcoin holdings.
· "Tesla will not be selling any Bitcoin and we intend to use it for transactions as soon as mining transitions to more sustainable energy," the new statement reads. "We are also looking at other cryptocurrencies that use <1% of Bitcoin's energy/transaction."
https://www.theblockcrypto.com/linked/104720/tesla-stops-taking-bitcoin-payments
12.05.2021