Weekly News Roundup – 15 Nov 2021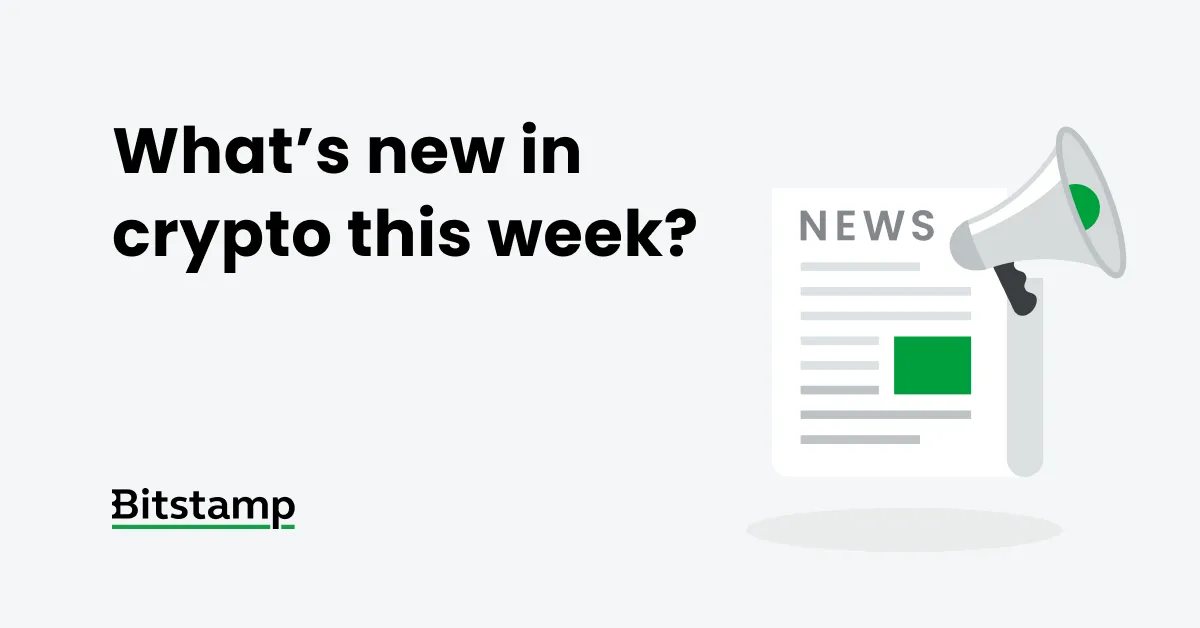 Crypto moves fast and it can be hard to keep up with all the developments. To help you stay on top of what's going on across the industry, we've created this overview of the key news from last week.
Apple CEO Tim Cook reveals that he owns some cryptocurrency
Tim Cook, the chief executive of Apple Inc., said Tuesday that he owns cryptocurrency. Cook made the comments during an interview with the NYT's DealBook during its Online Summit event. "I think it's reasonable to own it as part of a diversified portfolio," he remarked.
It's a notable announcement, though far from a signal that Apple is looking to expand its crypto footprint — at this stage, at least.
"It's not something we have immediate plans to do," Cook said when asked if the computing giant was looking at crypto as a possible payment method within its services. He also shot down any idea that Apple might tap bitcoin as a treasury investment, saying that "I don't think people buy Apple stock to get exposure to crypto."
Still, Cook indicated that "[t]here are other things that we are definitely looking at." What that might entail remains to be seen, but as reported in May, Apple cited cryptocurrency experience in a job ad for a business development role focused on alternative payment methods.
https://www.theblockcrypto.com/linked/123796/apple-ceo-tim-cook-reveals-that-he-owns-some-cryptocurrency
09.11.2021
---
Bitcoin's biggest upgrade since 2017, Taproot, went live
Taproot is Bitcoin's most significant upgrade since 2017.
A long-awaited upgrade to the Bitcoin network is finally here. The new protocol, Taproot, preserves privacy on the Bitcoin blockchain by obscuring complicated transactions. It also makes them cheaper and more lightweight. The upgrade, which was locked in on June 12, is seven years in the making. It combines complex transactions with simple ones without bulking out the blockchain.
Taproot does this by replacing Bitcoin's current signature protocol with Schnorr signatures. These are faster signatures that boost Bitcoin's transaction privacy and make it easier to implement lightweight smart contracts.
This is, provisionally, good for Bitcoin. It will make multi-signature transactions, which require several signatories to okay a transaction at once, cheaper and easier to execute. Making better use of Bitcoin's finite space makes the blockchain more scalable, too.
Taproot is the most significant upgrade to Bitcoin since SegWit in 2017. SegWit fixed a host of bugs, allowed for more transactions to be stuffed in each block and laid the groundwork for Layer 2 payment channels, such as Lightning.
Today's upgrade signals a mostly behind-the-scenes change for now. The march to today was kicked off when Taproot was activated in June; then, the network instigated a waiting period for all nodes to upgrade to the newest version of Bitcoin Core. But as with all things on Bitcoin, the upgrades are meaningless unless a community makes use of them. Now it's up to developers to build on Taproot.
https://decrypt.co/86027/bitcoins-biggest-upgrade-since-2017-taproot-just-went-live
14.11.2021
---
Miami's mayor says residents will receive a bitcoin dividend in a MiamiCoin wallet
Miami is giving its residents a bitcoin dividend, according to Mayor Francis Suarez.
The Miami Mayor announced on CoinDeskTV that a yield from the staking of the city's MiamiCoin will be paid directly to residents who acquire a wallet, register for the dividend and pass a verification process.
MiamiCoin is the city's token derived from the CityCoins protocol, a Stacks-based protocol that allows residents to hold and trade their city's token. The protocol generates revenue for the city when residents mine tokens, with those running the software receiving 70% of the coins they mint and 30% returning to the municipality in a city wallet.
Suarez continues to tout the project as a boon for Miami. In September, he announced that Miami had made $7.1 million since the protocol's launch in August. At this stage, Miami has made over $21 million from the project. Suarez has pointed to the project as a possible avenue to alleviate the tax burden on Miami residents.
In the near term, it will translate to a windfall for residents, according to Suarez. The city plans to stake its payout in bitcoin and give the yield to its residents. Connecting residents with wallets and discerning who will qualify for the dividend will pose a challenge, he said.
"Is it going to be, for example, taxpayers? Is it going to be people that vote in the city? People that have a city address? That's going to be a challenge," said Suarez.
It will work with exchanges to create a city wallet and help residents to acquire and register the subsequent city wallets for the dividend. The city is utilizing a separate bitcoin giveaway as a pilot program ahead of the dividend.
https://www.theblockcrypto.com/linked/124091/miamis-mayor-says-residents-will-receive-a-bitcoin-dividend-in-a-miamicoin-wallet
11.11.2021
---
Twitter forms new crypto team to incorporate decentralized tech into the platform
The social media firm Twitter is building out a new crypto team to add crypto, blockchain and decentralized technology into the popular social media platform.
The Financial Times reported Wednesday that Twitter has hired Tess Rinearson to be its crypto engineering lead.
Rinearson also took to Twitter to reveal plans for what the crypto team will focus on in the near future. First, they'll grow decentralized apps (DApps) for creators to manage virtual goods, currencies and ways for their fans to support their community.
Farther down the road, Rinearson hinted that her team will look to crypto tech to augment identity, community and ownership on Twitter.
In addition, Rinearson notes that her team will collaborate with Blue Sky, Twitter's decentralized social networking project to "help shape the future of decentralized social media."
The addition of the crypto team comes more than a month after Twitter implemented a method to tip creators with bitcoin via the Lightning network on September 23 and evidence that they're experimenting with ways to verify NFT used as profile pictures on September 29.
Twitter isn't the only social media giant looking at blockchain-based technology. Reddit co-founder Alexis Ohanian looks to Solana-based social media and Facebook is doubling down on the metaverse.
https://www.theblockcrypto.com/linked/123984/twitter-forms-new-crypto-team-to-incorporate-decentralized-tech-into-the-platform
10.11.2021
---
Crypto market cap tops $3 trillion as bitcoin and ether reach record highs
The market capitalization of the entire cryptocurrency market crossed the $3 trillion mark on Tuesday for the first time, according to data from CoinGecko.
The milestone comes as bitcoin (BTC) and ether (ETH) have surged to record highs. At the time of writing, BTC is trading at around $68,000 and ETH is changing hands at about $4,800.
The global crypto market cap has grown dramatically over the last year. In November 2020, the market cap was around $500 billion. As crypto continues to gain mainstream attention, its market cap has topped from $1 trillion in January 2021 to over $2 trillion in May 2021 to over $3 trillion currently.
The current top 10 coins by market capitalization are BTC, ETH, Binance Coin (BNB), Tether (USDT), Solana (SOL), Cardano (ADA), XRP, Polkadot (DOT), Dogecoin (DOGE), and USD Coin (USDC), according to CoinGecko.

https://www.theblockcrypto.com/linked/123762/crypto-market-cap-3-trillion-bitcoin-ether-reach-record-highs
09.11.2021
---
Bitcoin tops $69,000 after hot inflation numbers released
The price of bitcoin surged Wednesday morning after the U.S. Department of Labor released data showing a sharp rise in the price of consumer goods—stoking investor fears about mounting inflation.
Bitcoin traded above $69,000 after the department said that the consumer price index (CPI) increased at its fastest clip since 1990. The CPI—which tracks the pricing of goods and services ranging from gasoline to rent—picked up 6.2%, while the CPI increased 0.9% on a monthly basis.
Stocks, meanwhile, kicked off Wednesday's trading session in the red, with the benchmark S&P 500 trading down 0.29% at the time of writing. At last check, bitcoin was trading at $68,356.
Bitcoin has long been touted as an inflation hedge asset among its proponents. Billionaire Paul Tudor Jones told CNBC in October that he viewed bitcoin as a superior inflation hedge to gold. "Clearly, there's a place for crypto. Clearly, it's winning the race against gold at the moment," he said.
In a similar spirit, JPMorgan released a note last month that said institutional investors see bitcoin as a "better inflation hedge than gold." "The reemergence of inflation concerns among investors has renewed interest in the usage of Bitcoin as an inflation hedge," the bank wrote.
https://www.theblockcrypto.com/linked/123919/bitcoin-tops-69000-after-hot-inflation-numbers-released
10.11.2021
---
Brave to integrate with Solana blockchain on its privacy-enabled browser
During Solana's Breakpoint conference in Lisbon, Portugal, executives from Brave and Solana Labs announced that the Brave browser would integrate with the Solana blockchain and feature Solana decentralized applications, or DApps, on its browser. Simultaneously, Solana will promote the adoption of Basic Attention Tokens (BAT), the native digital currency of the Brave Browser, among its DApp users.
Brendan Eich, CEO and co-founder of Brave, had the following to say regarding the development: "With more and more users and creators requiring tools for fast and affordable access to the decentralized Web, this integration will seamlessly pave the way for the next billion crypto users to harness applications and tokens."
Meanwhile, Anatoly Yakovenko, CEO of Solana Labs, added: "For billions of people, the mobile web will be their gateway to Web3. Deep integration with browsers is key to helping DApps build the best web experiences. Brave's announcement of Solana wallet support across all versions of their browsers is an important step to onboard the next billion users to Solana."
Brave is a privacy browser that enables users to block ads, trackers and cross-site cookies. The browser also features a built-in digital wallet similar to MetaMask that allows users to deposit their crypto and interact with DApps. Additionally, users can utilize BAT to tip their favorite content creators on platforms such as Twitter. The Brave Browser has 42 million monthly active users and 1.3 million content creators.
Solana is a blockchain designed to power DApps and decentralized finance, or DeFi, protocols. The network is known for its speed and sub-cent transaction fees. Notable entities using its blockchain include cryptocurrency exchange FTX, music streaming platform Audius, USD Coin (USDC), nonfungible token hosting platform Metaplex, and high-frequency trading firm Alameda. Solana's SOL coin has recently surpassed Cardano (ADA) and Tether (USDT) to become the fourth-largest cryptocurrency in the world by market capitalization.
https://cointelegraph.com/news/brave-to-integrate-with-solana-blockchain-on-its-privacy-enabled-browser
08.11.2021