Weekly News Roundup – 14 Jun 2021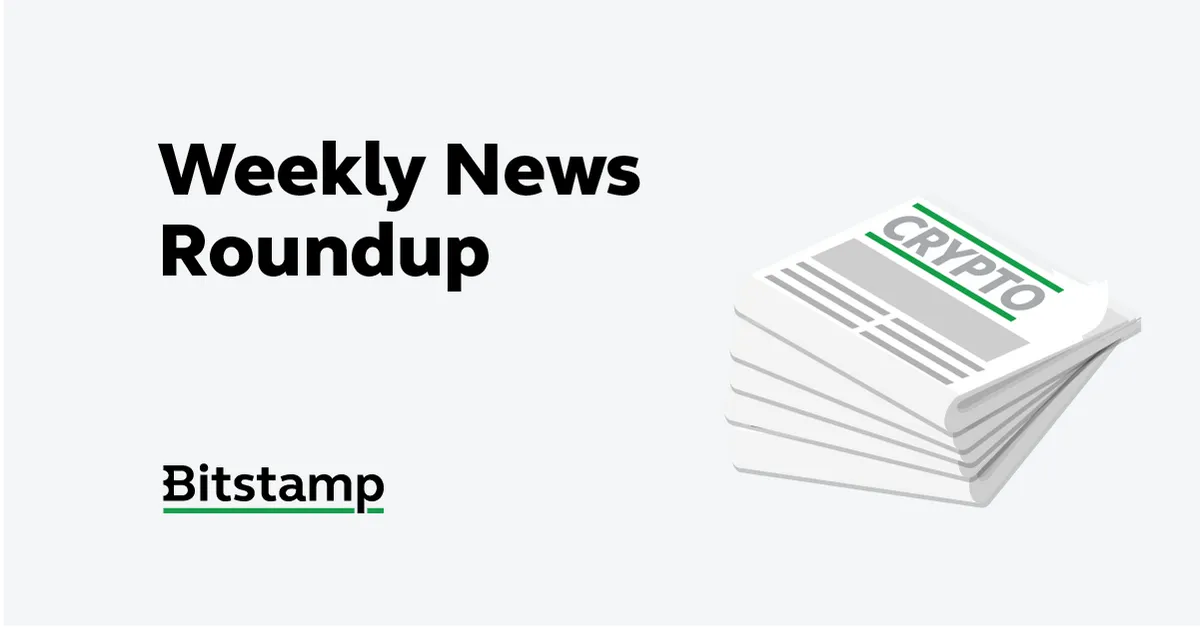 Crypto moves fast and it can be hard to keep up with all the developments. To help you stay on top of what's going on across the industry, we've created this overview of the key news from last week.
$157B Victory Capital plans to enter crypto market
Investment firm Victory Capital Management announced it would be taking steps for its U.S.-based investors to get exposure to the crypto market.
Victory Capital said it would be the exclusive sponsor of "private placement funds and other vehicles" based on the Nasdaq Crypto Index (NCI), an index developed by Nasdaq and Brazilian crypto asset manager Hashdex. The firm said it plans to launch a private fund for accredited investors tracking the NCI and private funds that will track the Nasdaq Bitcoin Reference Price Index and the Nasdaq Ethereum Price Index.
"Cryptocurrency is a viable asset class that can be part of a well-diversified portfolio," said Mannik Dhillon, president of VictoryShares, Victory Capital's ETF provider. "By investing in a portfolio designed to track the NCI, investors can seek returns that align with the cryptocurrency market in a diversified manner, gaining exposure to multiple digital assets as this market continues to evolve and mature."
Hashdex partnered with Nasdaq in September 2020 to issue a Bitcoin ETF in Bermuda, with the Bermuda Stock Exchange approving the product in February. Its Nasdaq Crypto Index consists of eight cryptocurrencies: Bitcoin (BTC), Ether (ETH), Bitcoin Cash (BCH), Litecoin (LTC), Chainlink's LINK, Stellar's Lumen (XLM), Filecoin (FIL) and Uniswap's UNI.
As of April 30, Victory Capital has more than $157 billion in assets under management. In contrast, digital asset manager Grayscale reported on Wednesday that it has $30.9 billion assets under management for its crypto investments.
https://cointelegraph.com/news/157b-victory-capital-plans-to-enter-crypto-market
Taproot, Bitcoin's long-in-the-making upgrade, achieves activation lock-in
Bitcoin is set to integrate the privacy-focused upgrade known as Taproot later this year.
As noted by Taproot.Watch, which has tracked the weeks-long effort to secure activation support among bitcoin's mining sector, a sufficient number of supportive blocks – at least 1,815 – was achieved on Friday. The signaling period, known as the "Speedy Trial," began last month.
The integration of Taproot represents the first major upgrade to Bitcoin's code since the introduction of Segregated Witness in 2017. The full activation of Taproot is set for network block 709,632, which is expected to occur sometime in mid-November.
Taproot has long enjoyed support among bitcoin advocates for the privacy, security and efficiency gains afforded to the network. The code was technically merged with the wider Bitcoin Core codebase last year, as previously reported. Alongside Taproot is the introduction of Schnorr signatures, which enable users to encode spending policies in individual public keys.
https://www.theblockcrypto.com/linked/108261/taproot-bitcoins-long-in-the-making-upgrade-achieves-activation-lock-in
Web traffic for cryptocurrency exchanges hit all-time high in May
Crypto exchange Web traffic hit a record high of 638.2 million visits in May, according to SimilarWeb data compiled by The Block.
Traffic to crypto exchanges grew 20.4% in May compared to April's figure. May's 638.2 million in crypto exchange traffic drew 108 million more hits than the last all-time high, which occurred in January 2018: 531.7 million hits.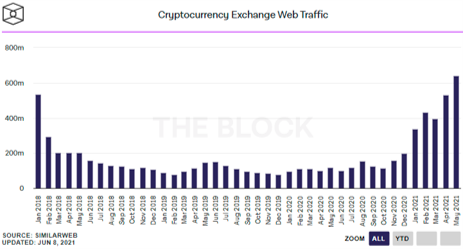 https://www.theblockcrypto.com/linked/107613/web-traffic-crypto-exchanges-may-record-high
Texas greenlights state-chartered banks to custody crypto
The Texas Department of Banking gave state-chartered banks the go-ahead to custody crypto assets. The notice is a simple affirmation that standard risk-based assessments by the banks themselves are adequate to provide cryptocurrency custody.
The Department of Banking wrote: "What virtual currency custody services a bank chooses to offer will depend on the bank's expertise, risk appetite, and business model. For instance, the bank may choose to allow the customer to retain direct control over their own virtual currency and merely store copies of the customer's private keys associated with that virtual currency. Alternatively, the bank may cause the customer to transfer their virtual currency directly to the control of the bank, creating new private keys that are then held by the bank on behalf of the customer."
Texas has been growing especially favorable to the crypto industry. Governor Greg Abbott recently took to Twitter to promote a new law to promote the state's engagement with blockchain.
Bitcoin miners have been rushing in to take advantage of the regulatory environment as well as abundant supplies of wind energy in West Texas.
https://www.theblockcrypto.com/linked/108099/texas-greenlights-state-chartered-banks-to-custody-crypto
Interactive Brokers plans to offer crypto trading by end of summer, says CEO
Interactive Brokers is entering the crypto game, according to Thomas Peterffy, IB's chairman and CEO. He said that "customers are certainly asking for [crypto trading] and we expect to be ready to offer it to them by the end of the summer."
It's unclear which cryptocurrencies IB will offer access to; as noted by the news outlet, the service allows its customers to access CME's bitcoin futures offering.
The brokerage firm's step into direct crypto trading is a notable one, given negative comments from Peterffy several years ago.
https://www.theblockcrypto.com/linked/107770/interactive-brokers-plans-to-offer-crypto-trading-by-end-of-summer-says-ceo
Invesco plans Crypto-linked ETFs in bid to bypass SEC aversion
American independent investment management company Invesco is planning to launch a pair of cryptocurrency-focused exchange-traded funds, even as regulators have repeatedly delayed the approval of a U.S. Bitcoin ETF.
About 85% of the Invesco Galaxy Blockchain Economy ETF and the Invesco Galaxy Crypto Economy ETF will be in crypto-linked equities, according to a filing with the U.S. Securities and Exchange Commission. The rest of the portfolio will be in other trusts and funds that hold cryptocurrencies.
The SEC has delayed making a decision on the pileup of Bitcoin ETF applications, though odds of approval this year have faded after skeptical comments from new Chairman Gary Gensler last month. At least 12 issuers, including Fidelity Investments, Grayscale Investments and WisdomTree Investments, are currently pursuing a Bitcoin ETF, and the SEC has acknowledged at least six applications, according to Bloomberg Intelligence. That means it has a limited amount of time to either approve or reject the proposals.
Invesco is the latest issuer to get creative as the SEC hits pause. An application for the Volt Bitcoin Revolution ETF was filed this week, which would target companies exposed to Bitcoin. Meanwhile, the Bitwise Crypto Industry Innovators ETF (ticker BITQ), which tracks companies such as crypto miners and payment firms, launched in May.
https://www.bloomberg.com/news/articles/2021-06-09/invesco-plans-crypto-linked-etfs-in-bid-to-bypass-sec-aversion?sref=v5BR3Nbh