Weekly News Roundup – 13 Sep 2021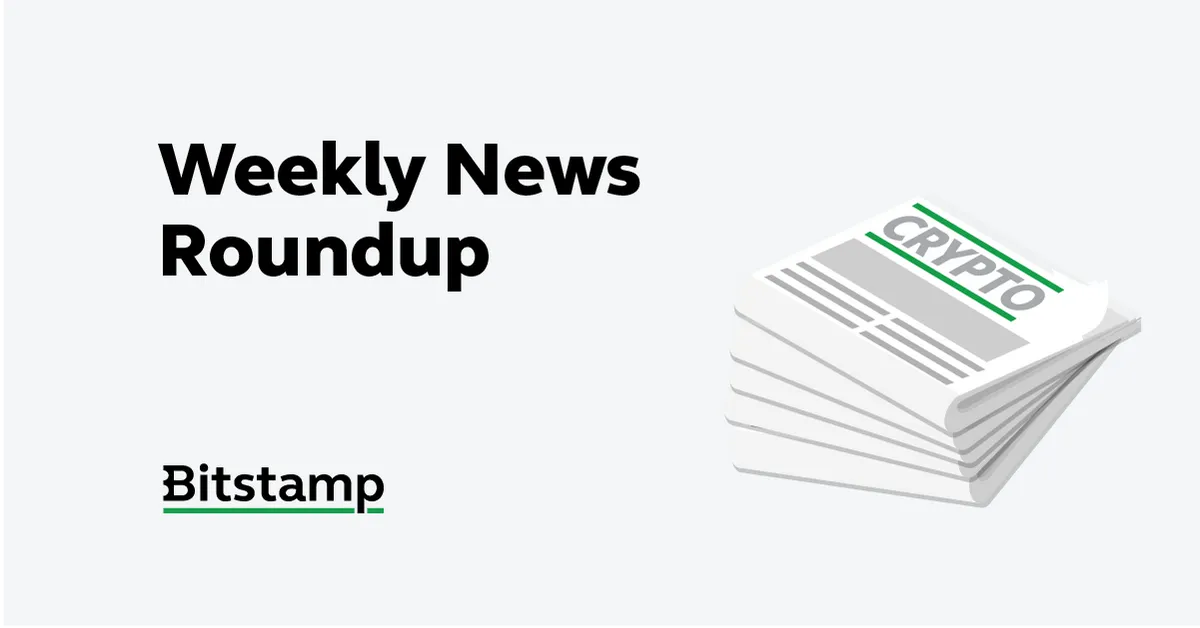 Crypto moves fast and it can be hard to keep up with all the developments. To help you stay on top of what's going on across the industry, we've created this overview of the key news from last week.
Bitcoin now legal tender in El Salvador, marking world first
Bitcoin is now officially legal tender in El Salvador, three months after the Bitcoin Law passed the country's legislature.
El Salvador is using cryptocurrency wallet company BitGo to provide Chivo's underlying technology.
"This is an historic day and a great opportunity for the people of El Salvador to build financial freedom," said Mike Belshse, BitGo's CEO, in a statement.
El Salvador's legislature passed the Bitcoin Law on June 9 by a supermajority, with 62 members voting in favor of the bill, while 19 opposed and three abstained. The crypto officially became legal tender on Tuesday.
Bitcoin is now on equal footing with the U.S. dollar, which has been in circulation throughout the country since 2001. Goods, services and even taxes can now be paid using the world's oldest crypto, as "every economic agent" must accept the use of bitcoin as a legal form of payment under the law.
Source: Coindesk (07.09.2021)
Chart of the Week: Bitcoin Treasuries
Over the past year, institutions, funds and countries have looked to gain exposure to Bitcoin and other popular cryptocurrencies – but which treasury actually holds the most BTC?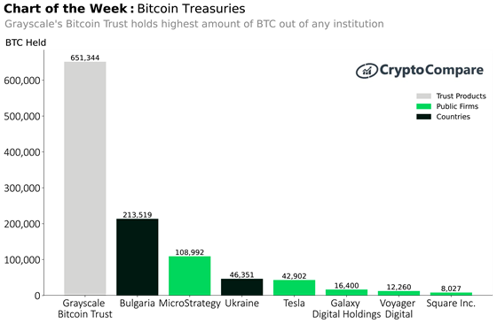 Source: CryptoCompare(06.09.2021)
Bitcoin's hash rate has recovered by 50% since June crash
Bitcoin's seven-day moving average hash rate has steadily recovered to the midpoint between its all-time-high and recent lows. The Block's Data Dashboard shows bitcoin's average hash rate reached 135 exahashes per second (EH/s) on Thursday. That's up 50% since its low of around 90 EH/s in early July but is still 50% down from its record of 180 EH/s prior to China's summer mining crackdown.
At the current recovery rate, it may seem that Chinese miners have completed half of their great exodus and bitcoin's hash rate could surpass its all-time-high by the year end. But the reality is more complicated. North American miners, who preordered mining equipment last year, are finally receiving their machines in monthly batches. This new equipment, which is separate from the machines leaving China, is increasing their hash rates.
Based on The Block's analysis of the publicly announced sales orders earlier this year, Bitmain, MicroBT and Canaan together are expected to deliver at least 25,000 units of their newest generation of equipment on average each month to major North American mining institutions.
While the hash rate is halfway through its recovery, it is expected to grow even more when Chinese miners complete their migration.
Source: The Block Crypto (10.09.2021)
Mastercard acquires CipherTrace to boost crypto security and compliance
Mastercard has acquired blockchain analytics firm CipherTrace to bolster its own cyber security tools and to better comply with crypto regulatory guidelines. The amount offered for the acquisition remains undisclosed.
"With the rapid growth of the digital asset ecosystem comes the need to ensure it is trusted and safe," said Ajay Bhalla, president of Cyber and Intelligence at Mastercard. "Our aim is to build upon the complementary capabilities of Mastercard and CipherTrace to do just this."
In addition to gathering data in the crypto space, CipherTrace publishes yearly reports about the trends in the crypto ecosystem and has built compliance tools for decentralized exchanges.
CipherTrace, however, has a smaller influence in the blockchain surveillance arena than firms Chainalysis or Elliptic. According to data compiled by The Block Research, CipherTrace brings in 0.67% and 9.21% of federal contract payments compared to Chainalysis and Elliptic respectively.
Source: The Block Crypto (09.09.2021)
Retail traders drove activity in stocks and crypto this summer, according to JPMorgan
Retail trading activity fueled the ascent of crypto and U.S. equity markets over the course of the summer, according to new analysis penned by JPMorgan's Nikolaos Panigirtzoglou.
Retail investor flows into exchange-traded funds and U.S. stocks hit a near-record high of $16 billion during July, with flows remaining high "at around $13 billion, well above the previous record high of $10 billion seen last June," according to an indicator built by JPMorgan to track the retail market. Typically, the summer months are quiet for the markets as Wall Streeters go on vacation.
Flows into exchange-traded funds and mutual funds also illustrate the outsized presence of retail traders, according to the bank.
Thus far, equity funds have seen nearly $700 billion worth of flows or $1 trillion annualized, which represents a 58% increase relative to 2017. That's been a boon for the market with the S&P 500 Index surging by more than 18% over the last 6 months.
A similar story is playing out in the crypto market, according to JPMorgan. "The strength of the retail flow over the past month has not been confined to equities," according to Panigirtzoglou. "Investors have been also bolstering crypto markets during August."
The note added: "The August rally in non-fungible tokens (NFTs) and the pickup in DeFi activity have helped not only Ethereum but also alternative cryptocurrencies that facilitate or plan to facilitate smart contracts such as Solana, Binance Coin and Cardano."
Data shows that crypto exchange web traffic rebounded to 408.2 million visits in August, an increase of 27.8% month-over-month.
Source: The Block Crypto (07.09.2021)