Weekly News Roundup – 13 Dec 2021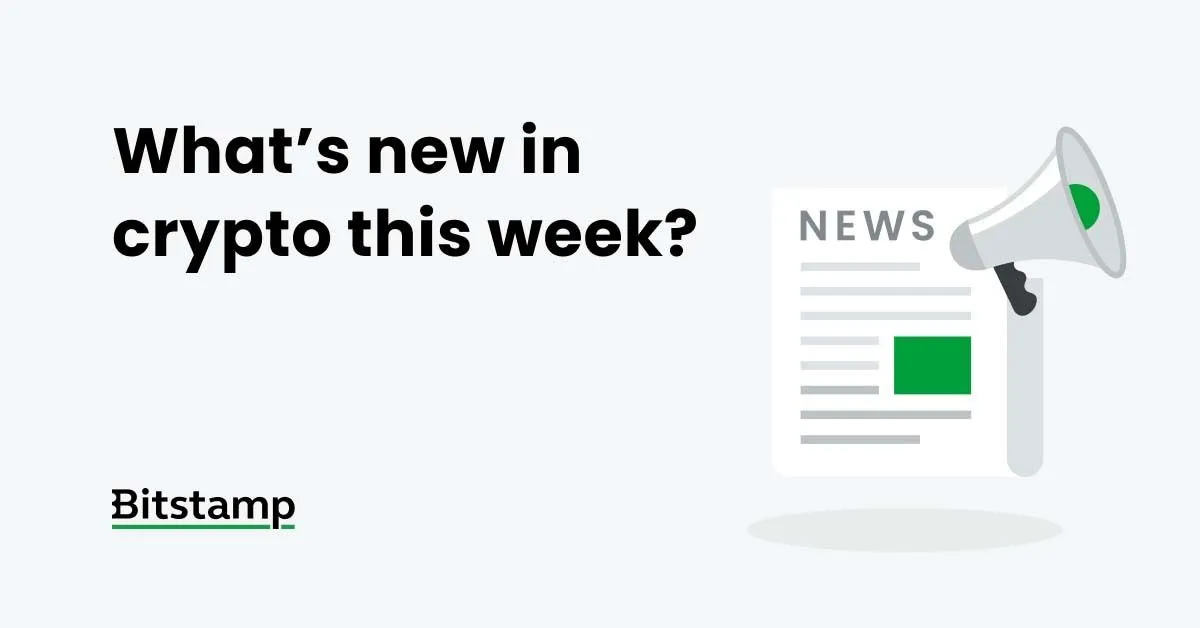 Meta's crypto wallet Novi launches on WhatsApp
Novi, the crypto wallet owned by social media giant Meta, has launched the ability to send and receive money via WhatsApp, according to a tweet from the company's VP of product Stephane Kasriel.
This integration with WhatsApp comes six weeks after the company launched a pilot for the crypto wallet and will not interfere with the messaging app's privacy features, according to Kasriel. The service is initially only available to a limited number of users in the United States.
"We're still very early in the Novi pilot journey, so we made the decision to test this new entry point in one country to start and will look to extend it once we've heard from people what they think of this new experience," said Kasriel.
The launch comes after plans for Novi's proposed currency Diem hit regulatory hurdles, forcing Meta's crypto subsidiary to pursue an alternative direction. It ultimately partnered with stablecoin provider Paxos in October.
The company has previously launched a similar non-crypto-based service on WhatsApp in India named WhatsApp Pay, which floundered after competition from Google and local player Phone-Pe.
https://www.theblockcrypto.com/linked/126941/novi-whatsapp
09.12.2021
---
Pepsi is going to launch a generative NFT collection next week
Soft drink manufacturer Pepsi, under its parent company PepsiCo, announced on Thursday that it is releasing a collection of 1,893 non-fungible tokens (NFTs) on December 14.
As Pepsi wrote on Twitter, the NFT collection is only available for individuals on their waiting list, which opens on December 10th. The first 1,893 people who made it on the list will then have the opportunity to mint a Pepsi NFT on December 14th.
Pepsi follows the popular American beer company Budweiser in launching an NFT collection. However, unlike Budweiser's NFTs which cost at least $499 to purchase, Pepsi's are free — buyers only need to pay for gas fees.
Pepsi's generative collection involves the randomized traits of 10 microphones inspired by Pepsi flavors as a "nod to the strong connection Pepsi has to music," the brand wrote on the Mic Drop web page. The mics will have randomized features with certain rarities, making it resemble other popular NFT collectible projects like Bored Ape Yacht Club and CryptoPunks.
https://www.theblockcrypto.com/linked/127033/pepsi-is-going-to-launch-a-generative-nft-collection-next-week
10.12.2021
---
Polygon acquires ZK-rollups startup Mir Protocol for $400 million
Polygon (formerly Matic Network) has made yet another acquisition in the ZK-rollups space, buying Mir Protocol for $400 million.
Mir is an Ethereum scaling startup that utilizes zero-knowledge proof (ZK-proof) technology. A ZK-proof is a cryptographic tool that can be used to create ZK-rollups. ZK-rollups enable transactions to be processed but don't require all transaction data to be posted on Ethereum. This helps to reduce the block space used on Ethereum — enabling it to scale — and reduces gas fees.
The deal follows Polygon's acquiring of Hermez Network for $250 million in August.
Polygon says Mir Protocol possesses the fastest ZK-proof technology, meaning it can generate proofs faster and verify more transactions in a single proof. The Mir team has invested a lot of time designing and optimizing their ZK-proof technology called Plonky2, Polygon co-founder Mihailo Bjelic told The Block.
"It is a great piece of engineering," he said. "Plonky2 can generate recursive proofs in an incredible 170 milliseconds on a laptop. Most importantly, plonky2 is practical to use on Ethereum, with 45kb proofs in size-optimized mode."
Mir was founded by Brendan Farmer and Daniel Lubarov two years ago. Along with eight other colleagues, they are both joining the Polygon team as part of the deal, said Bjelic.
Polygon and Mir reached the deal on November 26. It involves 190 million MATIC tokens and $100 million worth of USDC stablecoins, totalling around $400 million as of MATIC's price on November 26, said Bjelic.
https://www.theblockcrypto.com/post/126991/polygon-acquires-mir-protocol-400-million-zk-rollups
09.12.2021
---
Web traffic to crypto exchanges in November reached second-highest level for 2021
Crypto exchange websites saw internet traffic of 546.6 million visits in November, according to The Block Research.
The November website traffic figure is the second-highest in 2021 behind the 638.2 million visits recorded in May. December 2017 — the height of the crypto bull run from that year — is likely the monthly period with the largest cryptocurrency exchange website traffic.
Despite regulatory challenges across the globe, Binance still accounted for more than a third of total crypto exchange website traffic. Coinbase contributed almost a fifth of the total figure to place with KuCoin and Bybit in third and fourth, respectively.
By reaching 546.6 million, November's web traffic figure constituted a 15.5% month-over-month increase. Since experiencing consecutive volume declines in June and July, crypto exchange web traffic has been on the uptick.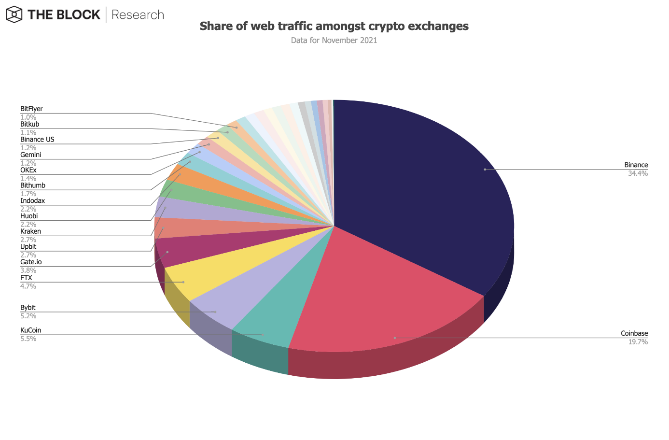 https://www.theblockcrypto.com/linked/126790/web-traffic-to-crypto-exchanges-in-november-were-the-second-highest-in-2021
08.12.2021
---
CME Group introduces Micro Ether Futures
The Chicago Mercantile Exchange (CME) Group, the largest U.S. derivatives exchange, has introduced micro ether (ETH) futures, its second micro-crypto product of 2021.
Similar to the micro bitcoin futures launched in May, micro ether futures are 1/10 of one ETH.
The exchange is looking to offer investors an efficient means of hedging their ether exposure, it said Monday.
"The launch of micro ether futures underscores the significant growth and liquidity we have seen in our cryptocurrency futures and options," Tim McCourt, CME Group's global head of equity index and alternative investment products, said in an email.
CME Group most recently reported a daily trading volume of 43,286 for its micro bitcoin futures product. That's more than three times the 12,868 trading volume of its bitcoin futures. Trading volume on ether futures was 6,854.
https://www.coindesk.com/business/2021/12/06/cme-group-introduces-micro-ether-futures/
06.12.2021
---
Crypto derivatives platform Paradigm nabs $400 million valuation in funding round
Paradigm — a player in the crypto derivatives market — is the latest digital asset trading firm to tap into the wave of capital pouring into the market.
On Thursday, the firm announced the close of a funding round that values it at $400 million.
Launched in 2019, Paradigm provides a platform for dealers and market makers to execute large trades in options and futures to settle across a wide-range of venues. As per Thursday's announcement, the firm has raised $35 million in a funding round led by crypto trading giants Jump Capital and Alameda Research.
In total, 25 investors participated in the Series A, including clients such as GSR Markets, Genesis Trading and QCP Capital. A number of Wall Street firms also joined Paradigm's cap table, including Fidelity Digital Assets, IMC, and Optiver.
The company, which facilitates $10 billion in volume traded per month, captures 30% of the crypto options market, according to chief executive officer Anand Gomes. Paradigm isn't an exchange like a Deribit where buyers and sellers are centrally matched. Rather, trading firms leverage Paradigm to structure complex derivatives trades and then execute them bilaterally with other traders in the network. Their RFQ product has evolved to be more of an order book.
Paradigm now has its sights set on the decentralized finance world. Traders who want to make a complex derivatives trade will soon be able to have such a trade settle across centralized venues like CME Group and decentralized venues. Paradigm is still in the process of integrating DeFi options protocols. That could open up its institutional users to the fast-growing yet nascent market.
https://www.theblockcrypto.com/post/126894/crypto-derivatives-paradigm-valuation-funding-round
09.12.2021