Weekly News Roundup – 12 Jul 2021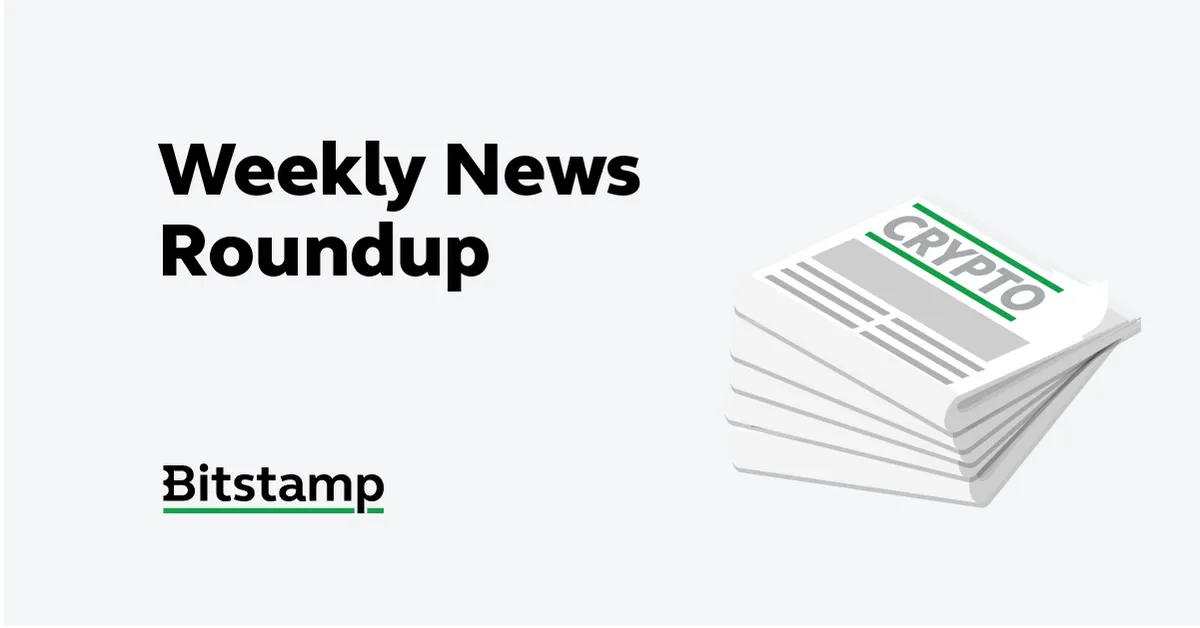 Crypto moves fast and it can be hard to keep up with all the developments. To help you stay on top of what's going on across the industry, we've created this overview of the key news from last week.
Bitstamp – we're extending our crime insurance policy
Since mid-2020, we've been providing all our users with insurance in case of criminal activity. One aspect of our efforts against illegal tampering with assets is providing you with greater peace of mind. So, in light of our recent growth, we're expanding our insurance policy. This will enable us to maintain the same level of protection for our rapidly growing userbase of customers.
The crime insurance policy is offered by Paragon International Insurance Brokers in coordination with Woodruff Sawyer, one of the largest insurance brokerage and consulting firms in the US, and underwritten by various insurance companies and certain syndicates at Lloyd's of London.
The cover applies to digital assets held at Bitstamp either offline or online and covers an array of crime-related cases. These include employee theft, loss while the assets are stored at any premises, loss in transit, loss caused by computer fraud or funds transfer fraud, as well as loss related to legal fees and expenses.
The policy supplements our existing insurance of assets held in cold storage. We keep approximately 95% of all digital assets stored offline and protected to the extent of BitGo's insurance policy.
https://blog.bitstamp.net/post/were-extending-our-crime-insurance-policy
Ethereum's London hard fork expected to launch on 4 Aug
Ethereum's long-awaited London hard fork is likely to launch on Aug. 4 between 13:00 UTC (9 a.m. ET) and 17:00 UTC, with block 12,965,000. Many Ethereum enthusiasts are excited for the delayed release, while some are watching on with "cautious optimism."
As a part of a roadmap designed to lead up to the release of Ethereum 2.0, which will replace Ethereum's current proof-of-work protocol with proof-of-stake, the London hard fork has been implemented into various testnets.
The protocol update includes five Ethereum Improvement Proposals (EIPs), some of them aiming to counter various inefficiencies:
EIP 1559 introduces a new fee structure to make Ethereum less inflationary. This protocol change is controversial because it aims to burn part of the fees, hence decreasing miner revenue.
EIP 3554 delays Ethereum's difficulty bomb to Dec. 1. This mechanism will incrementally increase the difficulty of mining on the Ethereum network, effectively "freezing" proof-of-work in preparation for Ethereum's move to proof-of-stake.
https://www.coindesk.com/ethereum-london-fork-launch-date-august
Visa's crypto partnerships grow by 43% in four months
The number of Visa's partnerships with crypto firms has grown by 43% in the last four months.
Visa now has 50 active partnerships, up from 35 just four months ago, the company's head of crypto, Cuy Sheffield, told The Block. That means 50 crypto firms have launched or are set to launch debit and credit cards with the payments technology giant.
These firms offer Visa-linked debit cards, which help their customers to spend cryptocurrencies at Visa's global network of 70 million merchants. BlockFi, on the other hand, offers a Visa credit card that allows customers to spend fiat and get rewards in crypto.
Visa said more than $1 billion has been spent via its crypto-linked cards in the first six months of this year.
Besides crypto card programs, Visa has also entered into stablecoin settlements. The company recently became the first major payments network to use the USDC stablecoin to settle a transaction.
https://www.theblockcrypto.com/linked/107613/web-traffic-crypto-exchanges-may-record-high
Stablecoin firm Circle to go public via SPAC merger
Circle, the crypto firm that operates leading stablecoin USD Coin (USDC), has agreed to go public through a merger with a Special Purpose Acquisition Company (SPAC) named Concord Acquisition Corp.
The deal values Circle at $4.5 billion and comes after Circle raised $440 million from investors including Fidelity, Valor Capital Group and the London-based hedge fund Marshall Wace in May.
It will see a new Irish holding company acquire both Concord and Circle to become a publicly traded entity that is expected to trade on the New York Stock Exchange under the ticker CRCL.
Bob Diamond, chairman of Concord Acquisition Corp, CEO of Atlas Merchant Capital and former CEO of British bank Barclays PLC, touted Circle "as one of the most exciting companies in the transformation of finance".
There is currently more than $25 billion of Circle's stablecoin USDC in circulation, which has supported more than $785 billion in on-chain transactions, according to a press release issued by the company.
https://www.theblockcrypto.com/post/110806/confirmed-stablecoin-firm-circle-public-spac-merger
German neobank N26 is working with 'top-tier crypto exchanges' on new trading feature
N26, one of Europe's largest neobanks, valued at $3.5 billion, is planning to launch crypto trading tools as part of a new marketplace initiative.
A spokesperson for the firm told The Block that it is working with "top-tier crypto exchanges" to launch the new product. It is not yet clear, however, which partners the neobank is working with. "We plan to offer crypto features through a marketplace environment, integrating elements of a crypto exchange experience inside the banking and budgeting features at N26," they added.
N26 is currently expanding its "marketplace enablement team" to spur on development of the crypto product, according to the company's spokesperson.
"It is our aim to become the one-stop-app for our customer's finances. We want customers to be able to access all of their financial services in one place, without having to sign-in through several different places. This will include saving products, loans, trading, taxes and crypto," they added.
https://www.theblockcrypto.com/post/110577/thiel-german-neobank-n26-crypto-exchanges-trading-feature