Weekly News Roundup – 11 Oct 2021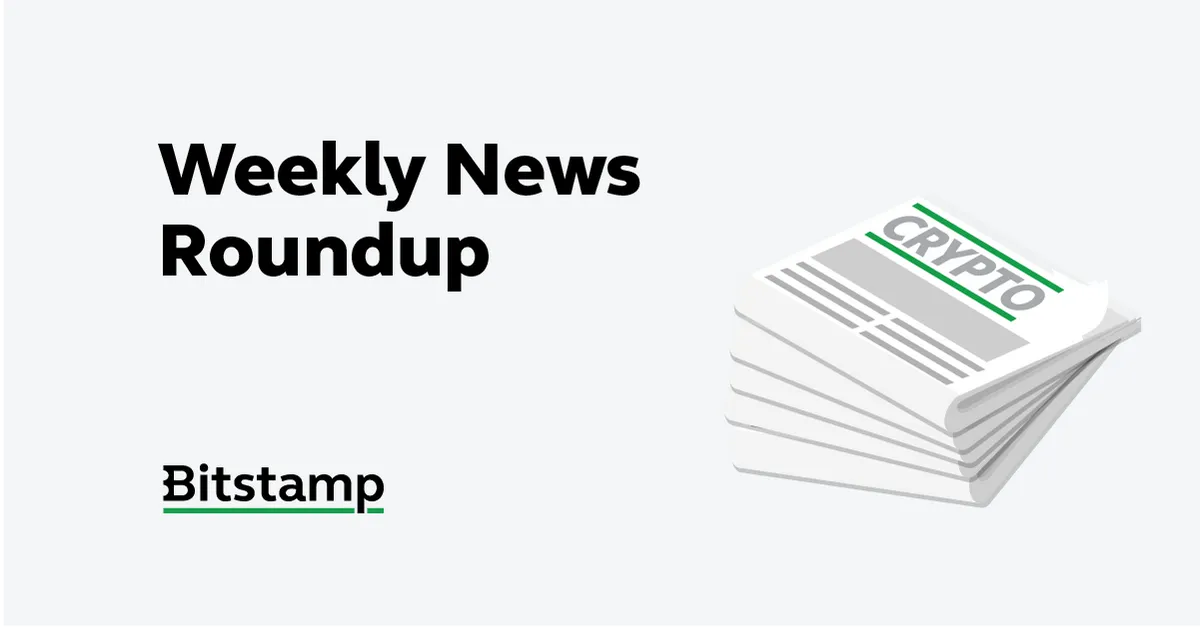 Crypto moves fast and it can be hard to keep up with all the developments. To help you stay on top of what's going on across the industry, we've created this overview of the key news from last week.
---
JPMorgan says institutional investors are replacing gold with bitcoin
The shift into bitcoin that drove late-2020 all-time highs "has started reemerging in recent weeks," wrote JPMorgan's analyst Nikolaos Panigirtzoglou in an Oct. 6 research note to clients.
Bitcoin prices have surged above $50,000 recently, climbing 85% this year. The price of ether, the native currency of the Ethereum blockchain, has rose 393% year to date.
Meanwhile, gold prices are hovering below $1,800 per ounce, falling 6.5% in 2021.
Panigirtzoglou pointed to "the failure of gold to respond in recent weeks to heightened concerns over inflation" as a possible driver of the return to bitcoin.
Gold is often seen by investors as a hedge against inflation due to the perception it protects purchasing power and the ability to provide defense during market turmoils.
https://www.coindesk.com/business/2021/10/08/jpmorgan-says-institutional-investors-are-replacing-gold-with-bitcoin/
08.10.2021
---
George Soros' family office owns bitcoin, confirms CEO Fitzpatrick
Billionaire investor George Soros' family office, Soros Fund Management, has invested in bitcoin, according to Soros Fund CEO/CIO Dawn Fitzpatrick.
Fitzpatrick told Bloomberg in an interview on Tuesday: "From our perspective again, we own some coins, not a lot, and the coins themselves are less interesting than the use cases of DeFi and things like that."
Fitzpatrick's comments confirm previous reports from earlier this year that said Soros Fund has started trading bitcoin, on the basis of anonymous sources. Soros Fund is also an investor in crypto firms such as NYDIG and Lukka, but this appears to be the firm's first public confirmation of having investments in cryptocurrency directly.
"I'm not sure bitcoin is only viewed as an inflation hedge. Here I think it's crossed the chasm to mainstream. Cryptocurrencies now have a market cap of over $2 trillion. There's 200 million users around the world, so I think this has gone mainstream," Fitzpatrick added.
In March, Fitzpatrick also shared her views on central bank digital currencies (CBDCs), saying that CBDCs will be launched quicker than people expect. At the time, she gave an example of China's CBDC trials and said that the country's digital yuan would be a "potential threat to bitcoin and other cryptocurrencies." But she added that it will be temporary, saying: "I don't think they'll be successful in permanently destabilizing bitcoin."
Family offices and hedge fund giants have been wading deeper into crypto. Steve Cohen's Point72 Asset Management, for instance, recently started investing in crypto startups such as Messari and Zero Hash. Billionaire investor Dan Loeb's Third Point fund also reportedly holds cryptocurrency.
https://www.theblockcrypto.com/post/119609/george-soros-family-office-bitcoin-fitzpatrick
06.10.2021
---
Notorious art forger Wolfgang Beltracchi enters the NFT world
Wolfgang Beltracchi, one of the most infamous art forgers of all time, has entered the unforgeable world of non-fungible tokens (NFTs). Beltracchi has set up a new project, dubbed "The Greats," a collection of 4,608 NFTs on the Ethereum blockchain.
Beltracchi conned the art world out of an estimated €35 million between 1980 and 2011. He was sentenced to six years in jail in 2011 by German authorities but was freed in early 2015, having served just over three years in prison. His wife Helene was also sentenced as an accomplice to four years in jail. Since his arrest, art museums, galleries, and auction houses have barred Beltracchi from exhibiting and selling his art. The 70-year old artist has now turned to the NFT space. "The NFT market offers artists a platform to market themselves independently and makes them independent from traditional art market mechanisms," Beltracchi said in a statement shared with The Block on Friday.
As part of his NFT collection, Beltracchi has redesigned Salvator Mundi as 4,608 copies in his style and the styles of the six old masters. When asked why he chose Salvator Mundi for his NFT collection, a spokesperson for Beltracchi told The Block: "Beltracchi is the only person with the necessary skills to implement it. He has managed to fool the 'art experts' hundreds of times with his re-creations of famous painters' work." But why would someone buy NFTs of the notorious art forger? Because "he is a highly skilled artist," and "the art looks fantastic," said the spokesperson.
Not all of the 4,608 NFTs are currently on display on The Greats website. All the pieces will only be revealed when the sale starts in 8-10 days.
The project further said that it will also integrate The Graph's tool for live infographics on its platform. Users can query live sales data, getting an experience of an actual auction.
https://www.theblockcrypto.com/post/119834/notorious-art-forger-wolfgang-beltracchi-nft-ethereum
08.10.2021
---
U.S. Bank partners with NYDIG to offer bitcoin custody services
U.S. Bank is now offering crypto custody services to its institutional clientele in the U.S. or Cayman Islands.
Private funds can currently keep their bitcoin with the bank, according to the announcement. Support for more coins will be added in the future.
NYDIG is the first sub-custodian partnership the bank has announced, though it's building a network of providers. NYDIG topped the list due to its history navigating compliance and regulatory standards in the space.
Gunjan Kedia, vice chair of U.S. Bank Wealth Management and Investment Services, said investor demand for crypto offerings has exploded in recent years. "Our fund and institutional custody clients have accelerated their plans to offer cryptocurrency and, in response, we made it a priority to accelerate our ability to offer custody services," she said in the announcement.
Within its custody offerings, the bank will enable private key storage for bitcoin, bitcoin cash and litecoin, according to a report from CNBC.
U.S. Bank's decision to custody follows a number of other banks getting in on crypto. State Street is building out a new crypto unit, while Bank of New York Mellon is set to launch custody services this year.
U.S. Bank first announced it would roll out bitcoin custody services in April of this year. At the time, the bank referenced the clarity that then-Comptroller Brian Brooks had provided, authorizing national banks to custody crypto.
https://www.theblockcrypto.com/linked/119571/u-s-bank-partners-with-nydig-to-offer-bitcoin-custody-services
05.10.2021
---
CryptoCompare chart of the week: bitcoin hashrate steadily rising
Bitcoin's hashrate, the total combined computation power being used to mine and secure the network, has been steadily rising since it hit a low in July seemingly related to its falling price. In April, when bitcoin surpassed $60,000 for the first time ever, its hashrate hit 160.93 EH/s.
By the beginning of July, its hashrate had dropped to 89.52 EH/s, meaning it was down by 45% at one point. Its latest recorded hashrate is estimated to be 140.36 EH/s. The hashrate drop in July was so significant that the maximum average block time then was of 23 minutes, while now it's at 8.4 minutes.
On average, a bitcoin block should be found every 10 minutes according to the network's rules. When the hashrate moves significantly in either direction, mining difficulty is automatically adjusted to ensure blocks are found at a steady pace.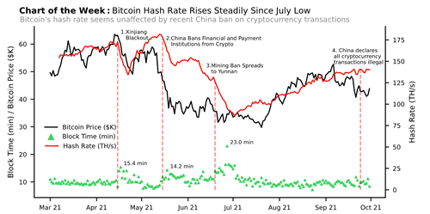 https://www.cryptocompare.com/email-updates/daily/2021/oct/04/
04.10.2021
---
Bitcoin's market cap is back above $1 trillion
Bitcoin's market capitalization has once again eclipsed $1 trillion.
At the time of publication, bitcoin was trading at $54,708, putting the market cap at approximately $1.03 trillion.
Bitcoin broke $50,000 for the first time in 100 days last month after a steep downturn to just below $30,000 in July. At that time, it was changing hands around $50,200, with market cap making its way towards the $1 trillion mark but never quite reaching it.
The market cap stalled at $989 billion on September 7 before the price took a downturn back to the mid-$40,000s.
This is the first time since May of this year market capitalization has surpassed $1 trillion. The last time was May 10, 2021, when the market cap reached $1.06 trillion. In the early months of 2021, the bitcoin market cap was regularly breaking the $1 trillion mark before May's downturn.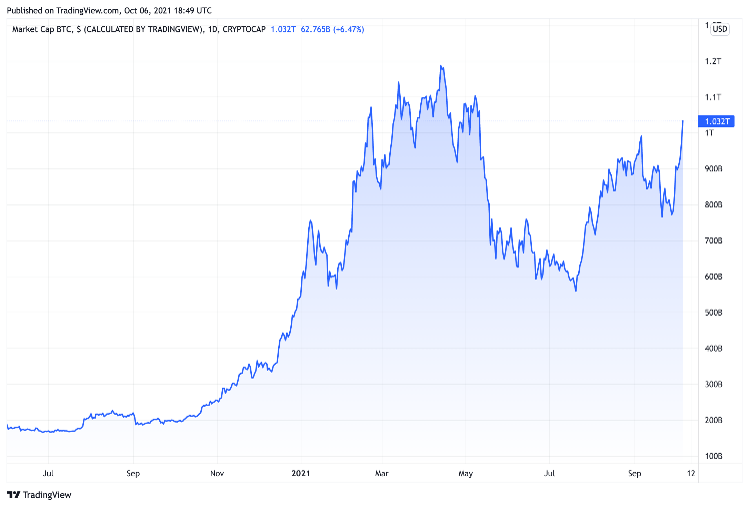 https://www.theblockcrypto.com/linked/119651/bitcoins-market-cap-is-back-above-1-trillion
06.10.2021
---
Gaming NFT weekly volume in 2021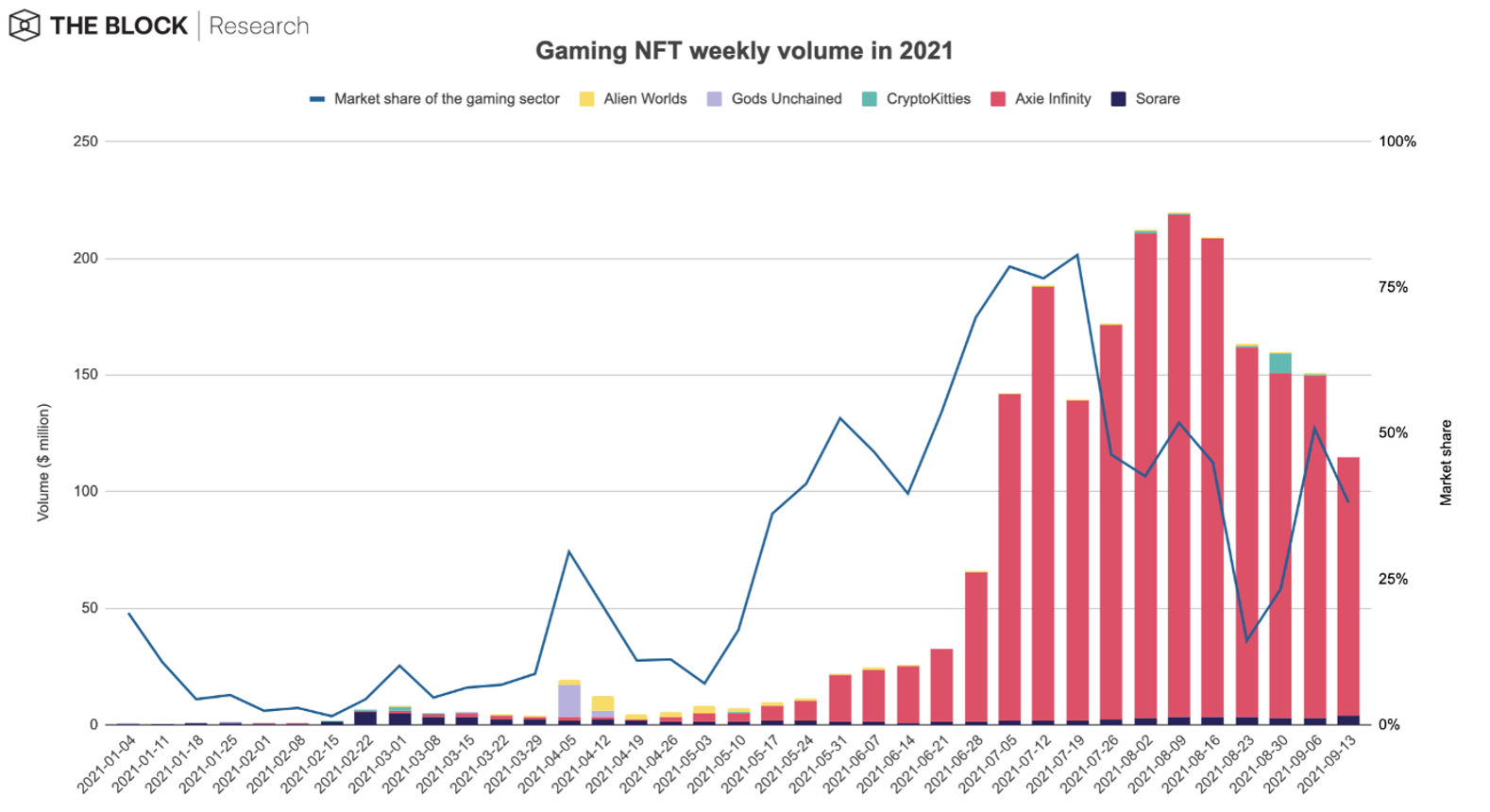 https://www.theblockcrypto.com/linked/119283/axie-infinity-is-launching-a-decentralized-exchange
01.10.2021