Weekly News Roundup – 10 Jan 2022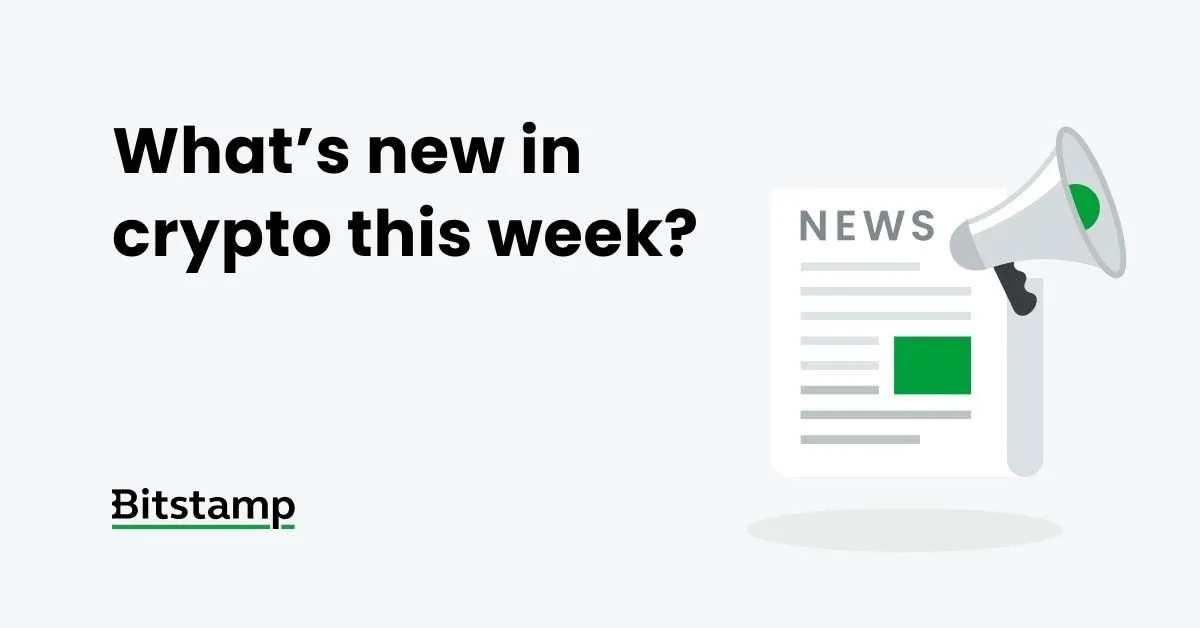 Crypto moves fast and it can be hard to keep up with all the developments. To help you stay on top of what's going on across the industry, we've created this overview of the key news from last week.
PayPal Is Exploring Creating Its Own Stablecoin as Crypto Business Grows
Hidden code in the company's iPhone app shows that a potential "PayPal Coin" would be backed by the U.S. dollar.
PayPal (PYPL) is looking into launching its own stablecoin as the company grows its crypto business, a company spokesman confirmed to CoinDesk on Friday. Sources told CoinDesk in September that PayPal subsidiary Curv was actively working on developing a stablecoin.
"We are exploring a stablecoin; if and when we seek to move forward, we will of course, work closely with relevant regulators," a PayPal spokesman told CoinDesk in an emailed statement.
Bloomberg first reported the news after evidence of PayPal's exploration into building its own stablecoin was discovered in the company's iPhone app by developer Steve Moser and shared with Bloomberg. Hidden code and images show work on what is called a "PayPal Coin." The code shows the coin would be backed by the U.S. dollar, Bloomberg noted in its report.
PayPal has been very active with its cryptocurrency efforts recently, increasing the amount of crypto its customers can purchase, as well as investing in educating its users on crypto and working to allow them to withdraw their crypto safely to third-party wallets.
A PayPal spokesperson told Bloomberg that images and code inside of the PayPal app stemmed from a recent internal hackathon – an event in which engineers team up to quickly explore and build new products that may never see a public release – within the company's blockchain, crypto and digital currencies division.
https://www.coindesk.com/business/2022/01/07/paypal-is-exploring-creating-its-own-stablecoin-as-crypto-business-grows/
07.01.2022
---
Volumes on Ethereum-based NFT markets broke a four-month downward trend in December
Non-fungible token (NFT) marketplace volumes had been steadily decreasing between August and November 2021. December broke that trend, according to The Block Research.
Monthly NFT volumes for Ethereum-based marketplaces increased 16.6% from November to December, reaching $2.26 billion in the last month of 2021.
Possible explanations for December's rise in sales volume could be increased interest in Bored Ape Yacht Club (BAYC) and gaming-focused NFTs during that month.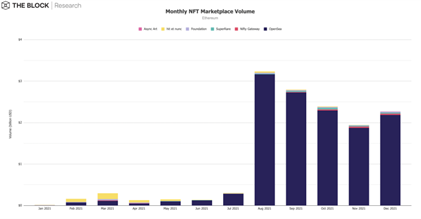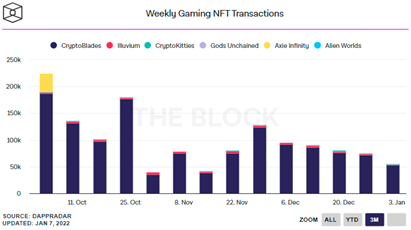 https://www.theblockcrypto.com/linked/128993/nft-sales-volume-broke-four-month-downward-trend-december-2021
03.01.2022
---
Bitcoin is set to take further market share from gold, according to Goldman Sachs
Bitcoin's ascent will cost gold market share, according to a research report by investment banking giant Goldman Sachs.
In a note to clients dated January 4, the bank said that the market capitalization of the largest cryptocurrency will likely grow as "a byproduct of broader adoption of digital assets, and possibly due to Bitcoin-specific scaling solutions."
Looking at bitcoin's float-adjusted market capitalization, the cryptocurrency accounts for about 20% of the total "store of value" market, which is currently dominated by gold. Proponents of bitcoin—ranging from Paul Tudor Jones to Anthony Scaramucci—have backed bitcoin as a store of value and inflation hedge asset akin to gold.
According to Goldman Sachs, the price of bitcoin could possibly increase to more than $100,000 if it were to command 50% of the so-called "store of value" market. The bank added that use-cases outside of store of value could serve as a tailwind for the crypto.
"Bitcoin may have applications beyond simply a "store of value"—and digital asset markets are much bigger than Bitcoin—but we think that comparing its market capitalization to gold can help put parameters on plausible outcomes for Bitcoin returns," the bank said.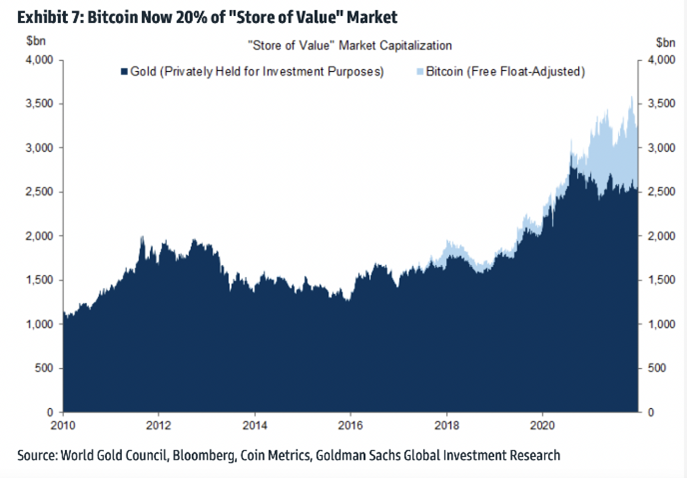 https://www.theblockcrypto.com/linked/129223/bitcoin-is-set-to-take-further-market-share-from-gold-according-to-goldman-sachs
04.01.2022
---
OpenSea raises $300 million at $13 billion valuation, with backing from Coatue and Paradigm
NFT marketplace OpenSea has closed a $300 million Series C funding round that values the company at $13 billion.
The crypto startup disclosed the round following emerging reports of its multi-billion-dollar funding efforts. Earlier on Tuesday evening, sources told The Block that the firm, which raised at a $1.5 billion valuation last year, was planning to raise at a valuation as high as $15 billion, but investors have settled on a lower figure. Eric Newcomer first reported the $13 billion figure earlier Tuesday morning, revealing that hedge fund Coatue Management is leading the round.
Sources later told The Block that crypto fund Paradigm, which raised a whopping $2.5 billion fund late last year, was also participating.
Following the emerging reports, OpenSea co-founder and CEO Devin Finzer confirmed in a blog post that the company had raised $300 million. He said the money would be used to boost customer support and safety; to invest in the wider NFT and web3 community; and for hiring and product development.
Other participants include the new crypto and web3-focused investment fund formed by Kathryn Haun, previously a partner at a16z.
Separately, Axios has reported that the firm is set to acquire Dharma in a deal that could value the project at more than $100 million. The terms of the deal are being "ironed out," according to the Axios report.
The fresh injection of capital will help OpenSea to fend off new rivals in the non-fungible token (NFT) market, which includes fine art and digital collectible sets. Coinbase is preparing to launch its own NFT marketplace while FTX already has one up and running.
https://www.theblockcrypto.com/linked/129250/opensea-eyeing-raise-that-would-value-it-at-13-billion-with-backing-from-coatue-and-paradigm-sources
04.01.2022
---
Bored Ape Yacht Club crosses $1 billion in total sales
Bored Ape Yacht Club (BAYC), a collection of coveted non-fungible tokens (NFTs), has now generated more than $1 billion in total sales.
The cumulative sales figure for the 10,000-piece collection now stands at roughly $1.03 billion, according to data site CryptoSlam.
BAYC reached milestone in the first few days of the New Year, with roughly $55 million in sales recorded since January 1.
Demand for the digital apes was especially strong among celebrities — many of them rappers — in the closing weeks of 2021. Martin Garrix, Post Malone, Diplo and DJ Khaled are just a few of the growing number of artists to have 'aped in,' as the saying goes in crypto.
Rapper Eminem joined the fray on January 3, splashing around $462,000 on a gold-jacketed specimen.
The buy-in from big-name celebrities has lent more credence to the idea that the primates have become a status symbol to rival flashy cars and watches. So too have in-depth pieces from the likes of Rolling Stone, the popular culture magazine.
MoonPay, the $3.4 billion crypto payments app, has also helped stoke enthusiasm for the NFTs by brokering sales to big-name celebrities — including many of those mentioned in this piece — through a new concierge service.
Still, the rise of BAYC has not been without controversy. The community has been ridiculed by some corners of the crypto market for not practicing smart security techniques, a failing that has resulted in the theft of some apes. On Monday, BAYC was forced to address accusations of racist origins in a Twitter spaces.
https://www.theblockcrypto.com/linked/129084/bored-ape-yacht-club-crosses-1-billion-in-total-sales
04.01.2022
---
Crypto crime was the highest — and lowest — ever in 2021: Chainalysis
New data from the blockchain analytics firm Chainalysis shows the highs and lows of crime-related cryptocurrency transactions across 2021.
The volume of crime-related crypto transactions hit a record high at $14 billion in 2021, up 79% since 2020. But since the number of cryptocurrency transactions grew 567% that same year, crime-related activity comprised 0.15% of all cryptocurrency transactions — the lowest that rate has been since 2017.
Chainalysis concludes that the growth rate for legitimate crypto transactions far exceeds crime-related ones, chafing against the persisting belief that cryptocurrency is primarily used for criminal activity.
Crypto scams and funds stolen in decentralized finance were the biggest areas of crypto-related crime in 2021. Victims lost $7.8 billion worth of crypto due to scams – a yearly increase of 82% in 2021. Of the $3.2 billion worth of crypto stolen that same year 72% of it came from decentralized finance (DeFi) protocols, according to Chainalysis.
The firm notes that its data for crypto-related crime is likely to increase as it retroactively identifies illicit transactions.
https://www.theblockcrypto.com/linked/129409/crypto-crime-highest-lowest-ever-2021-chainalysis
06.01.2022
---
Aave launches permissioned DeFi platform Aave Arc, Fireblocks becomes first whitelister
Aave Arc, a permissioned version of the popular DeFi lending platform Aave, has launched today. Fireblocks, an institutional crypto custody firm, has become the first whitelister of Aave Arc.
Aave first revealed the permissioned platform in July last year. The platform is aimed at institutions who want to participate in the DeFi sector in a compliant manner.
Aave Arc enables certain parties who have undergone financial due diligence to be able to borrow and lend cryptocurrencies automatically to other such parties. It operates in the same way as Aave's main protocol works, but only approved parties can participate.
Fireblocks, being Aave Arc's first whitelister, will run due diligence on institutions that are looking to lend or borrow crypto assets through the platform. Aave Arc will initially support four assets: ether (ETH), wrapped bitcoin (WBTC), the USDC stablecoin, and Aave's native token AAVE.
The launch of Aave Arc will enable the world's largest institutions to begin participating in DeFi, according to Fireblocks co-founder and CEO Michael Shaulov.
Shaulov told The Block that Fireblocks will employ globally accepted KYC and due diligence procedures per FATF guidelines to onboard institutions to DeFi.
At launch, Fireblocks has whitelisted 30 institutions to participate on Aave Arc. These include SEBA Bank, Bluefire Capital (acquired by Galaxy Digital), Celsius, CoinShares, GSR, Ribbit Capital, QCP Capital, and Wintermute.
While Fireblocks is the first whitelister of Aave Arc, more entities are expected to join as a whitelister of the platform. Last month, Securitize made a proposal to Aave's governance forum for it to be the next whitelister.
https://www.theblockcrypto.com/post/129277/aave-arc-permissioned-defi-platform-fireblocks-first-whitelister
05.01.2022
---
Grayscale reshuffles its DeFi index fund, adds Flexa's AMP
Crypto asset management firm Grayscale announced Tuesday a shake-up in the constituents of its DeFi fund as part of its quarterly rebalancing.
The firm, which is owned by crypto deca-unicorn DCG, said that it would remove Bancor and UMA from the index fund and add AMP. Bancor – the token tied to the decentralized exchange — and UMA — a token tied to a protocol for synthetic assets – together accounted for 2% and 2.9% of the index at the time of its launch, respectively. Grayscale launched the fund in July 2021 to provide institutional investors exposure to the fast-growing corner of the crypto market without having to custody tokens themselves.
The fund is underpinned by an index administered by CoinDesk Indices.
As for the new addition, AMP is a token that is used within the Flexa Network as a form of collateral.
AMP will make up 7.39% of the fund. Other assets in the fund include Uniswap and Aave, which make up 42.33% and 13.06%, respectively.
Grayscale, which is best known for its GBTC product, has its sights set on launching a wide range of new financial products tied to the crypto market in 2022. The firm has said that it intends to upgrade its GBTC product into a proper exchange-traded fund. The firm also submitted an application with financial regulators to launch an ETF that would track the shares of companies operating in the digital asset space.
https://www.theblockcrypto.com/linked/129055/grayscale-reshuffles-its-defi-index-adds-flexas-amp
03.01.2022