Try this merch appetizer before the December's main course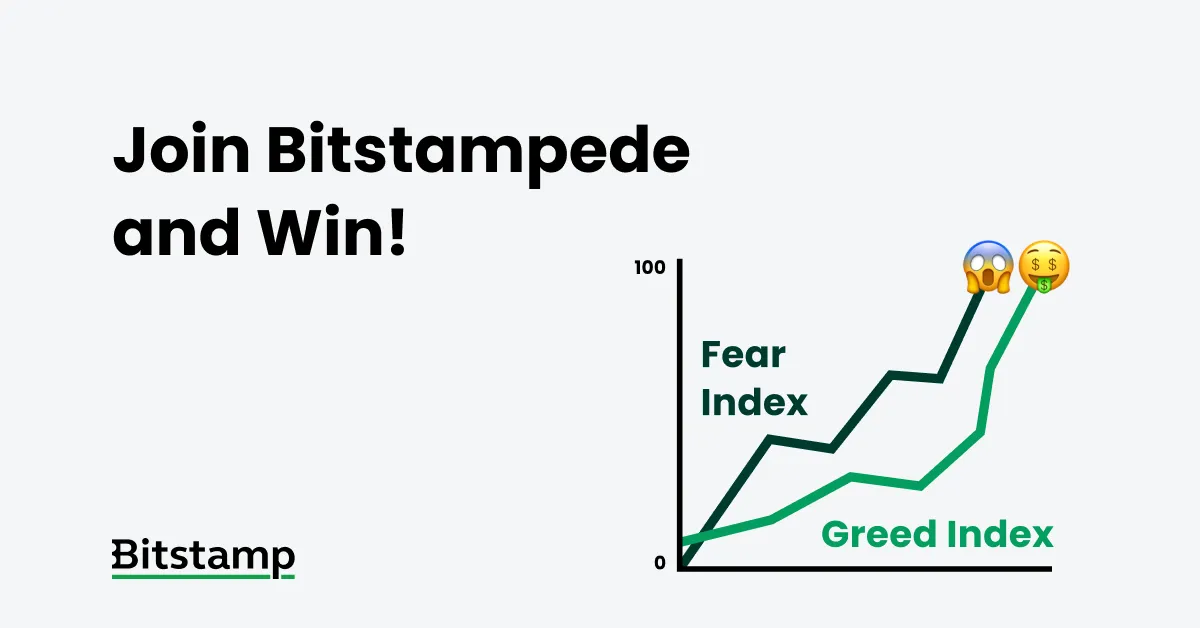 As we anticipate December and with it our largest prize competition yet, we're giving away some merchandise because we caught the early festive bug. If you've missed it, we're cooking something big for December, $100,000-worth big. But we can't say what exactly just yet.
Fine, what's the deal then?
Head out to our Twitter channel where've posted something to get your festive juices flowing a bit prematurely. It's very easy. If you're good at guessing or maybe have an incredible insight into all cryptocurrencies that are trading on our exchange, you have a really good chance of getting our merch pack!
Alright, what do I have to do?
Not much, just guess which will be the top 3 performing cryptocurrencies at Bitstamp exchange this week, starting today, which is Monday, and all the way to November 28 at midnight. You have till November 28 at 8:00 PM to do this.
Pff, I can do that.
Glad to hear. Don't forget to tag 3 friends in your post and retweet our original post. The first five of you with the rightly guessed crypto will have our merch packs sent your way. That's about it. We'll post who the winners are next Monday.
One last thing, you should probably hurry with your post because if there are more than 5 replies with the crypto guessed correctly, the ones who guessed first will get the packs.
I'm off to study my candle charts and whitepapers. See you!
Sure, or just take a wild guess. Make sure to read the terms and conditions below to satisfy the solicitor in you.
---
Prize Competition Terms and Conditions
In order to participate, you must submit your answer by Sunday, 28 November 2021 at 8:00 PM UTC, as the reply to the above-mentioned Bitstamp's post on Twitter, tag 3 friends in the reply and retweet the post.
Only one answer per participant will be accepted as valid. In case you submit more than one answer, your first answer will count as the one participating in this Prize Competition.
The actual top 3 performing assets to which all the answers will be compared to are the assets listed at Bitstamp Exchange (see full list here), and the performance of the assets in the context of this contest is determined by the growth of value in $USD currency between Monday, 22 November 2021 at 00:00 AM UTC (midnight), and Monday, 29 November at 00:00 AM UTC (midnight).
Five (5) participants that will correctly guess all three top performing assets at Bitstamp Exchange within the specified time range (Monday, 22 November 00:00 AM UTC to Monday, 29 November 00:00 AM UTC), tag 3 friends and retweet the post will be designated as winners. In case more participants reply with the exact same price, the reply posted earlier will be considered as the winner among those.
The winners will be announced on Monday, 29 November, 4:00 PM UTC in a post on Bitstamp's Twitter account – we will tag the winners and contact them via direct message on Twitter.
The winners will have time to confirm the acceptance of the merch pack via direct message on Twitter until Friday, 3 December, 4:00 PM UTC. In case any of the winners do not confirm the acceptance, the prize will be given to the next person eligible based on these Prize Competition Terms and Conditions.
In relation to this Prize Competition, Bitstamp reserves the right to: (i) impose additional restrictions related to eligibility, (ii) disqualify any participant, deny, or cancel the distribution of the prize, or deduct any prize received or yet to be received in case that it determines or believes that the prize was received or will be received in fraudulent manner, in error, or in violation of these Prize Competition Terms and Conditions or any other applicable terms, and/or (iii) accept any other appropriate measures to protect this Prize Competition and Bitstamp's interests.
While Bitstamp does promote the official Bitstamp Referral Program and offer a legitimate method for earning cryptocurrency by using Bitstamp Earn, Bitstamp does not engage in any other giveaways. Please always check official Bitstamp website, Bitstamp Blog, official Bitstamp social media channels, or contact Bitstamp Support in case of any doubt.