The Power of Partnership: How Bitstamp & BitGo Redefine Crypto Custody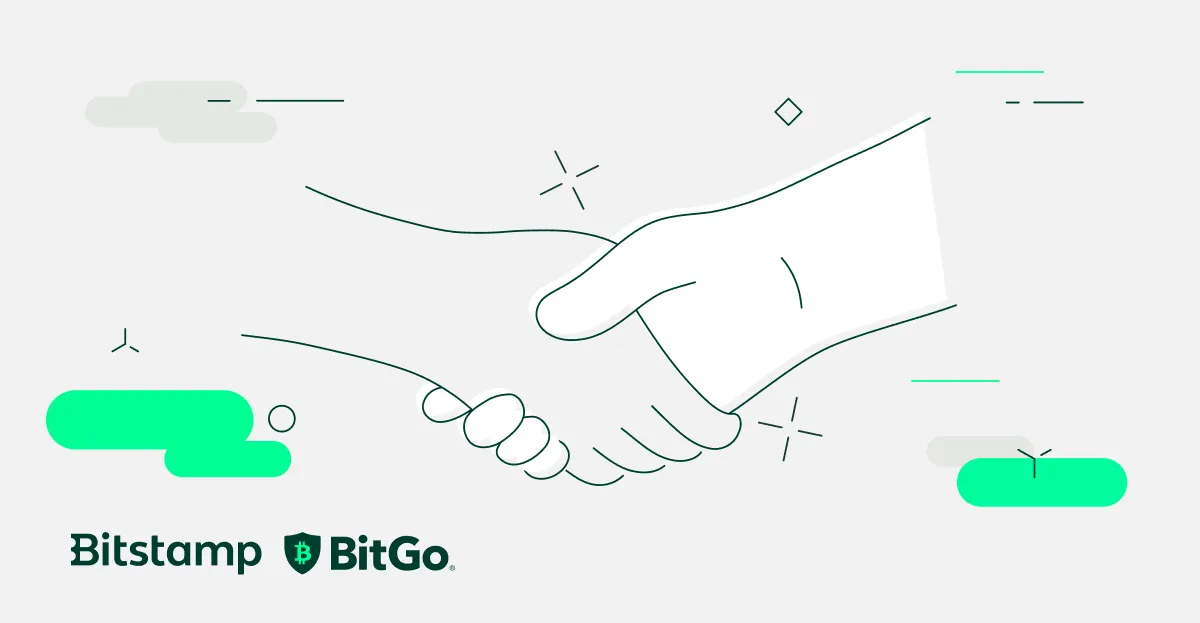 In today's rapidly evolving and diverse crypto landscape, the need for strategic partnerships is more paramount than ever. How so? As industry requirements and regulations become more complex, businesses are finding it challenging to handle everything in-house. To tackle this, key functions are now moving towards a more specialized and independent approach. This means businesses need to collaborate with the right partners who can provide efficient solutions that ensure both reliability​​ and security.
At Bitstamp, we strongly believe that the future of crypto will be shaped by clear regulatory frameworks. After all, regulation provides market participants with protection against bad actors which translates to trust and stability. Also, we understand the significance of partnerships and shared aspirations towards common goals and have been, to this end, forging a strong alliance with BitGo, a trusted name in custody services, since 2019. As two of the longest-running companies in the crypto industry, Bitstamp, founded in 2011, and BitGo, founded in 2013, bring to the table a wealth of experience and operational excellence.
Let's explore how this partnership aligns with the high standards that Bitstamp has set for its custody arrangement and the importance of shared values in delivering a well-rounded solution to our valued clients.
The Importance of Custody in Crypto
Custodians serve as guardians, ensuring the safekeeping and security of valuable digital assets on behalf of individuals and institutions. With the ever-present risks of hacking, fraud, and human error, trustworthy ​independent custodians​ offer peace of mind and establish a foundation of trust in the crypto ecosystem. Regulated custodians have proven to be invaluable for secure operations of centralized crypto exchanges and trading firms.
The Importance of Third-Party Custody for Bitstamp
Custody, one of Bitstamp's core functions along with providing freedom of exchange for all, involves safeguarding digital assets on behalf of users. We also recognize that providing ​a ​best-in-class custody setup requires specialized expertise and risk diversification. So, instead of relying solely on internal resources, we have chosen to collaborate with trusted third-party custodians, forming a strategic alliance based on shared philosophy and a proven track record.
So, what does Bitstamp, as one of the most regulated crypto exchanges in the industry, search for in terms of asset custody?
The Synergy with BitGo
With security and reliable trade execution as our priorities, we, as a rule, use industry leading technology in every aspect of our operations, and strive to offer bank-grade custody to our users.
Therefore, we have chosen a regulated qualified custodian to protect ​your ​assets​​, bringing additional rigor and assurance to the security ​package​​. The partnership between Bitstamp and BitGo harnesses the synergy of our combined expertise to address the evolving demands of ​clients​​​, ensuring seamless and secure custodial solutions in response to their needs.
What Bitstamp looked for and found in BitGo:
Segregated accounts, meaning funds are never commingled or used for other purposes.
Cold storage with keys stored securely offline.
Leading security tech, such as multi-signature, purpose-built HSM and offline signing.
Compliance-forward approach.
Redundant human processes: BitGo trust officers review transfers when value thresholds are triggered.
​​SOC I Type 2 and SOC 2 Type 2 audited.
Insurance against theft, loss, or misuse up to $250 million.
BitGo consistently demonstrates its ability to set the security standard for institutional-grade digital asset custody​. Their leading custodial services, combined with Bitstamp's commitment to excellence, have resulted in a partnership that offers a complete package of custody solutions to our clients as their services perfectly complement our dedication to delivering top-notch services.
Shared Values for a Complete Package
Beyond the technical aspects, the partnership between Bitstamp and BitGo is founded on shared values.
"It's amazing how it all clicked—both companies' values aligned towards delivering the highest standards of security, compliance to our clients. This collaboration itself is a testament to the tremendous power of partnership. The resulting custodial solution effectively addresses the evolving needs of the dynamic crypto market, providing unparalleled protection for the industry." - Mike Belshe, CEO of BitGo.
Both entities prioritize the security and well-being of their clients by safeguarding their assets without compromise, while adhering to rigorous compliance standards and regulatory frameworks.
"Our collaboration with BitGo represents a pivotal milestone for Bitstamp as we continue to prioritize the security and satisfaction of our clients. By joining forces, we can better empower our clients with peace of mind, knowing their digital assets are protected by two of the most established and trusted names in the crypto industry." - Bobby Zagotta, CEO of Bitstamp USA & Global Chief Commercial Officer
Building Reliable and Secure Infrastructure for the Future
Looking ahead, Bitstamp and BitGo are focused on building a more secure and compliant infrastructure for the digital asset economy to drive future adoption. By leveraging our collective expertise and resources, we are leading the way towards new benchmarks for asset security in the crypto space.
​​​For example, a new off-exchange settlement service, a key piece of BitGo's recently launched Go Network, is now live, empowering clients to trade directly on Bitstamp, while their assets remain securely stored in BitGo's regulated cold storage custody. Network participants will be able to experience the peace of mind that comes with off-chain protection while accessing liquidity at multiple trading venues. ​     ​​​
For any additional information about the collaboration between Bitstamp and BitGo, please contact us at partners@bitstamp.net.​