The New Bitstamp App Goes Global: Now Available in the UK & US!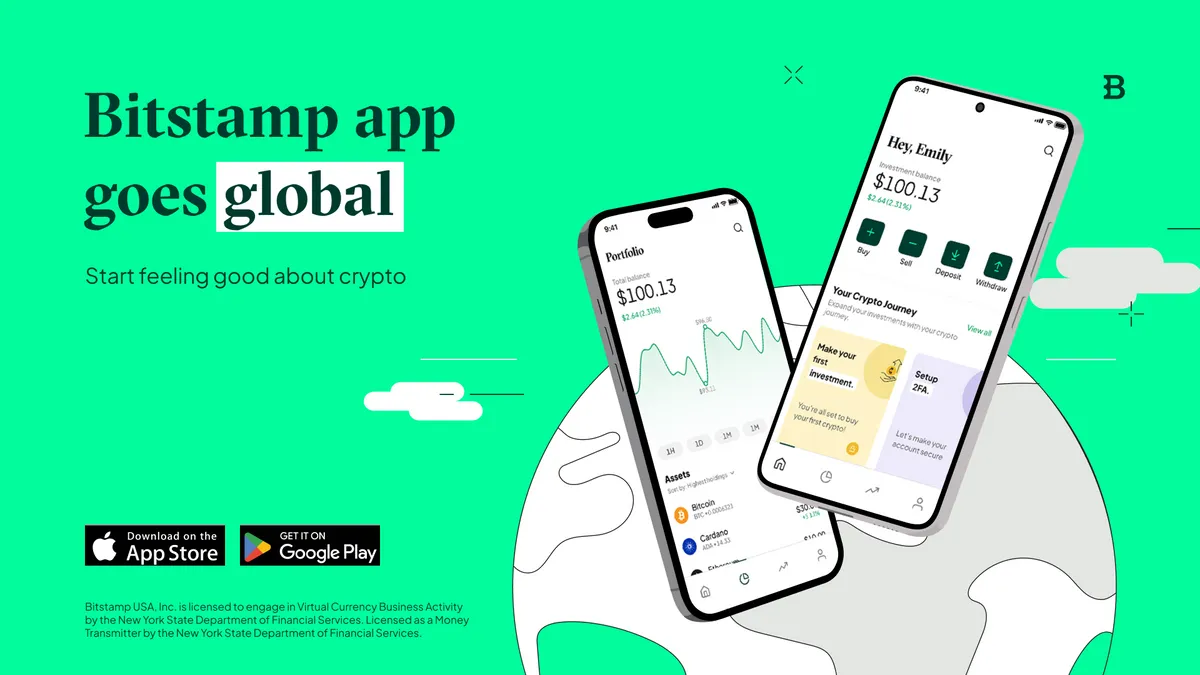 We're happy to announce that the new Bitstamp app is now available globally, including the US and UK!
Download the new app, designed for new and experienced users alike, on Google Play and now also on Apple's App Store.
The Bitstamp app - The simplest way to buy and sell crypto
Our mission is to make crypto accessible to everyone and with the new Bitstamp app, we're making buying, selling, staking and lending crypto simpler, faster and way more convenient.
Quick buy and sell functionality across all our cryptocurrencies.*
Purchases with your debit/credit card, PayPal, bank transfers, Apple Pay, Google Pay, and now also ACH for US users.
Pay the price you see with spread-based pricing, no additional trading fees.
Simple and intuitive interface.
Bitstamp Earn lets you earn the simple way with just a few taps:
Stake your crypto for crypto rewards of up to 4.5% annually**
NEW: Lend your crypto to earn yield of up to 4.4% APY***
Learn Center is now at your fingertips, bridging any crypto knowledge gap you might have by providing you with valuable insights and educational resources on the go.
For our users in the US, we have streamlined the sign-up process to provide a seamless experience. Recognizing the value of a quick and effortless start, we have optimized our registration system by removing any unnecessary steps or complications. Now, with just a few effortless taps in Bitstamp app, you can easily sign up and dive into the world of crypto. With the addition of ACH (Automated Clearing House) to the wide array of payment methods, buying crypto has never been simpler.
And for our users in the UK, we have introduced GBP pairs support. This means that you can seamlessly transact with your main currency without the need for additional conversions.
The Bitstamp Pro app - Built for pro traders and crypto experts
For the US and UK mobile users, the existing app has become Bitstamp Pro which retains all its existing advanced functionality and features and keeps on catering to the most crypto savvy. It's the go-to app for staying on top of the markets with all the tools you need. Bitstamp Pro's advanced trading interface offers real-time insights into markets, a range of analytical tools and powerful order types to execute your strategy.
Get started now
Choose and download the right app for you
Download the Bitstamp app: Google Play or App Store.
Download the Bitstamp Pro app: Google Play, App Store, or Huawei AppGallery.
Set up your account
Follow the instructions in the app to register and securely verify your Bitstamp account.
Activate your device
Log into the app and set a PIN (Passcode), fingerprint or face ID for easier access.
Start your crypto journey – The Bitstamp Way
Fund your account and start feeling good in crypto.
For more details about both apps, refer to our Bitstamp Mobile Apps FAQ.
At Bitstamp, we are constantly striving to provide you with the best possible experience and empower you with the knowledge you need to navigate the world of cryptocurrencies. The new substantial updates to the apps along with the launch in the UK and US markets mark a significant milestone in our journey to make crypto both accessible and convenient to all.
* The Buy and Sell options in the Bitstamp app are currently disabled for users residing in New York State.
** Bitstamp Earn Staking is not available in Canada, Japan, Singapore, and the UK. Algorand staking is not available in the US, Canada, Japan, Singapore and the UK.
*** Bitstamp Earn Lending is not available in the US, UK, Singapore, Japan and Canada.
Bitstamp USA, Inc. is licensed to engage in Virtual Currency Business Activity by the New York State Department of Financial Services. Licensed as a Money Transmitter by the New York State Department of Financial Services.
Bitstamp UK Limited is registered with the Financial Conduct Authority under the Money Laundering, Terrorist Financing and Transfer of Funds (Information on the Payer) Regulations 2017.

Don't invest unless you're prepared to lose all the money you invest. This is a high-risk investment and you're unlikely to be protected if something goes wrong. Cryptocurrencies are not regulated by the Financial Conduct Authority. Your investment may go down as well as up. You may be required to pay Capital Gains Tax on any profits you earn. You should think carefully about whether dealing in crypto assets is suitable for you in light of your financial situation and risk appetite.  For more information on risks inherit to cryptocurrencies please visit: https://www.bitstamp.net/risk-warning/