The crypto market is changing, but not its fundamentals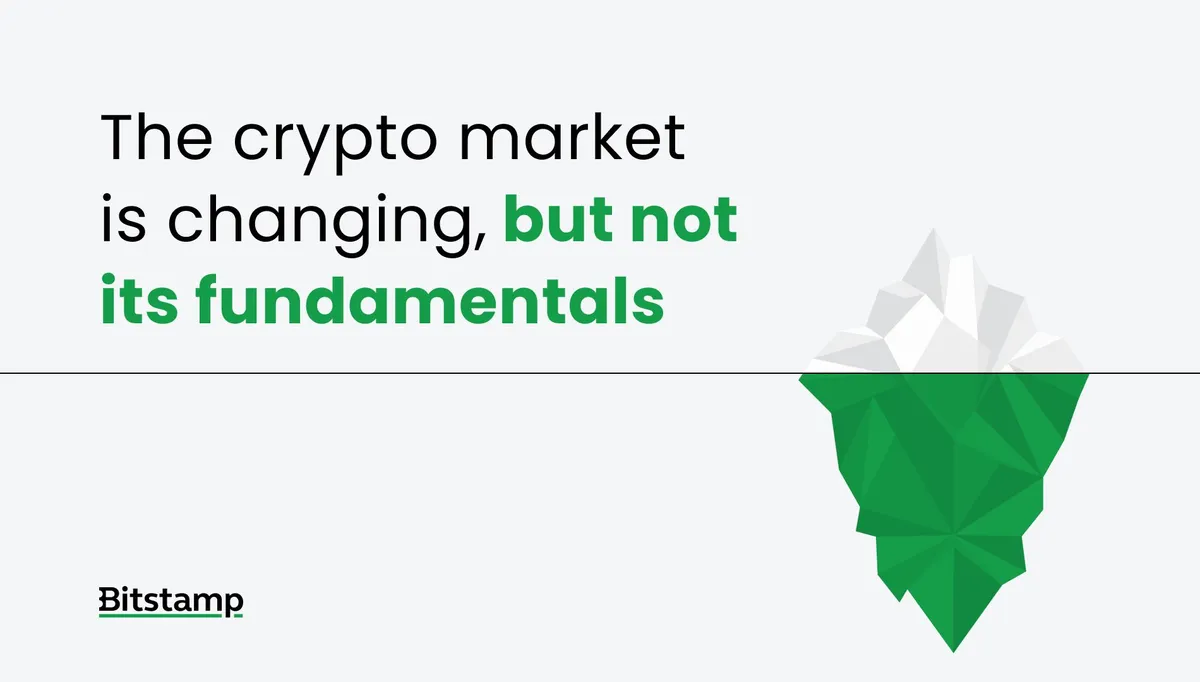 It looks like this month is echoing May 2021, when crypto markets experienced a similar shakedown framed by ecologically fuelled criticism aimed at excessive energy waste caused by mining, and China's ban on mining Bitcoin. Fear, uncertainty, and doubt (FUD) followed and resulted in Bitcoin's consolidation at around $30,000 (€28,000) which persisted until the end of July 2021.
While some investors may be surprised by the recent sharp drop of cryptocurrency markets, those who have been following crypto closely will likely not be too surprised. After all, bitcoin and others have always been known for their volatile price swings. For example, in December 2017 the price of bitcoin was almost $20,000 (€19,000) only for it to drop to just over $6,900 (€6,600) in February 2018 and then to around $3,000 (€2,800) in December of the same year. Move forward to July 2019 and the price soared to almost $14,000 (€13,000) before tumbling back down to around $5,000 (€4,800) once again.
Given this history, we must understand the current situation as a single market cycle - a cyclical phenomenon - that happens in all markets and that it is not necessarily indicative of a long-term trend.
Crypto Fear and Greed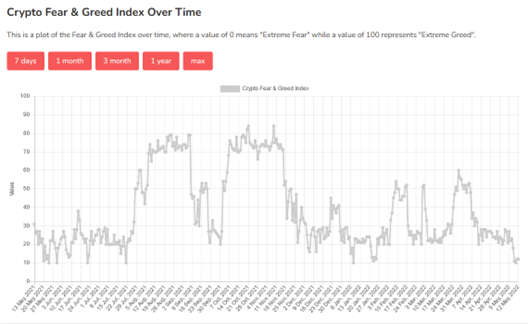 We can clearly see that the sentiment related to fear and greed has dropped to the levels from the year before. However, while the current economic climate can obviously be unsettling, it's important to remember the fundamentals of crypto; they remain strong, and we believe that the technology - and by extension the market – has a thriving future. To gain perspective we can remember the dot.com bubble, its crash, and the eventual success we've all experienced in our lifetimes.
What does the future hold for crypto?
Remember that crypto "died many deaths" in the past, but what is dead may never die.
It's best if we do ourselves a favour and brush up on what cryptocurrencies really are:
Cryptocurrencies are digital or virtual tokens that use cryptography to secure their transactions and to control the creation of new units.
Cryptocurrencies are used primarily for payments and as investment vehicles, although some tokens are used for other purposes such as to provide access to decentralized services. Bitcoin, the largest cryptocurrency by market capitalization, was primarily created as a payment system and now functions as a store of value. Ethereum, the second largest cryptocurrency, powers smart contracts and is used for running decentralized applications, which are known as dapps.
Cryptocurrencies are volatile, meaning their prices can fluctuate more dramatically than the stock market, but this volatility can be due to a variety of factors including news events, government regulation, and changes in the underlying technology.
What does this mean? Don't miss the wood for the trees and let's take into perspective the whole forest to examine the broader macroeconomic picture. We can observe several factors that are impacting crypto markets: inflation is high, the Fed is tightening monetary policy, interest rates are rising, and crypto has become correlated with the stock market due to institutional capital inflow. Given all these factors, it's clear that the crypto markets were bound to face some challenges.
So, while the present is undergoing cyclical shocks, crypto fundamentals remain unchanged with a bright future. To deepen your understanding of crypto and its fundamentals, our premier Bitstamp Crypto Pulse report is perfect for you. In it, you'll see that crypto powers towards universal adoption, despite all the volatility.