The Bitstamp Pro experience: now available on our web platform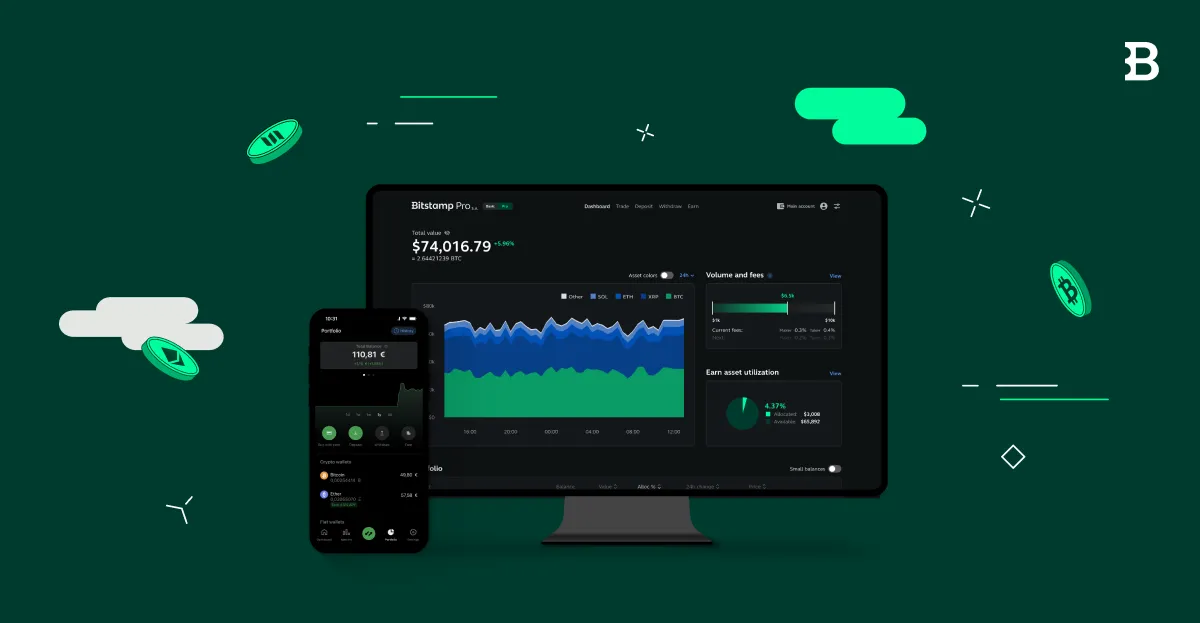 At Bitstamp, we want everyone to have access to crypto in the way that's best for them. As the longest-running crypto exchange in the world, we've got more than a decade of experience in providing safe and reliable access to crypto for all our customers.
And now, we've taken advantage of that experience to create a web-based platform for advanced traders and crypto experts.
The Bitstamp Pro dashboard enables you to make more informed decisions and act more quickly, by putting all the tools, info and insights you need in one place. With four different order types, real-time charts, access to new types of actionable data, and a range of analytical tools, you can easily manage your portfolio and your exposure.
It uses a competitive maker/taker trading fee model.
This new, more powerful web platform is designed to help more experienced traders:
Identify new crypto opportunities
Track trades and investments at a glance
Keep everything they need in one place
Identify new crypto opportunities
The Bitstamp Pro web platform's advanced insights and real-time market data help you spot the opportunities that are right for you. Customized views give you a better understanding of the information you need.
You'll not only find more actionable information on the platform, but you'll be able to customize your view of it, by sorting the data in different ways. Sort pairs based on performance in different timeframes in our new markets table to quickly identify market trends. Compare asset performance across different timeframes or explore market sentiment info visually.
Track your trades and investments at a glance
Powerful portfolio management tools let you track, manage and rebalance your assets. Identify your best-performing assets quickly – or take a deep dive and see how their performance has changed over time. Dynamic graphical visualizations of your account balance and portfolio performance make your positions crystal clear.
Customize how you see the data with sortable tables, and make instant trades with direct links to sell, deposit, or withdraw funds.
The Bitstamp Pro dashboard also gives you access to Tradeview, Bitstamp's comprehensive tool for tracking and analyzing the state of the market. Tradeview offers real-time insights into crypto markets, a wide range of analytical tools and powerful order types to help you execute your trading strategy by converting it to your needs.
Everything you need in one place
The new Bitstamp Pro dashboard lets you buy, sell and check open orders and your latest transactions, and quickly cancel and repost orders without delay. And with Bitstamp Earn you can earn additional crypto by staking or lending.
A new "cancel all" function lets you instantly cancel all your open orders with one tap so you can react quickly to new market conditions. Or remind yourself of your most recent transactions without changing views. In fact, you can access Bitstamp's most important features through the dashboard, for extra flexibility and speed.
Industry-leading connectivity
Our FIX, HTTP and WebSocket APIs are still consistently rated the fastest and most stable in crypto by institutions and professional traders. With real-time data streams available 24/7.
We believe that this high-performance platform is ideal for crypto pros and experienced traders. But don't take our word for it – try out the Bitstamp Pro dashboard and see what you think.
With Bitstamp Pro online you can take your trading to the next level.
*0% trading fee on total trading volume of up to $1,000 (or equivalent) over the past 30 days.
Bitstamp is licensed to engage in virtual currency business activity by the New York State Department of Financial Services. Licensed as a Money Transmitter by the New York State Department of Financial Services