Take a seat, we're serving SUSHI and MATIC!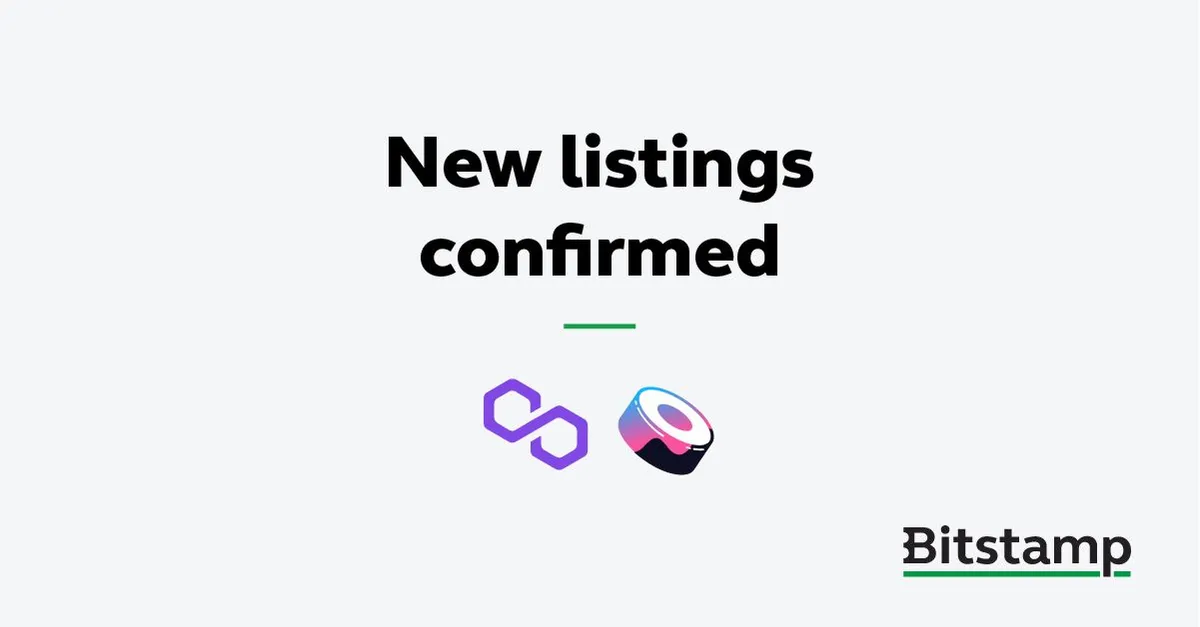 We're not in the restaurant-opening business yet, we're announcing exciting two new crypto assets! As our latest coin-listing bonanza we're listing a duo that together offer intuitive and extremely versatile crypto platforms for the future that'll undoubtedly help develop the DeFi ecosystem.
We're listing the following cryptocurrencies:
SushiSwap (SUSHI) – an automated market maker (AMM), an increasingly popular tool among crypto users
Polygon (MATIC) – an easy-to-use platform for Ethereum scaling and infrastructure development
Please note that for the time being, these assets will not be available to our US and Singapore customers.
Listing schedule:
Transfer-only mode: Deposits and withdrawals open but trading is not enabled yet.
MATIC, SUSHI: Monday, 9 August
Post-only mode: You will be able to place and cancel limit orders, but they will not be matched. Therefore, no orders will actually be completed during this stage.
MATIC: Tuesday, 10 August, at 8:00 AM UTC
SUSHI: Wednesday, 11 August, at 8:00 AM UTC
Limit-only mode: Order matching will start and trades will be executed normally. However, only limit orders will be available.
MATIC: Tuesday, 10 August, at 12:00 AM UTC
SUSHI: Wednesday, 11 August, at 12:00 AM UTC
Full trading: Once the order books gather sufficient liquidity, we will enable all order types and card purchases for the new trading pairs as well.
Follow us on Twitter for real-time updates on the rollout of the new trading pairs.
Log in to your Bitstamp account to start trading and get the Bitstamp mobile app to trade all of our cryptocurrencies on the go!
Here's a full list of trading pairs being added to Bitstamp:
MATIC / USD
MATIC / EUR
SUSHI / USD
SUSHI / EUR
About SushiSwap:
SushiSwap is an automated market maker. AMM's are decentralized exchanges that use smart contracts to create markets for any given pair of tokens. SushiSwap launched in September 2020 as a fork of Uniswap, the AMM which has become synonymous with the DeFi movement and associated trading boom in DeFi tokens. Compared to Uniswap, SushiSwap adds additional features, such as increased rewards for network participants in the form of its in-house token - SUSHI.
About Polygon:
Polygon is the first well-structured, easy-to-use platform for Ethereum scaling and infrastructure development. Its core component is Polygon SDK, a modular, flexible framework that supports building multiple types of applications. Polygon effectively transforms Ethereum into a full-fledged multi-chain system. The Layer 2 scaling solution utilizes the advantages of Ethereum's security, vibrant ecosystem and openness, and enables faster transaction speeds and more transactions per block. Polygon boasts of up to 65,000 transactions per second on a single side chain, along with a respectable block confirmation time of less than two seconds.