We're listing Shiba Inu SHIB!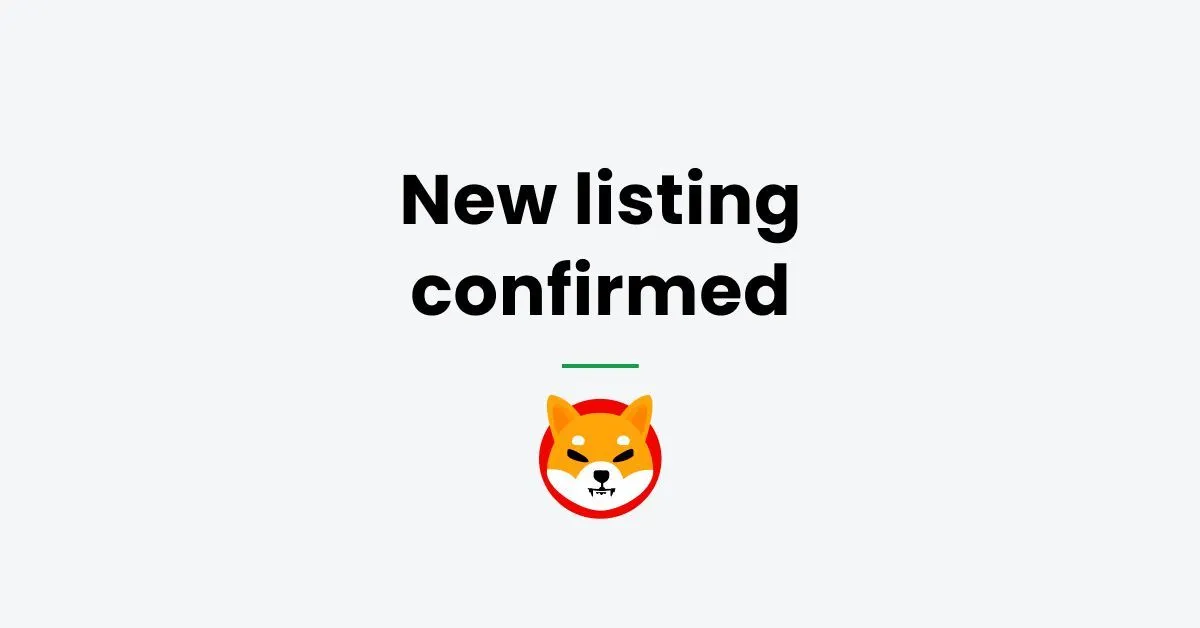 You asked, we listened! Here's SHIBA INU (SHIB).
Among all the serious crypto projects with their serious tokens and coins, there are some that represent the dogs of the world. SHIBA INU is one such project which started out as utterly light-hearted, boasting a pretty picture of a dog, but now has an incredibly large and vibrant community behind it. For reasons known to them, people have been flocking to this dog-themed token and started throwing millions of dollars at it. As its popularity grew, so did the requests from our Bitstamp community to have the token listed on our exchange. So, you, too, can now become a proud owner of SHIBA INU and a representative of the ShibArmy. (excluding the U.S. and Singapore for now)
Shiba Inu (SHIB) trading on Bitstamp
We're enabling transfers on Monday, June 6, 2022.  
Post-only mode: Tuesday, June 7, 2022, at 7:00 AM UTC
You will be able to place and cancel limit orders, but they will not be matched. Therefore, no orders will be completed during this stage.  
Limit-only mode: Tuesday, June 7, 2022, at 11:00 AM UTC
Limit orders will be matched. 

Full trading:  Once the order books gather sufficient liquidity, we will enable all order types and card purchases for the new trading pairs as well.  
Here are the new trading pairs added on Bitstamp:
Click here to buy Shiba Inu with euro SHIB/EUR
Click here to buy Shiba Inu with dollar SHIB/USD
The story behind Shiba Inu (SHIB)
This token probably needs no introduction. Ryoshi, the anonymous SHIBA INU's founder, said that the project is an experiment in decentralized spontaneous community building. So, here's a passage from their white – pardon - woof paper:
SHIB has clearly become on the most successful, fully-decentralized cryptocurrency experiments in history. This ShibArmy (token holders) was born from the concept that, under the right circumstances, talented individuals from all over the world will unite under one banner and use their unique skills to build something remarkable.
Now you, too, can help build something remarkable by trading SHIB on Bitstamp. The opportunities among the likeminded token owners are aplenty: from joining other dog-inspired artists from all over the world to fostering the "artistic Shiba movement" and bringing the SHIBA INU community into the NFT market. You might even decide to attend the 'easily accessible' localized meetups and a once-a-year ShibaCon convention, or help collect donations to rescue real Shiba Inu dogs with the Shiba Inu Rescue Association.
If you want to read more on how the creators love shiba inu dogs and how the famous Ethereum co-founder Vitalik fits in the big picture with his famous burning of the SHIB tokens, here's the link to their woof paper.
By the way, last year, Vitalik donated 50 trillion SHIB tokens (worth about $1.2 billion at that time), after receiving even more by the SHIBA INU creators, to the India Covid Crypto Relief fund. The transactions and social-media hype have caused Ethereum gas fees to surge to staggering heights.
Log in to your Bitstamp account to start trading and get the Bitstamp mobile app to trade all our cryptocurrencies on the go!