Sameer Dubey joins Bitstamp as Chief Operating Officer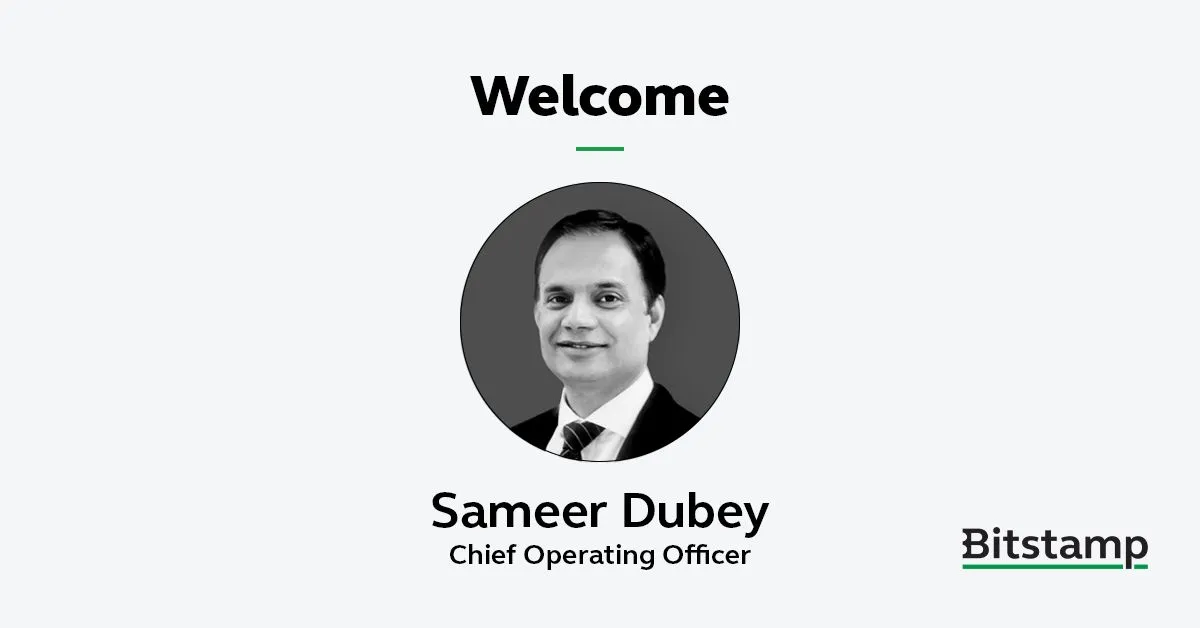 We're excited to be welcoming another trusted leader from the world of finance to Bitstamp. Sameer Dubey has joined our team as our new Chief Operating Officer.

Sameer brings global leadership in fintech and traditional banking to Bitstamp, where he is taking charge of expanding our operational capabilities as we scale across our global businesses. He is joining us following stints with leading banks such as N26 and Barclays Bank.

At the German neobank N26, Sameer served as the Head of Operations for UK. Prior to N26, he spent over a decade in executive roles at Barclays on their Payments and Cash Management Product team. At Barclays, he also helped the major UK bank take its early steps into the world of blockchain and distributed ledger technology. We recently sat down with Sameer to ask him a few questions about why he chose Bitstamp and how he sees the journey forward.

You've built an impressive career at both traditional institutions and neobanks. What convinced you to shift your focus to crypto?

I've been engaged with the world of crypto for quite a while. At Barclays, I was one of the founding members of what we called the Blockchain and Distributed Ledger Council, and from that point, I started to see that, in the world of finance, this is probably the most fundamental shift that's happened for hundreds of years. I saw myself playing a part in this world, so it was more a question of "when" than "if". I was also familiar with Bitstamp, having been a customer for about four years. So, when the opportunity arose, I knew it would be a good fit.

How do you see the cryptocurrency industry evolving over the next few years?

I think that in a few years, we won't really be talking about a cryptocurrency industry anymore. It will be another part of finance and innovative crypto businesses will be considered fintechs similarly to how N26 is perceived today. A lot of the groundwork for crypto to fully integrate into finance has already been laid in terms of the market infrastructure and the regulatory frameworks. Now, the trust from traditional players is starting to build up and cryptocurrencies, both as investable assets and as technological innovations, are getting a chance to prove what they can do on the biggest stage.

What part do you see Bitstamp playing in crypto's evolution?

Bitstamp, from its inception, has been a cornerstone of the crypto industry – I expect us to continue playing that role. Additionally, as crypto merges with finance, the part we play is going to take on new meaning. Part of what makes this space so exciting is that we really can't know where we'll be in, let's say, 10 years. From my perspective right now, I see Bitstamp continuing to provide best-in-class exchange services based on excellent trading technology and outstanding operations. We're certainly going to build out that core with new assets and trading options, alongside launching brand new services like staking to build out a wider platform. The expertise we're bringing in now, with leaders joining Bitstamp from various sectors of finance, will be essential on that journey and I'm excited about exploring the future with this team.

At Bitstamp, we're continuing to bring in top talent and ramp up our global presence. To join Sameer and the rest of our team across Europe, US and Asia, visit our careers page .