Reshaping Crypto: Recap on webinar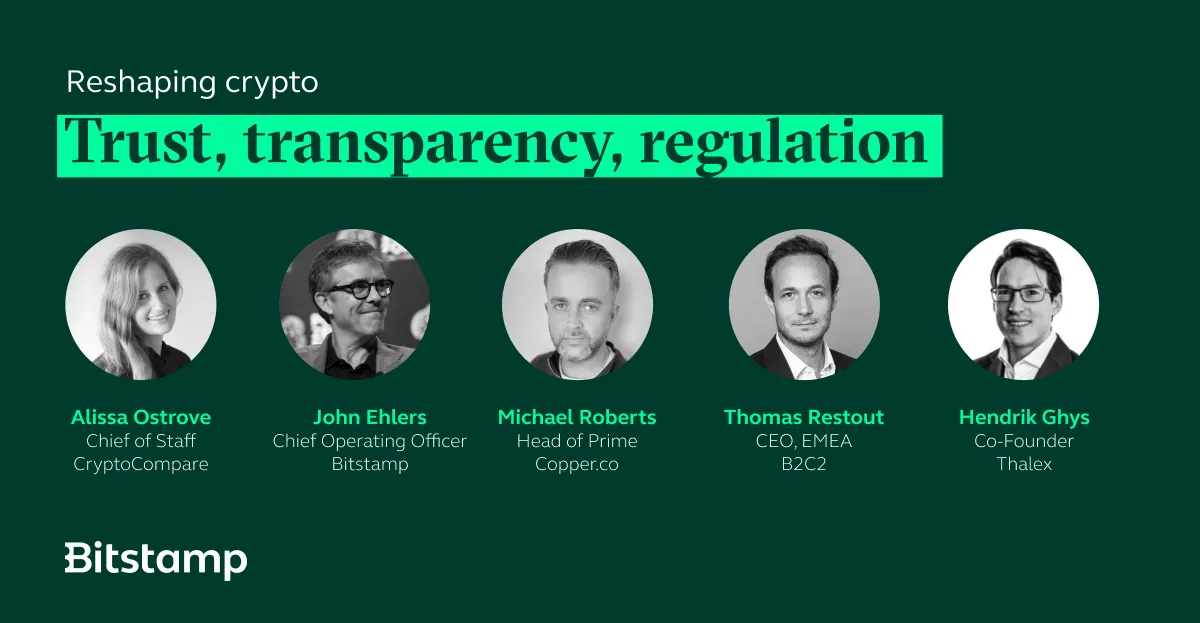 In case you missed the Reshaping Crypto webinar this Tuesday, November 22, 2022, we've prepared a recap of the event's proceedings. Some of the key industry players shared their insights on the recent collapse of FTX (and similar instances), and their thoughts on what are the best ways to move forward together. Attendees were treated to a wealth of knowledge and insight into the recent developments on the market and what they may mean for the future of crypto. Trust, regulation and transparency were some of the key points of the discussion:
Trust needs to be reinforced through higher regulation and transparency
Governance remains key
Fundamentals of crypto haven't changed
Regaining the trust and risk management
Jack Ehlers, Bitstamp's COO, addresses the fact that major companies and market failures are a part of this dynamic, ever-growing and constantly changing industry. It's vital that customers realize that their crypto is safe. Therefore, in the future, crypto exchanges are going to have to offer greater transparency, visibility, and disclosure of their business models. Questions around these topics are going to be asked more and more in order to build trust, and rightfully so. The need for regulation, supervision and scrutiny of the details of things will be higher. A lot of it is going to mirror what we have seen in traditional finance, but it will take time to regain trust.
Thomas Restout, CEO & EMEA at B2C2, also stressed that trust is built over time: "That's why exchanges like Bitstamp are a trustworthy place. Governance is key. To prevent the behaviors we've seen in the latest high-profile incidents, effective governance must remain key in any firm."
Michael Roberts, Head of Prime at Copper.co, on risk management: "There is a lot of technology, knowledge and know-how in this industry to get things right. I think we need to come together as a collaborative partnership to do this the right way. Everyone talks about the absence of regulation, but the best technology and best practices are already there. If we move away from trying to own the whole vertical and cast aside the strive for crypto dominance, and instead think about best practice and partnerships, I think we can come out of this stronger."
Alissa Ostrove, Chief of Staff at CryptoCompare: "There should be mandatory governance structure in every sort of crypto venture that is involving client assets."
Future of crypto through regulation and transparency
Speakers highlighted some of the actions they are introducing to increase transparency and regain investor confidence, such as providing proof of reserves, and details on the additional measures that are being taken to protect client assets. The common sentiment among all the speakers was that the industry will need to become much more focused in its due diligence and efforts to improve transparency with their clients. To cement this and put words into practice, crypto companies will need greater segregation of duties and to set up clear governance structures in crypto venture that involves client assets.
There are numerous reasons to be skeptical, but out of this very skepticism, we'll see derivations of more data points, more opportunities, and more institutional options, which are all reasons to stay optimistic.
Hendrik Ghys, co-founder of Thalex, highlighted the challenge of regulation and the fact that it's local, while crypto business is global. Licenses and regulations take a lot of time to obtain and put into practice, and they are far too inefficient. "We need regulated businesses to be able to compete on product with unregulated businesses."
Thomas Restout on the fundamentals of crypto: "We're back to square one and we need to answer the fundamental questions again: rebuilding trust, transparency, and regulation. If you were a believer 12 months ago, nothing has really changed fundamentally, so I am looking forward to the end of the year. I see this as an opportunity rather than the collapse of an entire ecosystem. Now, there are again great levels to buy and reinvest."
To dive deeper into the discussions, you're welcome to [watch the full webinar].