This is where fun meets crypto! We're listing ENJ and CHZ!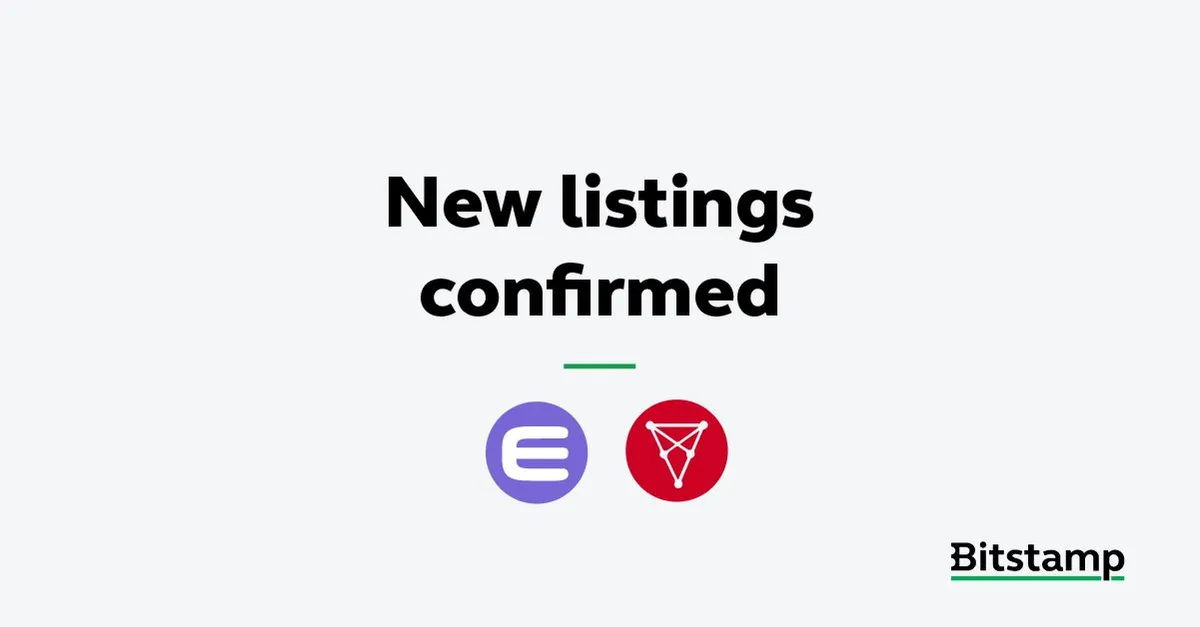 The following two coins we're listing on August 23 are the bridge between pure entertainment and serious crypto. One is the basis of an end-to-end ecosystem of blockchain products and solutions that make it easy for everyone to take advantage of NFT's, and the other, well, should get all sports fans very excited.
We're listing the following cryptocurrencies:
Enjin (ENJ) – the token used to back the value of blockchain assets like NFT's and powering the Enjin platform, where the virtual and real world collide
Chiliz (CHZ) – the foremost digital currency for entertainment and sports, powering Socios.com, the world's first blockchain-based sports platform for fan engagement & rewards
Please note that for the time being, these assets will not be available to our US and Singapore customers.
---
Listing schedule:
1. Transfer-only mode: Deposits and withdrawals open but trading is not enabled yet.
ENJ, CHZ: Monday, August 23
2. Post-only mode You will be able to place and cancel limit orders, but they will not be matched. Therefore, no orders will actually be completed during this stage.
ENJ: August 24 at 8:00 AM UTC
CHZ: August 25 at 8:00 AM UTC
3. Limit-only mode [August 17 at 12:00 AM UTC]: Order matching will start and trades will be executed normally. However, only limit orders will be available.
ENJ: August 24 at 12:00 AM UTC
CHZ: August 25 at 12:00 AM UTC
4. Full trading: Once the order books gather sufficient liquidity, we will enable all order types and card purchases for the new trading pairs as well.
Follow us on Twitter for real-time updates on the rollout of the new trading pairs.
Here's a full list of new trading pairs to be added at Bitstamp:
ENJ/USD
ENJ/EUR
CHZ/USD
CHZ/EUR
Log in to your Bitstamp account to start trading and get the Bitstamp mobile app to trade all of our cryptocurrencies on the go!
---
About Enjin Coin (ENJ):
ENJ is an ERC20 utility token that already powers more than two billion non-fungible tokens (NFT's) on Enjin Network which represent the truly fun part of industry. Enjin Network is a social gaming platform which enables users to create websites and clans, chat, and host virtual item stores. It's fueled by ENJ and NFT's connected to it. Users obtain these tokens through a process called minting. Every token minted with the Enjin Platform is infused with ENJ, which gets locked up in the items and removed from circulation.
Over 50 game and app developers are using Enjin to create and integrate NFT's in innovative ways, from open-world RPG's to augmented reality apps and sci-fi fantasy adventures. Enjin's unique "melting" functionality allows users to destroy their blockchain assets at any time to retrieve the ENJ value from within. It's a full-fledged system, enabling users countless of trading and earning options, all the while having fun!
Still too technical? Alright, imagine yourself killing dragons and orcs day in and day out, just to get that elusive sword that everyone's dreaming about. Now, you finally did it and have nowhere to put it but your in-game inventory. Well, the Enjin platform is here to give your sword added value. You can create an NFT of it, pegging it to the Enjin Coin, and now it has some real-world value. Trade it, hold it, wait for it to gain more in value, your choice! It's where the virtual and the real world collide.
---
About Chiliz (CHZ):

Chiliz developed the Socios.com sports fan engagement platform which is built on the Chiliz blockchain infrastructure. CHZ tokens are its exclusive on-platform currency. To get a better picture: Socios.com allows fans to spend the CHZ tokens on branded Fan Tokens from some of the biggest and most renowned sports teams in the world. These include heavyweights such as FC Barcelona, Juventus, Paris Saint-Germain, AS Roma, Galatasaray, Atlético de Madrid, OG, CAI & UFC. Big names for big fans.
The Fan Tokens then give the holders decision-making power by allowing them to vote on polls the Chiliz's partners publish on the app. Ownership of the token also gives fans access to exclusive rewards, as well as gamification, social connection to their favorite clubs, and various leaderboard features. In short, a Fan Token is your license to vote in club decisions directly on the Socios.com app, and thus presents a clever way of engaging the community in the club's operations.
Chiliz was founded in Malta in 2018, and since the beginning, the company's vision has been bridging the gap between the active and passive fans. With their help, first will undoubtedly outnumber the latter in the near future.