Navigating the Crypto Industry: Choosing Reliable Partners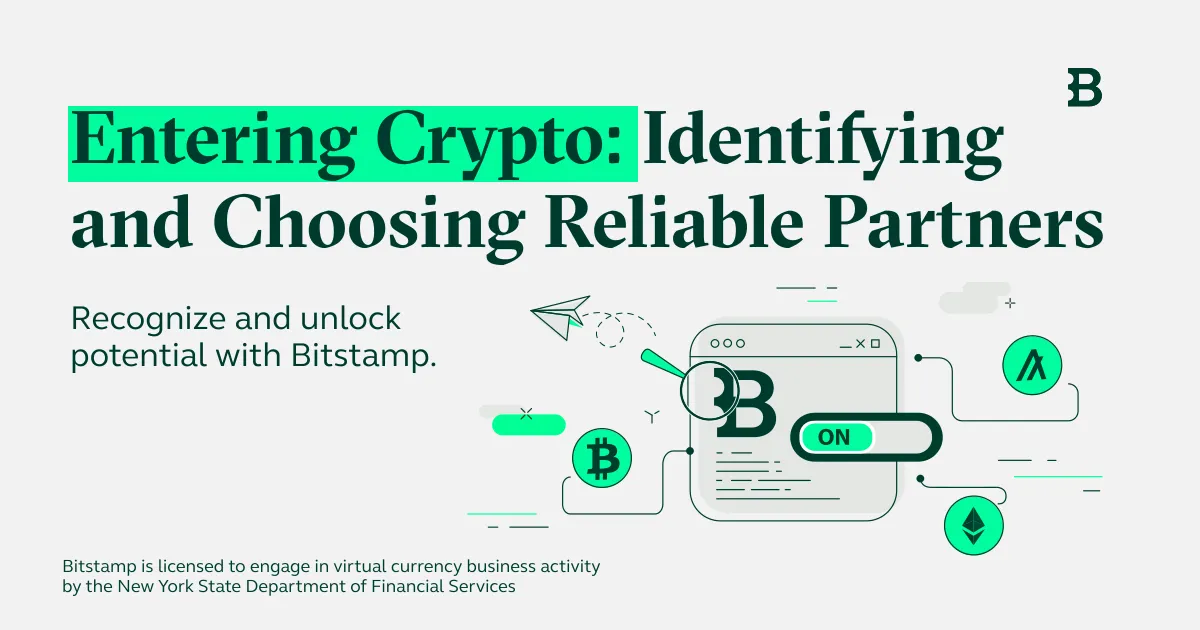 Are you thinking about teaming up with a crypto exchange but can't decide if that's the step in the right direction? If you face strong demand from your customers to access crypto markets, it may be time to start researching the crypto space. Get our guide to what to look for in a trusted crypto exchange partner, and discover the business results a partnership with Bitstamp can bring.
As crypto trading continues to evolve, many are seeking, along with stable access to crypto, the security and support institutions have come to expect from traditional financial institutions. It's important to consider how to safeguard funds during market fluctuations, and to know which questions to ask crypto service providers before entrusting them with your customers' trades. This raises several questions, such as where to find the protection you need? How can you ensure that trades won't get lost during a bull run or squeeze? The answers to these and many more help you gain confidence in your crypto trading endeavors, for both you and your end users.
A guide for institutions exploring potential crypto partners
As the longest-running crypto exchange, we have throughout the years gained valuable insights on what makes a crypto partnership work. If you're considering partnering with a crypto exchange, we can offer a helping hand as you embark on your crypto journey. Our Assessing Crypto Firms guide provides insights on what to look for in a potential crypto partner. From security considerations to regulatory licenses and platform uptimes, many factors go into the decision-making process when choosing a crypto exchange partner.
When considering a potential partner in the cryptocurrency industry, it's important to look for safeguards such as enterprise-grade platform security, regulatory licenses, technology that supports industry-leading uptime, and client support from crypto experts.
By taking these factors into account, you can identify a trustworthy and reliable partner in the crypto industry. You'll find all that and many more helpful insights in our guide available to download below.
Assessing Crypto Firms - A guide for institutions exploring potential cryptocurrency partners
Case study: goLance brings crypto payment options to freelancers  
goLance, a global online freelance talent recruitment platform, faced increasing demand from freelancers who wanted to get paid in crypto. In this case study, you'll find out how goLance took into account Bitstamp's reputation for compliance, security, and accountability when looking for a partner to offer freelancers access to payment in crypto for their services.
Partnering with the right crypto exchange can make all the difference in the success of your business in the crypto space.  Take the time to do your research and choose a partner that aligns with your business goals and values, and you'll be on your way to a prosperous partnership.
Learn how a global online freelance marketplace selected Bitstamp as their partner to make crypto payments possible to freelancers worldwide:
goLance Case Study - How a talent marketplace offers freelancers the option to be paid in crypto