Lots of fresh faces around Bitstamp these days - 4 new cryptocurrencies!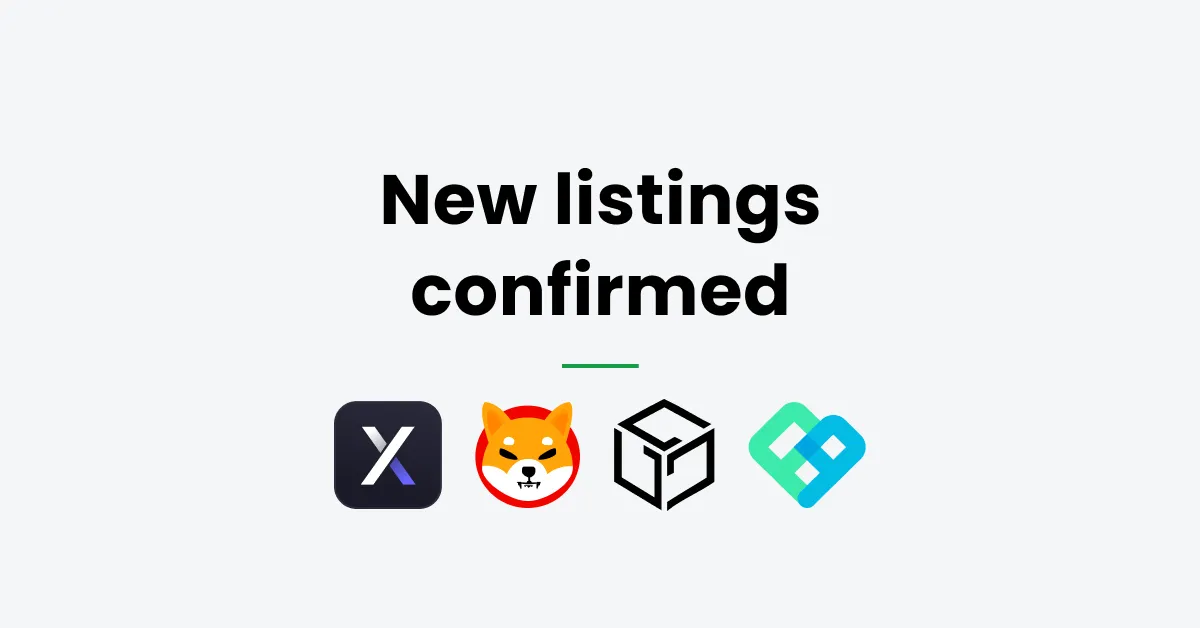 Lots of fresh faces around Bitstamp these days - 4 new cryptocurrencies!
Starting today, we'll be listing the following cryptocurrencies:
SHIBA INU (SHIB)
dYdX (DYDX)
Gala (GALA)
Perpetual Protocol (PERP)
Please note that for the time being, these assets will not be available to our U.S. and Singapore customers. 
---
Listing schedule
1. Transfer-only mode: Deposits and withdrawals open but trading is not enabled yet.
DYDX, SHIB, GALA, PERP: Wednesday, December 8
2. Post-only mode: You will be able to place and cancel limit orders, but they will not be matched. Therefore, no orders will actually be completed during this stage.
SHIB: December 9 at 8:00 AM UTC (postponed)
PERP: December 9 at 8:00 AM UTC
DYDX: December 10 at 8:00 AM UTC
GALA: December 13 at 8:00 AM UTC
3. Limit-only mode: Order matching will start and trades will be executed normally. However, only limit orders will be available.
SHIB: December 9 at 12:00 PM UTC (postponed)
PERP: December 9 at 12:00 PM UTC
DYDX: December 10 at 12:00 PM UTC
GALA: December 13 at 12:00 PM UTC
4. Full trading: Once the order books gather sufficient liquidity, we will enable all order types and card purchases for the new trading pairs as well.
Follow us on Twitter for real-time updates on the rollout of the new trading pairs.
---
Here's a full list of new trading pairs to be added at Bitstamp:
SHIB/USD
SHIB/EUR
DYDX/USD
DYDX/EUR
GALA/USD
GALA/EUR
PERP/USD
PERP/EUR
---
Here's a rundown of the projects behind the cryptocurrencies:
SHIBA INU (SHIB)
This token probably needs no introduction, and it probably wouldn't be fair if we tried to describe it with our own words. So, here's a passage from their whitepaper, pardon, woof paper:
"SHIB has clearly become on the most successful, fully-decentralized cryptocurrency experiments in history. This ShibArmy (token holders) was born from the concept that, under the right circumstances, talented individuals from all over the world will unite under one banner and use their unique skills to build something remarkable".
Now, you, too, can build something remarkable by holding SHIB in your Bitstamp account.
If you want to read more on how the creators love shiba inu dogs and how the famous Vitalik fits in the big picture of the SHIBA INU project, here's the link to their woof paper.
Perpetual Protocol (PERP)
Perpetual Protocol seeks to create a perpetual contracts trading protocol that's available to all. In essence, they wish to democratize powerful trading tools, enabling the users to trade with good liquidity and low slippage via their vAMM-based exchange.
The project utilizes a scaling technology called xDai to increase the speed of trades compared to other Ethereum-based exchanges. The technology also enables them to offer zero gas fees on all trades.
They claim that the times when leveraged derivatives trading could only be used by centralized organizations and wealthy individuals are over. They're trying to lower the barrier, making advanced trading tools available to all, such as short selling with up to 10x leverage.
Read more on the project here.
dYdX (DYDX)
Behind the funky name stands a crypto exchange that has already successfully established itself in the world of crypto. The exchange boasts over 15,000 traders and over 300,000 daily trades.
They claim to be a next generation exchange with the mission to empower more traders throughout the globe with powerful, transparent and fair financial products. More concretely, they aim to to provide secure trading services with low gas costs and fees. dYdX is now moving towards Layer 2 with the help of a StarkWare's layer 2 scalability engine to increase its trade settlement capacity and enable non-custodial trading.
The DYDX token is the governance token of the dYdX community that can be used to gain mining rewards, as well as participate in staking pools. It also enables users to receive trading discounts on the dYdX exchange.
You can get more info here.
Gala Games (GALA)
Gala Games is a gaming platform that's spinning its story in a different direction. Its aim is to give the players back the control over their games and make the blockchain in the background seem invisible to the average player. They want to make blockchain games that gamers will actually want to play.
They claim on their website that "through decentralization, players not only own their in-games items, but they have a voice in how the Gala Games roadmap develops. Players and node owners will be enlisted, via distributed voting mechanisms, to help determine what games should be added to the platform or what should be funded by the decentralized Gala Games ecosystem."
Players maintain control over the ecosystem by owning non-fungible tokens (NFTs) and use them to influence the selection and participate in other decision-making processes regarding the games within the Gala Games ecosystem.
You can get more info here.