The bulls are off and they're running with $100,000 worth of bitcoin! It's Bitstampede month!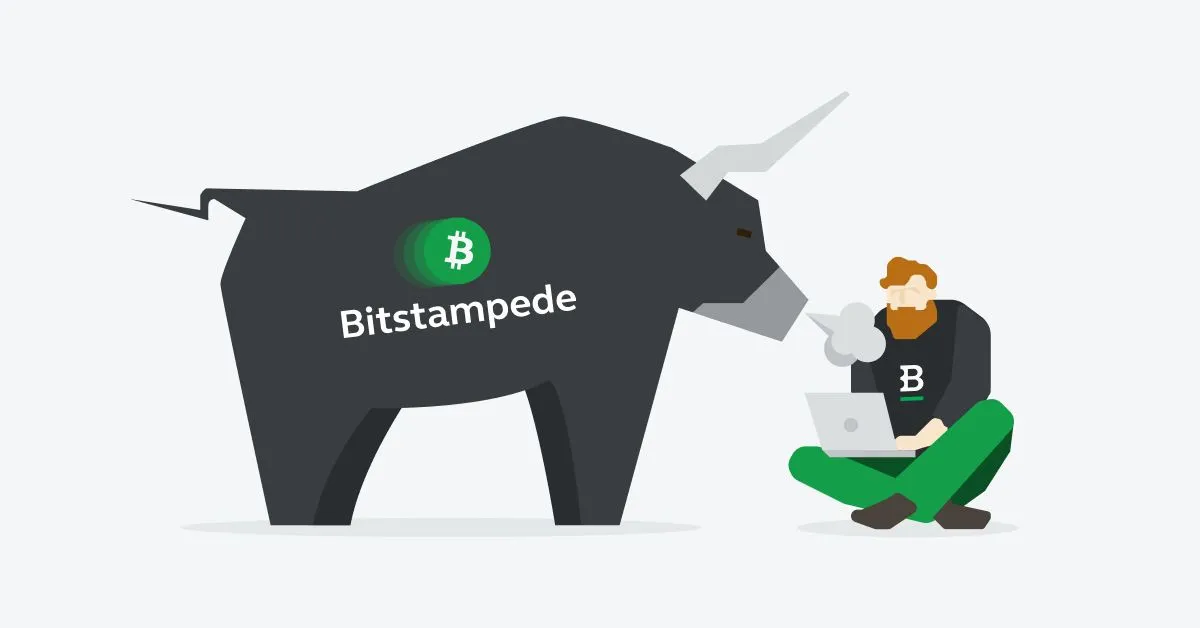 What? I can get $100,000, seriously?
Don't be greedy. You'll split the loot with 9 other winners.
Oh ok, that's still $10,000 in bitcoin for me. Jolly good, what do I need to do?
To enter the raffle, you'll need at least one ticket. How do you get the tickets? Ha! We beat you to it. You'll get a ticket for every day you trade $100 or more from December 1 onward. It doesn't have to be a single trade; you can accumulate the $100 with multiple trades within a day to obtain one ticket. You can trade any pair that you wish, so you don't have to trade just for the sake of getting the tickets. Wash, rinse and repeat daily until the end of the year to maximize your chances of winning!
So, that means I can get 31 tickets max. Ok, give me more details.
Sure. First, either log in or register if you don't have a verified Bitstamp account yet. Once you're in, there's a section in your dashboard where you click 'Show me how' and after that click 'Join now' (in case you don't see the section, just update the Bitstamp app in your app store). Then you'll see a total number of obtained tickets.
Seems easy enough. Can I use the tickets for something else?
Like what? No, no you can't. Tickets are your means of entering the Bitstampede.
Alright, alright. When and how do I know if I've won?
You'll get an email. After we hear from you, the $10,000 in bitcoin will be deposited into your Bitstamp account. What you do with it, that's completely up to you.
Groovy. Anything else I need to know?
There is one more thing. The $100,000 will be divided into two prize pools: $50,000 for residents of the European Union and Great Britain (sorry, Northern Ireland, that doesn't include you), and the other $50,000 for people living in the U.S*. There'll be 5 winners randomly selected from each of the two pools.
Sure, whatever, I need to start trading!
Yeah, you go ahead. And while you're buying your favorite crypto, be sure to check out our Terms & Conditions and FAQ. There's even more useful information therein.
*For U.S. residents, purchase is not necessary to participate in the promotion and an alternative means of entry is enabled. You can find more details in the Terms & Conditions for U.S. residents.