Introducing UNI, YFI and SNX at Bitstamp with zero fees until the end of July!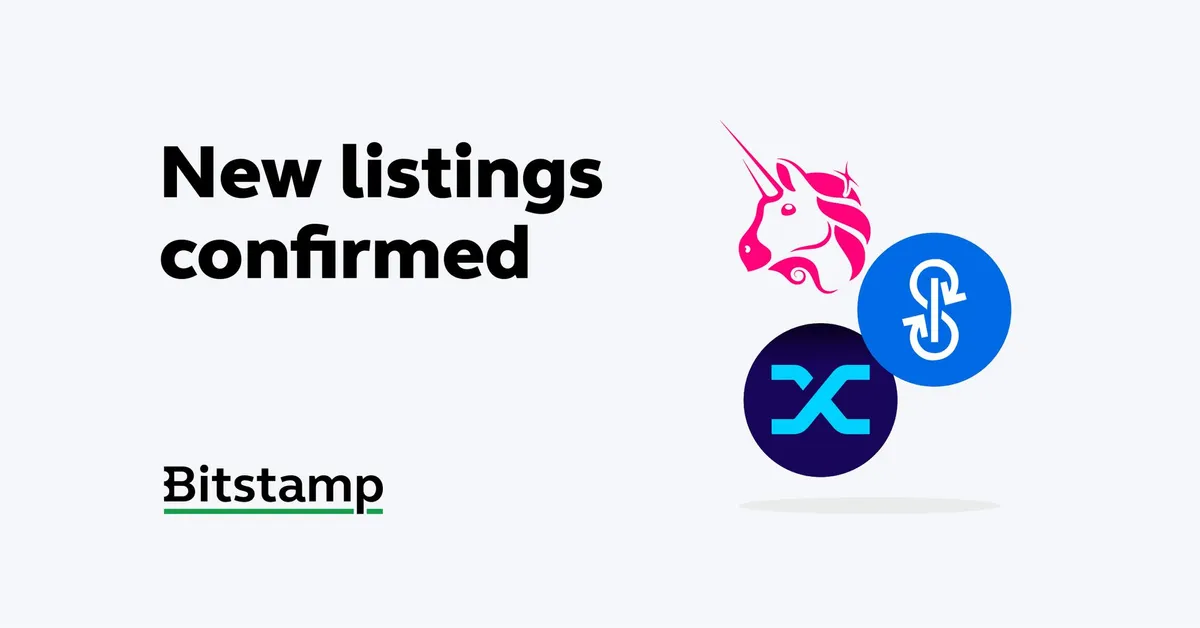 We are further expanding our support for the growing DeFi space with another trio of new listings. The new assets each cover a unique use case and should be an exciting addition to the portfolios of both DeFi enthusiasts as well as first-time entrants to the space.

We are listing the following cryptocurrencies:
Uniswap (UNI) – an automated trading and liquidity protocol that enables decentralized trading of tokens through the Uniswap DEX
Yearn.finance (YFI) – a DeFi service created to help non-technical users optimize profits from reward farming
Synthetix (SNX) – a DeFi protocol for creating on-chain derivatives (called synths) based on both crypto and non-crypto assets
All of these cryptocurrencies will trade with zero fees until the end of July!

Please note that for the time being, these assets will not be available to our US customers.

Listing schedule:

1. Transfer-only mode: Deposits and withdrawals open but trading is not enabled yet.
UNI, YFI, SNX: Monday, 3 May

2. Post-only mode: You will be able to place and cancel limit orders, but they will not be matched. Therefore, no orders will actually be completed during this stage.
UNI: Tuesday, 4 May, at 8:00 AM UTC
YFI: Wednesday, 5 May, at 8:00 AM UTC
SNX: Thursday, 6 May, at 8:00 AM UTC

3. Limit-only mode: Order matching will start and trades will be executed normally. However, only limit orders will be available.
UNI: Tuesday, 4 May, at 12:00 PM UTC
YFI: Wednesday, 5 May, at 12:00 PM UTC
SNX: Thursday, 6 May, at 12:00 PM UTC

4. Full trading: Once the order books gather sufficient liquidity, we will enable all order types and card purchases for the new trading pairs as well.

Follow us on Twitter for updates on the roll out of the new trading pairs.

Log in to your Bitstamp account to start trading and get the Bitstamp mobile app to trade all of our cryptocurrencies on the go!

Here's a full list of new trading pairs to be added at Bitstamp:
About UNI:
Uniswap (UNI) is an automated open-source trading and liquidity protocol for Ethereum's ERC-20 tokens. It uses template smart contracts that define standardized liquidity pools and compatible markets, allowing users to buy and sell tokens without requiring a counterparty on the other side of the trade.

About YFI:
Yearn Finance (YFI), stylized as yearn.finance, is an aggregator service for decentralized finance investors that automates processes to allow maximum profits from yield farming. It is aimed primarily at the investors who are not technically-minded or who want to engage in investing with a lower level of commitment.

About SNX:
Synthetix (SNX) is a decentralized finance protocol that provides on-chain exposure to a wide variety of crypto and non-crypto assets through digital derivatives. It offers its users access to highly-liquid synthetic assets, called synths, which are used to track and provide rewards on the underlying asset without the need for directly holding it.