Introducing our new payment services provider: Masterpayment
Bitstamp Ltd is constantly on the lookout for new technologies and partnerships to provide our customers with the smoothest and safest transactions in the industry. It therefore gives us great pleasure to announce that
Masterpayment
will be our new payment service provider.
Masterpayment's services, which are available in all 4 of our cryptocurrencies and almost 90 countries around the world*, will be used to process all of the credit and debit card crypto purchases made on the Bitstamp platform.
Not only does this mean faster and more convenient transactions for our customers, we have also been able to
slash our fees to 5%
. And besides the usual packages available, all our customers can now also purchase digital currencies in the amount of their choice. Visa or Mastercard credit or debit cards are accepted, and can now be used to purchase
all of the digital currencies we have listed on our platform – bitcoin (BTC), litecoin (LTC), ether (ETH) or ripple (XRP)
. The enhanced security features offered by 3D secure technology are just another of the many benefits of partnering up with Masterpayment.
To get started, go to the
deposit
page, choose
credit card
from the side menu and follow the instructions in the video below, which shows just how simple it is to buy your digital currency of choice: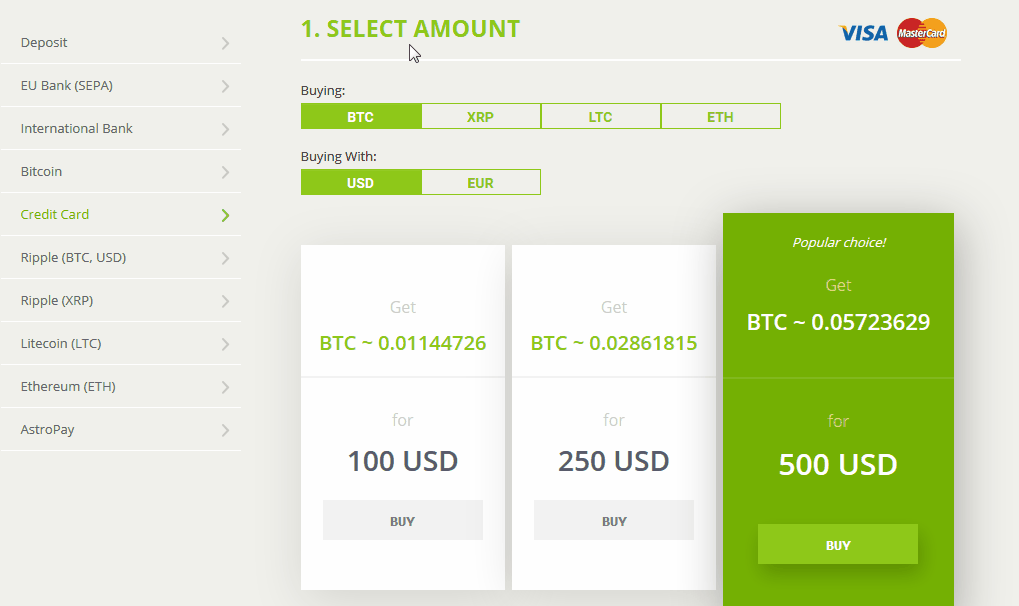 As always, follow us on
Facebook
,
Twitter
and here on our
website
for all the latest news and updates as they are announced.
*This service is available in the EEA, the EU and the following countries: the US, Switzerland, Norway, Monaco, Montenegro, Serbia, Turkey, Andorra, Moldova, Gibraltar, Iceland, Greenland, Liechtenstein, Isle of Man, Faroe Islands, Åland Islands, San Marino, Hong Kong, China, Singapore, Taiwan, South Korea, Australia, New Zealand, Japan, Argentina, Brazil, Israel, South Africa, Chile, Kuwait, Cayman Islands, Qatar, Saudi Arabia, India, Puerto Rico, Peru, Madagascar, Mozambique, Dominican Republic, Curaçao, Dominica, Jordan, the Bahamas, Bahrain, French Polynesia, Ecuador, Trinidad and Tobago, Barbados, Réunion, Jamaica, Paraguay, Brunei, New Caledonia, Guadeloupe, Martinique and Sint Maarten.