Get your battle gear ready, we're listing AXS and SAND!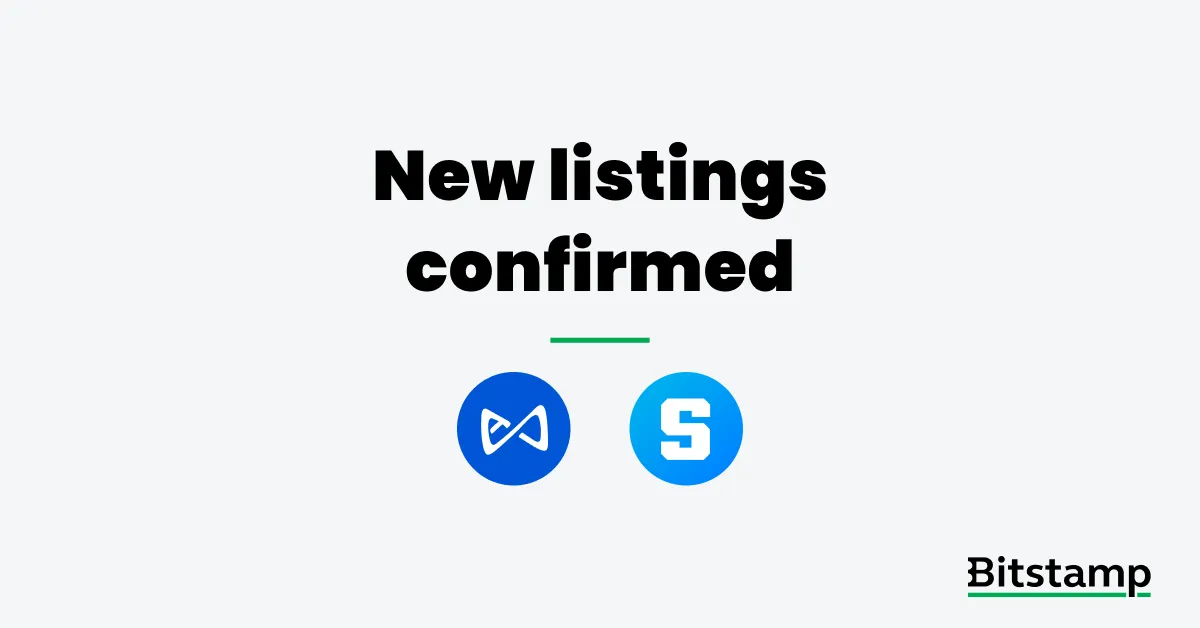 Gaming and crypto, the two worlds with endless possibilities of entwinement, materialize on Bitstamp! We're introducing tokens behind the game where you can breed, raise, battle and trade Axies, token-based creatures; and the other, a user-generated ecosystem where you can build, own, and monetize your gaming experiences on the Ethereum blockchain.
We're listing the following cryptocurrencies:
Axie Infinity (AXS) – token powering a blockchain-based trading and battling game that is partially owned and operated by the players
The Sandbox (SAND) – utility token of a community-driven platform where creators can monetize voxel assets and gaming experiences on the blockchain
Please note that for the time being, these assets will not be available to our US and Singapore customers.
---
Listing schedule
1. Transfer-only mode: Deposits and withdrawals open but trading is not enabled yet.
AXS, SAND: Monday, September 20
2. Post-only mode: You will be able to place and cancel limit orders, but they will not be matched. Therefore, no orders will actually be completed during this stage.
AXS, SAND: September 21 at 8:00 AM UTC
3. Limit-only mode: Order matching will start and trades will be executed normally. However, only limit orders will be available.
AXS, SAND: September 21 at 12:00 PM UTC
4. Full trading: Once the order books gather sufficient liquidity, we will enable all order types and card purchases for the new trading pairs as well.
Follow us on Twitter for real-time updates on the rollout of the new trading pairs.
---
Here's a full list of new trading pairs to be added at Bitstamp:
AXS/USD
AXS/EUR
SAND/USD
SAND/EUR
Log in to your Bitstamp account to start trading or get the Bitstamp mobile app to trade all of our cryptocurrencies on the go!
---
About Axie Infinity (AXS):
Axie Infinity is a digital pet universe, inspired by the Japanese Tamagotchis and Pokémon, where players raise, battle, and trade fantasy creatures called Axies, each an NFT on the blockchain. Every creature has different traits which determine their role in the battle. You can build unique and unstoppable teams of Axies and conquer your enemies with strengths and weaknesses based on their genes. With billions of possible genetic combinations, the possibilities are infinite.
Axies come in all shapes and sizes. They're constructed using combinations of more than 500 different body parts that include aquatic, beast, bird, bug, plant and reptile. Parts from each type come in four rarity classes: common, rare, ultra-rare and legendary. Many Axies are therefore completely unique, raising the value of their respective NFT's to extreme heights. Each Axie can then be evolved further by winning battles against other Axies.
AXS (Axie Infinity Shards) is the governance token fueling the metaverse. Users owning AXS participate in key governance votes, and have a say in how funds in the Axie Community Treasury are spent.
Read more here.
About The Sandbox (SAND):
The Sandbox is a virtual world where players can build, own, and monetize their gaming experiences on the Ethereum blockchain using SAND, their utility token. In other words, it's an entirely user-generated ecosystem that offers a suite of tailor-made tools to empower artists, creators, and users to come together and design and share engaging experiences across The Sandbox.
The virtual world offers gaming experiences, as well as social hubs where players can meet and create lasting friendships and alliances. The Sandbox offers a wide range of exploration across its metaverse, consisting of 166,464 unique pieces of LAND, each belonging to a user.
SAND is the utility token used throughout The Sandbox ecosystem as the basis of all transactions and interactions. It is an ERC-20 token and limited to a finite supply of 3,000,000,000 SAND.
Read more on the project here.